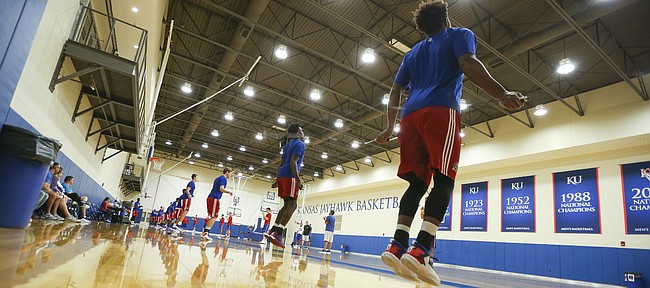 In case Kansas junior Devonte' Graham had forgotten just how big of a deal Late Night in the Phog is to fans of Kansas basketball, the KU point guard received a friendly reminder last Sunday.
Checking out the Chiefs game during Kansas City's victory over the New York Jets, Graham was approached several times by KU hoops fans in attendance who shared with him their excitement about this year's event, scheduled for 6:30 p.m. Saturday at Allen Fieldhouse.
"So many fans just came up to me talking about Late Night and how they were gonna be here at 12," Graham said Tuesday. "They said we play at 6:30 and I was just like, 'God, you're gonna be there at 12?' It's a big thing. It's huge."
Before getting to Late Night, of course, the Jayhawks still have two days of Boot Camp to finish up, today and Thursday. Graham said he thought the entire team had done a great job during this year's Boot Camp and shown an ability to push through the demanding nature of the annual event. Asked who impressed him the most, Graham pointed to a pair of freshmen.
"I think Josh (Jackson)," Graham said. "Mitch (Lightfoot) has actually really impressed me, just being vocal, using his voice to encourage guys and stuff like that."
Graham said Lightfoot's demeanor has fallen in line with exactly what KU's coaches have encouraged freshmen to do throughout his career at Kansas.
"Coach really pushes freshmen to talk, communicate, try to be as much of a leader as you can," Graham said. "You just gotta try to fit in. Mitch has a good voice on him, but he did surprise me. I didn't expect him to be like that."
As for how this year's Boot Camp compared to the previous two he had survived, Graham quickly reflected back on his first encounter with the two-week conditioning camp.
"I always say the first one is the hardest because you don't know what to expect," he said. "We also had the Marines come in our freshman year, so nothing can really compare to that Boot Camp. That might've been the hardest one."
NBA futures
Tuesday marked the first day of training camp for a handful of NBA teams, including the Charlotte Hornets and Memphis Grizzlies, current homes of former Jayhawks Perry Ellis and Wayne Selden.
Graham, who recently was ranked by DraftExpress.com as the No. 3 NBA prospect in the Big 12 Conference this season, sounded optimistic when discussing the futures of three former teammates.
"I think they have a great chance," Graham said of Ellis and Selden. "Two guys who came to college, Perry did four years, Wayne did three, and got a lot of exposure and NBA guys really like 'em. I've been talking to 'em and both of 'em told me they've been getting good feedback and feel like they've got a chance."
Other Jayhawks included on DraftExpress' list of top Big 12 talents were: Freshman Josh Jackson (No. 1), sophomore Carlton Bragg Jr. (6), junior Sviatoslav Mykhailiuk (7) and senior Landen Lucas (12).
Chasing Chaundee
According to 247 Sports' "Crystal Ball" prediction, Wake Forest is now in the lead for Chaundee Brown, a 6-foot-5 shooting guard from Orlando who has narrowed his list of schools to KU, Wake and Florida.
Danny Manning-led Wake Forest currently is projected as the leader for Brown with a 60 percent clip. Kansas is second at 40 percent.
The 60-40 advantage certainly is not insurmountable, even if it is accurate. In fact, according to Matt Scott of TheShiver.com, KU assistant coach Jerrance Howard was scheduled to check in on Brown in Orlando sometime Tuesday.
Brown's official visit to Kansas came earlier this month, when he was the only undecided player in town. He joined KU commitment Marcus Garrett on the visit and Garrett said after the trip that he thought Brown thoroughly enjoyed his visit.
Ranked No. 39 by Rivals.com, the four-star prospect is slated to visit Wake Forest this weekend.