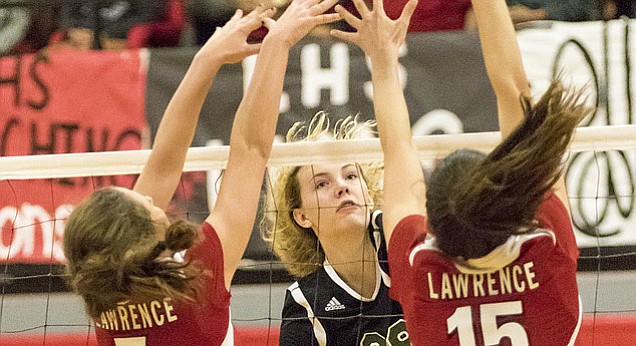 Last week, Free State High sophomore Rachel Hickman picked up a cake from Eileen's Colossal Cookies on her way to the University of Kansas athletic department.
It was time to celebrate.
Hickman made an oral commitment to play volleyball for the Jayhawks on Sept. 20, becoming the program's first hometown recruit since Lawrence High grad Tayler Tolefree.
"(Bechard) was just sitting at his desk," Hickman recalled, "and he looks at me and then he looks at the cake and he goes, 'Are you serious?' Then Todd and Bird came in and Bird started doing like high knees and everything. It was funny."
Hickman, a 6-foot-3 outside hitter, chose to play for the Jayhawks over last year's national champion Nebraska, Kansas State, Iowa and Creighton. Hickman's older sister, Naomi, is a senior at Free State and committed to play at Creighton.
Helping the Firebirds to a 17-4 record and No. 6 ranking in Class 6A, Hickman has registered 106 kills on a .214 hitting percentage with 39 blocks, 32 digs and 17 aces in 45 sets.
"The coaches were a big part," Hickman said. "I really like coach Bird (Laura Kuhn), coach Todd (Chamberlain) and coach Bechard. Then also just the environment that Lawrence has and I just like it as a town. I wanted to stay somewhat close to home."
One of the advantages for Hickman is that she's left-handed. It makes it harder for blockers because she comes in from different angles and has a different style of hits.
"Last year she was a little more tentative, didn't really demand the ball as much as she does this year," Free State coach Amy Hoffsommer said. "She definitely is becoming better at hitting more than just one hit, or if the set is a little off, just doing better at making a better play out of it, which is who your best hitters are — the ones that can make something out of nothing."
Hickman joins Rose Hill High sophomore Gracie Van Driel, a 6-foot-1 middle hitter, in KU's recruitment class of 2019.
She said she attended a few of KU's matches over the past few years and the school's recent success was "definitely an attraction" when she was thinking over her decision. It also helped that she watched her older sister go through the recruitment process.
"It was definitely a lot of pressure off when I just decided," Hickman said. "I'd heard from other people too that it's just easier and you just play better after you commit somewhere. I mean I was ready to have the decision made."
During the summer's club volleyball season, Hickman was named an honorable mention All-American by PrepVolleyball.com among 15 year olds.
"She is still young," Hoffsommer said. "She still has a body to grow into and she still has a lot of coordination to get and grow into and strength to gain. She's excited."
More like this story on KUsports.com