Nearly a year ago, amid a season full of losses, the Kansas football team experienced a rare flicker of promise during a home setback against Texas Tech.
The game began as many before and after it, with the Jayhawks in a 20-point hole before halftime. But KU found ways to cut the Red Raiders' lead to three points with less than seven minutes to play before falling, 30-20, at Memorial Stadium.
Now in his second season as head coach at Kansas, David Beaty was asked on Monday's Big 12 coaches media teleconference whether that particular setback — sealed in the final five minutes, when Tech defensive back Jah'Shawn Johnson picked off a Ryan Willis pass and returned it for a touchdown — served as a starting point for preparing for the upcoming Thursday night rematch of sorts (7:30 kickoff, FOX Sports 1) at Jones AT & T Stadium, in Lubbok, Texas.
Instead, Beaty emphasized how both Texas Tech and KU run versions of the Air Raid offense, and how that might impact the Big 12 opener for both programs.
"Our guys play against this offense every day. Now, in no way, shape or form am I trying to say we're exactly like these guys," Beaty clarified while comparing KU (27.7 points a game) with the Red Raiders (61.0 points, second in FBS to Louisville's 63.5 average).
"We're all different in what we do, but I do know this: the very bare bones of it are the same concepts. So they've gotten to play against it a lot," the coach added of KU's defense. "We'd like to hope that gives us a little bit of an advantage going into the game, knowing that they've seen these concepts before. But, you know, it's not unlike that for them. They play against the same stuff, as well. So it should be a fun evening on Thursday night out there."
Never lacking in the optimism department, Beaty recently cited some statistical comparisons that he hopes demonstrate how far KU has come as a defense over the past 12 months. Among them, were opponent passing yards per game, opponent passing efficiency and total defense. Looking at where Kansas ranked through three games in those categories in 2015 and where it ranks through three games this season, the stats give some merit to Beaty's claims that defense has been a positive for the troubled program this season.
Twelve months ago, in losses to South Dakota State, Memphis and Rutgers, KU gave up 288.0 passing yards a game (112th in FBS), opposing quarterbacks had a pass efficiency rating of 177.27 (123rd) and the Jayhawks allowed 542.3 yards a game (120th).
So far this season, coordinator Clint Bowen's defense — which has faced Rhode Island, Ohio and Memphis — has surrendered just 135.0 passing yards an outing (fifth nationally), limited its competitors' quarterbacks to a combined 99.07 pass efficiency rating (14th) and given up 369.7 yards (52nd).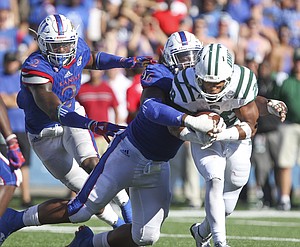 The Jayhawks (1-2) have aided their defensive strides during the non-conference portion of the schedule this season by getting into the backfield, averaging 9.7 tackles for loss (tied for seventh in the nation). Sixteen different players have earned a TFL, with senior linebacker Marcquis Roberts, sophomore defensive end Dorance Armstrong Jr. and sophomore tackle Daniel Wise tied for the team lead, with 4.0 apiece heading into this week's road game at Texas Tech (2-1).
Of course, the defense can only do so much as Kansas attempts to put an end to a losing streak away from Lawrence that currently stands at 39 games.
"When the defense is playing well we have to be doing the same thing offensively and same thing special teams wise," Beaty said last week at his press conference.
Texas Tech head coach Kliff Kingsbury is 3-0 against Kansas. The Red Raiders have dominated the all-time series, 16-1. The Jayhawks' only victory against Tech came at Lubbock, in 2001 — 34-31, in overtime — in Terry Allen's final season as head coach.
KU has lost 12 consecutive Big 12 games, dating back to a 34-14 home victory over Iowa State, in Nov. 2014, when Bowen served as interim head coach.