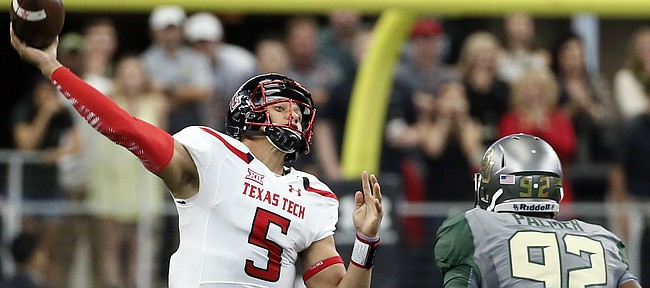 Sure, the University of Kansas football team had a bye this past week, but the Jayhawks likely wouldn't have minded even more time off for preparation, considering what awaits them Thursday night in Lubbock, Texas.
When the KU defense takes the field at Jones AT & T Stadium, it will be charged with trying to slow down Texas Tech, the top-ranked passing offense (547.7 yards a game) in the nation — led by junior quarterback Patrick Mahomes II, who leads all FBS players in passing yardage (497.7 a game).
Kansas head coach David Beaty, a known admirer of Red Raiders coach Kliff Kingsbury and his Air Raid offense, understands the type of unique road test the 6-foot-3, 230-pound Mahomes presents to the Jayhawks. Beaty described the third-year starter as "really good," "very talented" and, well, big.
"He's hard to tackle. He's very well-coached. He's got a ridiculous arm," Beaty marveled. "He can throw it from anywhere, and he breaks rules, because he'll throw it to the wrong guy and he'll still put it in there. He'll throw it to a guy that you're not supposed to be going to, and that guy still is able to get the ball because he can put it in a hole about that big. Really talented guy."
Mahomes enters the week tied for second in the nation in passing touchdowns, with 14 in three games, even though the FBS leader, Cal's Davis Webb (18 passing TD's) and the quarterbacks with which Mahomes is tied — Washington's Jake Browning and Missouri's Drew Lock — all already have played four games.
Texas Tech (2-1) has posted a whopping 61.0 points a game, while winning at home versus Stephen F. Austin and Louisiana Tech and losing at Arizona State. Even in defeat, the Red Raiders put up 55 points.
"A lot offensively what you've seen in the past," Beaty said, comparing Tech's offense this season its recent high-scoring predecessors. "Very dynamic, terrific quarterback. Guys out wide are very capable — very capable. They've got a couple of really good young running backs — really good running backs — so very difficult."
The Jayhawks (1-2) enter the Big 12 opener for both programs highly ranked in some key passing defense categories — obviously aided by opening the season against an overmatched FCS opponent, Rhode Island. KU has allowed just 135 passing yards a game (fifth in FBS) and ranks 14th in passing efficiency defense, at 99.07.
Thursday night spotlight
Beaty said the Jayhawks look forward to their weekday trip to Lubbock, for a nationally televised game — 7:30 p.m. kickoff on FOX Sports 1.
"To us it's a great recruiting opportunity. It really is," the head coach said, "to be able to play on a night where you're the only show, really, which is great."
The only other FBS game on the schedule Thursday is Connecticut at No. 6 Houston (at 7, on ESPN).
Beaty didn't anticipate he or his assistants placing any extra pressure on their players due to the spotlight.
Although he wants the Jayhawks to embrace a rare weeknight showdown, Beaty admitted he prefers playing on Saturdays. A former assistant for Mark Mangino at KU, Beaty recalled a conversation the two of them had before a Friday night matchup at South Florida, in 2008.
"I remember he and I were just riding on the bus, and he's like, man, this is going to be a great environment, but man, college football is meant to be played on Saturday," Beaty recalled, "and it always stuck with me."
However, Beaty added, this week's variant in the schedule was out of his control, so he didn't spend much time worrying about it.
Both the Red Raiders and Jayhawks enter the game coming off an idle week.
---