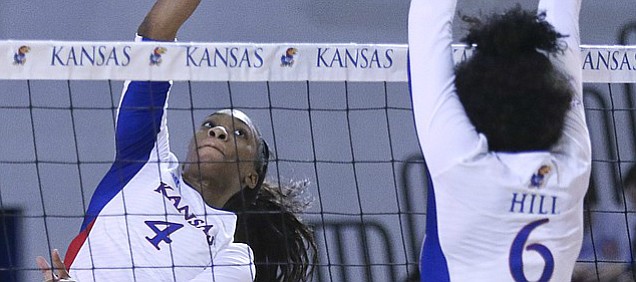 A trio of freshmen contributed big moments in their Big 12 volleyball debuts Wednesday night at Horejsi Center and helped Kansas to sweep Oklahoma, 25-17, 25-13, 29-27.
For Patricia Montero of Ponce, Puerto Rico, her big moment was the final one of the night, a kill that ended the third-set tension and triggered an ovation from the customary sellout.
Long before that, high-flying Jada Burse of DeSoto, Texas, supplied plenty of thrills and eight kills with just one error. Zoe Hill of Houston added five kills and had one error.
"It was super exciting," Burse said. "I was kind of nervous at first, but my teammates helped me get rid of that."
The freshmen all have encountered mixed results in trying to blend in with a veteran core that returned from KU's first Final Four run. Their big nights came at a good time considering the eighth-ranked Jayhawks (12-1) head to Austin for a Saturday night match against No. 5 Texas (8-2) and will need sharp performances from veterans and young talents alike.
Burse's potential screamed the loudest of the first-year players Wednesday night. Her explosive leaping ability was on display and the atmosphere appeared to propel her to even greater heights than usual.
"The adrenaline and the band helps me a lot," Burse said. "I love music, so I love the band. It's probably my favorite part about playing on our home court."
She shares that opinion with band members, "all the time."
Montero found herself in unfamiliar territory with the match on the line.
"We ran out of subs so they told me I needed to play the front row," she said.
Having starred for Puerto Rico's U18 national team, Montero is accustomed to playing in big matches, but this was different.
"When you're playing international you don't have fans and crowded arenas," Montero said. "You have to find the momentum on your own. So here the fans help a lot because it is so full of energy. It's fun."
Montero's night featured ups and downs, but Burse mostly experienced ups, as in way up above the net.
"Jada is amazing," Montero said of Burse. "She can really hit."
So can senior Tayler Soucie and junior Madison Ridgon, both of whom had 10 kills and one error on a night Kelsie Payne wasn't at her best (nine kills, eight errors.)
Kansas coach Ray Bechard praised the play of Burse and didn't stop there when talking about the freshman class.
"Zoe Hill had some opportune swings and it reminded me a little bit of Janae Hall last year when Ainise (Havili) would find her at key moments when the other team was probably thinking about someone else," Bechard said.
Much of KU's best work came inches from the floor, where standout senior libero Cassie Wait found herself making spectacular plays. Wait, so quick and intuitive, contributed 23 digs.
"Defensively, I thought it was probably our best effort of the year," Bechard said. "Most important stat of the match: They came in hitting .285. We held them to .092, a team that's got a ton of weapons, so first and foremost, I thought that was the key to our match. Our goal is to hold teams under .200, so to hold them under .100 speaks volumes of Cassie Wait, some opportune blocks by Tayler Soucie and just enough kills."
The Sooners took a 9-1 record into a tournament in Los Angeles last weekend and have lost four consecutive matches.