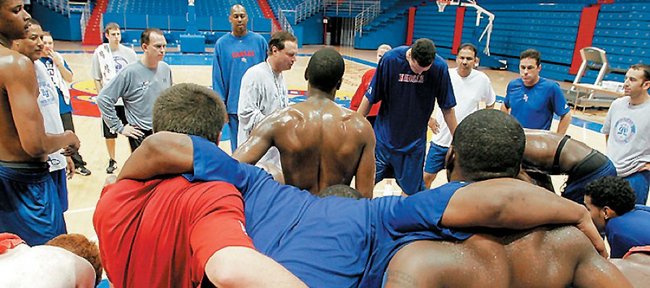 Kansas freshman Josh Jackson has heard the horror stories.
They popped up during his visit to campus before he committed, reared their ugly words once again this summer after he officially joined the Jayhawks' roster and have brought him to this point in his Kansas career with a certain guarded mindset.
It's Boot Camp time for the Kansas basketball program, and for players like Jackson, fellow freshmen Udoka Azubuike and Mitch Lightfoot as well as transfers Malik Newman, Evan Maxwell and Tucker Vang, that means life is about to get a whole lot nastier.
"I just don't want to know," Jackson told the Journal-World this summer when asked about the infamous two-week conditioning adventure that will begin bright and early this morning. "I've heard so many things about it and I know it's gonna be hard and I just have to come mentally prepared and physically prepared. Hopefully I'll be ready."
Throughout the years, Bill Self's annual Boot Camp has reduced some of the country's top players and best-conditioned athletes to exhausted bodies sprawled out on the gym floor. Now in its 14th season at Kansas, the two-week grind that marks the unofficial start of another season has become legendary with current and former players alike.
Junior point guard Devonte' Graham now has survived two of them. After the first, Graham called it, "by far the hardest thing I've done." However, twice having made it through and equipped with the knowledge of what Boot Camp is all about, Graham said he was prepared to take a certain calmness into the two-week torture test this time around.
"I think I told Malik that," said Graham, referring to new teammate Malik Newman, a transfer from Mississippi State who sits on the brink of his first encounter with the event. "We were talking about Boot Camp and I told him, 'No matter who you are, no matter what you do, you're not gonna be able to condition yourself for Boot Camp.' It's just something you can't condition yourself for."
From endless suicides, defensive slides, backboard touches and timed conditioning tests to early-morning wake-up calls and team-building exercises, the camp is designed to build both mental toughness and team chemistry through adversity.
Most years, the 60- to 90-minute Boot Camp sessions have kicked off bright and early at 6 a.m., Monday through Friday, with the players still required to attend classes and other team-related activities the rest of each day.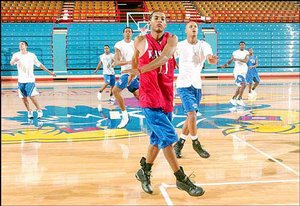 Because this year's group is led by so many returning players, Graham said he thought the team, as a whole, would be better prepared to have the right mindset to attack whatever Self and company can throw at them during the next two weeks.
"We'll be ready," Graham boasted.
As for those experiencing it for the first time, Jackson said he would not speak for others, but believed that battling his way through Boot Camp could be one of the more memorable things he accomplishes while at Kansas.
"It's another milestone for me," he said. "I know it's gonna be tough, but I really don't like things to come easy for me. Whenever something's tough and I get through it, it does that much more for my mental state."
Added Graham: "They can say that, but, at the end of the day we're gonna see."