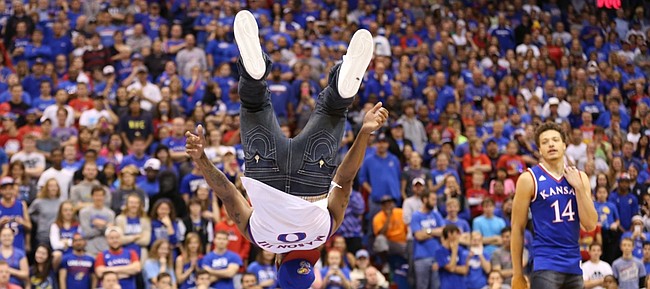 The preseason college basketball spectacle that is Late Night in the Phog officially has a start time.
KU officials revealed Thursday that the 32nd annual Late Night event, scheduled for Oct. 1, will kick off at 6:30 p.m. at Allen Fieldhouse. Doors will open to KU students at 5 p.m. and to the general public at 5:30.
Late Night, which KU coach Bill Self predicted would be "jumping" when speaking to KU freshmen at traditions night back in August, will officially get under way with a celebration known as The Phog Festival at 10 a.m. Oct. 1 on the lawn in front of Allen Fieldhouse.
Much like on football game days, the festival will have many activities for all fans to enjoy leading up to Late Night, including a Family Fun Zone, radio remotes, a mobile video board and a live DJ. The festival will also include food trucks, giveaways, interactive displays and much more throughout the day.
Because Late Night has become so popular in recent years, Kansas Athletics announced it will take extra steps to ensure things run smoothly. Those steps will include:
• KU and Lawrence Public Safety personnel providing an increased presence.
• Kansas Athletics being willing to open the Allen Fieldhouse entrances early if warranted by a large-enough crowd of fans waiting to enter.
• Kansas Athletics increasing its communication with fans throughout the day, using social media, conventional media and on-site communication.
• As on game nights, KU students will enter through their customary separate entrance on the northeast side of Allen Fieldhouse.
• Though all parking lots are free, fans are encouraged to park south of Allen Fieldhouse in lots 71, 90, 125 and 127 due to a concurrent on-campus event. Lower levels of the parking garage just north of Allen Fieldhouse will be reserved with the upper levels open to the public for a fee.
As is the tradition at Late Night, fans are encouraged to bring non-perishable food items, which Kansas Athletics will donate to Just Food of Douglas County. Food and monetary donations will be accepted throughout the day.
After the doors have opened, the championship games of the 3-on-3 Tournament will be played inside Allen Fieldhouse. The tourney will be held all next week, with women's and men's teams vying for the title on the Fieldhouse floor. KU basketball coaches Bill Self and Brandon Schneider will present trophies to the winners during Late Night.
Once the festivities begin, Late Night in the Phog will feature music by the KU pep band, routines from KU's cheer and dance teams, skits by both basketball teams, video highlights from KU's award-winning Rock Chalk Video department, coach and player introductions, scrimmages by the KU men's and women's teams and more.
For the second year in a row, one female and one male will have the opportunity to win $10,000 from Self by making a half-court shot at Late Night. Last year, KU Director of Basketball Operations Brennan Bechard made the shot for a male fan who happened to be a KU student.
More like this story on KUsports.com