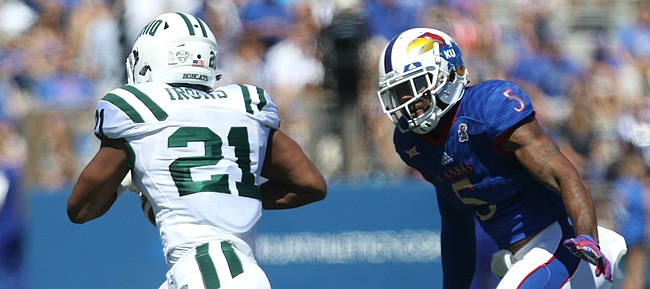 The concept of valuing the opening plays of a game or practice certainly isn't new to Kansas football coach David Beaty or his players.
When Beaty worked on Kevin Sumlin's staff at Texas A & M, the Aggies' first-string defense and offense squared off early every practice for a short sequence of plays before breaking off into other drills. Beaty brought that concept with him to KU. After warm-ups and special teams work, the Jayhawks have their "fast start" period. Often it begins with second-and-eight and the coaches get an early look at where the players' heads are at that particular day.
"Normally it's one play if the offense gets a first down, or it's two plays to see if the defense can get off the field," Beaty explained. "I love that situation. Sometimes we'll be in third and short. Sometimes we'll be in first-and-10 and play it and just see where we go from there. We're able to get a lot of situational work there."
Following a Week 2 home loss to Ohio in which the Jayhawks (1-1) failed early on to show much fight on either offense or defense, the words "fast start" likely have been uttered more than ever as KU prepares for its first road game of the season, Saturday at Memphis (11 a.m. kickoff, ESPNU).
When Beaty reviewed KU's first offensive play of the 37-21 loss to the Bobcats, he saw Ohio knock down a Montell Cozart pass for LaQuvionte Gonzalez on a quick hitch.
"So what? Line back up and run the next play and be effective at it," Beaty said of his players' lesson from that series, which resulted in a three-and-out. "I can just kind of see some wind go out of our sails a little bit for some reason. And we got it back, but that play, I showed to our guys and said, 'Look, hey, you know what… We're going to be able to do it on the next play.' You've got to believe in that. And I think they saw that. I think we'll get better as a result."
The Kansas offense didn't even pick up a first down in the first quarter, when it ran just eight plays for an anemic total of four yards.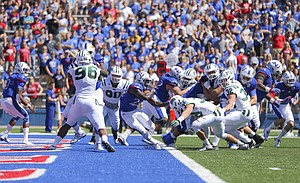 It was Ohio (1-1) that got off to the fast start instead, not only scoring a touchdown on the game's opening possession but following that up with TD drives of 75 and 91 yards on two of the Bobcats' next three series.
KU defensive coordinator Clint Bowen understands such a regrettable start can't happen again if the Jayhawks have any shot of ending their 38-game losing streak outside of Lawrence.
"We made mistakes and Ohio was prepared to capitalize on them, and they did. You can't do that. You can't have those kind of things happen," Bowen said of a first half in which the Bobcats twice picked up first downs on third-and-10 or longer. "There were plenty of chances on all those drives to get off the field… Quite honestly, it didn't have a whole lot to do with Ohio. It had a lot more to do with us doing our job. You get guys on third down in football these days, it's hard to get stops against the offenses. You get a team in third-and-11, you've gotta get off the field."
A few days removed from the setback, junior KU linebacker Joe Dineen said the Jayhawks are ready to move on from the loss, while focusing on stopping the run and forcing opponents to punt.
Dineen admitted Ohio's game-opening, six-play, 75-yard TD drive might have unnecessarily stymied KU's defensive energy.
"That is frustrating, but it'll happen and I think we need to bounce back better than we did," Dineen said. "We can't let the first drive turn into a touchdown and then that carry over into the rest of the half."
Searching for other factors to the sluggish beginning, the linebacker suggested, coming off a season-opening victory, the Jayhawks might have tried to make too many individual plays early on against Ohio.
"We weren't as assignment sound as we were in the Rhode Island game," Dineen said, "and I feel like everyone was kind of trying to make plays that weren't really their plays to make."
The irony of the slow start, given Beaty's daily emphasis on the opposite, wasn't lost on senior safety Bazie Bates IV.
"We kind of went out there draggy," Bates admitted. "I feel like people was kind of still up high from the last week's win, so we're back down to humble now. The main thing is going out there and starting fast and remaining physical, using our hands throughout the whole entire practice and don't let up at all."
Offensively, KU had just one first-half drive last longer than three plays and net double-digit yardage. It wasn't until the opening minute of the third quarter that Kansas finally reached the end zone on offense on a 74-yard TD reception by Steven Sims Jr., from Montell Cozart.
The junior quarterback conceded KU's offense stalling out early on might have temporarily demoralized the unit, which went three-and-out on two of the first three series and saw running back Ke'aun Kinner tackled for a safety two plays into the second drive.
Cozart said KU's offense has to find ways to do better, not just for the sake of scoring more points, but also for the good of the defense.
"It was definitely tough. We knew from the beginning when we got out there and we didn't start off fast and we didn't have a couple of sustainable drives that we were gonna be in for a little bit of a tough game," Cozart said, "because the defense was right back on the field within three plays with our back-to-back drives. Ohio was moving the ball up and down the field and, you know, it's tough on any defense when they're out there that long and time of possession is lopsided. Us as offense, we take that as a challenge, and this week we look forward to doing better for our defense."
---
---