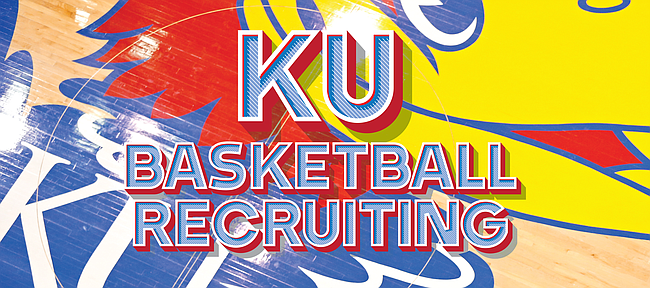 The Kansas men's basketball coaching staff is headed out East to make the rounds on the recruiting trail.
Matt Scott of TheShiver.com reported Tuesday that KU coach Bill Self would be in New York Tuesday to visit two of the top ranked underclassmen in the country in 2018 center Moses Brown and 2019 point guard Cole Anthony.
Scott calls Anthony "one of the best PGs in the country no matter class," and says he is a complete player.
As for Brown, the 7-foot, 210-pound big man is a versatile and athletic big who can both run the floor, hit the mid-range jumper, finish at the rim and control the paint defensively.
Anthony, a 6-2, 180-pound, five-star prospect, is the sixth-ranked player in the 2019 class, according to Rivals.com.
The five-star Brown is the No. 17 ranked player in the 2018 class according to Rivals.com.
Gak visit next
With the KU coaches already on the East Coast, Shay Wildeboor, of JayhawkSlant.com, reported that their next stop following Tuesday's time with the underclassmen would be in Blairstown, New Jersey, where they will conduct an in-home visit with 2017 big man Deng Gak on Wednesday.
Gak, 6-9, 210 pounds, is a four-star prospect ranked No. 91 overall in the Rivals 150. Gak became a greater priority for the Jayhawks after No. 1 overall ranked 2017 prospect DeAndre Ayton chose Arizona last week.
Wildeboor also is reporting that Gak has scheduled his official campus visit to Kansas for the weekend of Oct. 21.
The Jersey power forward recently narrowed his list of suitors to five: Kansas, Duke, Indiana, Miami and Florida.
Troy Brown feedback
Speaking of Browns, Rivals.com's Eric Bossi briefly caught up with Class of 2017, five-star guard Troy Brown after his Monday visit with the KU coaching staff.
Troy Brown, ranked No. 12 overall in the 2017 class, welcomed Self and assistant Kurtis Townsend to his Las Vegas home on Monday and, according to Bossi, enjoyed the experience.
"It was a very comfortable visit," Brown told Bossi. "Especially already having that connection with Coach Self and talking to him before. Coach Townsend has been talking to me for a while and we had a good conversation. It was lots of laughing."
The KU coaches double-dipped in Vegas on Monday, with home visits with Brown and five-star big man P.J. Washington.
Brown's busy week of visits — which continued Tuesday with in-homes with Cal and Oregon — have put him in the position to feel good about the timing and direction of his recruitment.
Brown will visit Oregon the weekend of Sept. 23, KU the weekend of Late Night (Oct. 1) and Georgetown on Oct. 5. Arizona and UCLA are both also still alive for Brown.
"I feel like I have a really good game plan," Brown told Bossi. "Mostly, I'm trying to see that I enjoy it and have a good feel for the school. For me, I feel like I am going to finish all of my visits. I am going to finish and hopefully decide for the November signing period."