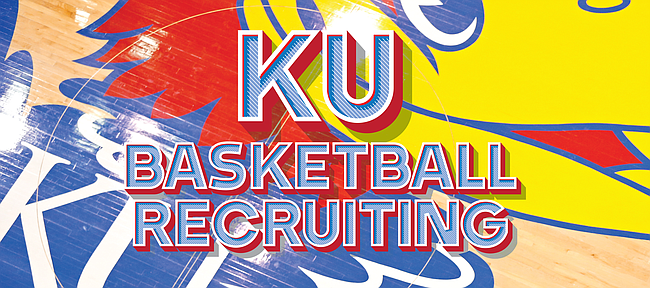 Class of 2017 small forward Kevin Knox on Friday revealed his final five schools via a highlight video on Twitter.
The video, which ran just 25 seconds, included several Knox highlights and ended with a montage of Knox photo-shopped into the uniforms of his five finalists. In no particular order, the five revealed were: North Carolina, Kansas, Duke, Kentucky and Florida State.
Four of the five are powerhouse programs and the fifth, Florida State, has found itself in the running for some top talent in recent years, including former Jayhawk Andrew Wiggins back in 2013.
Knox, a 6-foot-8, 197-pound forward from Tampa, is a five-star prospect ranked No. 9 in the 2017 class, according to Rivals.com.
Earlier this week, Rivals recruiting analyst Eric Bossi ran a piece that examined some of the top intra-conference recruiting battles in the 2017 class. Given that four of Knox's top 10 schools were ACC programs, Bossi included Knox's recruitment in the article. However, one day later, one of those four — the Miami Hurricanes — was cut from the list. Bossi's write-up mentioned that Knox took unofficial visits to both Duke and North Carolina last season and also said Florida State had an advantage that no other school in the running could claim. Knox's father and mother played football and volleyball at FSU.
There does not appear to be a clear leader for Knox as of yet, but he may be tough to pry away from ACC country.

Coleman cuts list
Knox was not the only top tier Class of 2017 prospect to trim his list to five on Friday. Four-star point guard Matt Coleman, 6-2, 170 of Oak Hill Academy, also announced on Twitter his final five schools on what he deemed "fab five friday."
Coleman's finalists were: Duke, Kansas, Stanford, Syracuse and Texas.
Ranked No. 27 in the ESPN 100 and No. 32 in the Rivals 150, Coleman won a national title with Oak Hill last April, helped the USA Under-18 National team win gold in Chile at the FIBA Championships and also attended the Nike Skills Academy this summer in Los Angeles.
According to 247 Sports, Coleman plans to visit Kansas the weekend of Oct. 14-16.
Vanderbilt visits
Jarred Vanderbilt, a 6-8, 200-pound, five-star forward from Victory Prep in Houston, also lined up several in-home visits this week.
Vanderbilt, ranked No. 21 in the 2017 class by Rivals.com, will host the KU coaches Sept. 21, according to Evan Daniels, director of basketball recruiting for Scout.com. Vanderbilt's in-home visit with the Jayhawks will come after similar visits with TCU (Sept. 9), North Carolina (Sept. 10), Texas (Sept. 11), Kentucky (Sept. 13), Arizona (Sept. 14) and Oregon (Sept. 15).
The pursuit of Vanderbilt, Knox and other 2017 forwards took on greater importance for Kansas this week, when the Jayhawks learned that No. 1 overall prospect DeAndre Ayton committed to Arizona over KU and Kentucky.
Young likes house guests
Speaking of in-home visits, Oklahoma point guard Trae Young, the No. 14-ranked player in the 2017 class, hosted KU coaches Bill Self and Norm Roberts at his home in Norman, Oklahoma, on Friday and appeared to enjoy the visit.
"Had a Great Talk and Really Enjoyed the In Home visit with Coach Self and Roberts from Kansas‼ #RockChalk," Young Tweeted late Friday evening.
Young, who also hosted Oklahoma, Oklahoma State and Kentucky for in-home visits on Friday, posted similar feedback about his morning visit with OSU.
According to ESPN.com's Jeff Borzello, the 6-foot-1, 170-pound five-star point guard from Norman's North High, is expected to host Kentucky on Saturday.