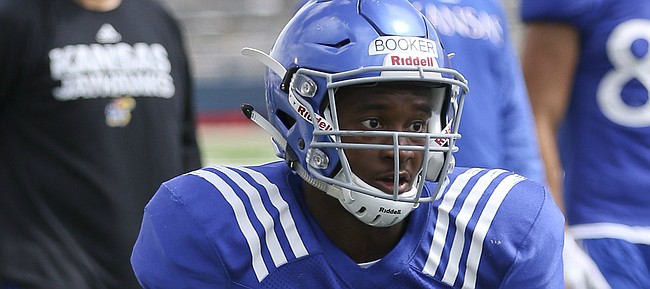 For all the touchdowns and highlight plays the Kansas football team's passing attack put together in a season-opening blowout, the Jayhawks might get a boost from another target Saturday against Ohio.
KU actually played slightly shorthanded while walloping Rhode Island, 55-6. Would-be starting receiver Jeremiah Booker couldn't join in on the fun, head coach David Beaty revealed, due to injury.
"Jeremiah, man. I'll tell you what. You're talkin' about a hard-workin' dude. He really is," Beaty said Monday morning on the Big 12 coaches media teleconference. "I know that he was crushed not getting on the field. But, you know, he had kind of a high ankle sprain that he was dealing with and he wasn't completely ready yet, and hopefully he'll be back ready to go full tilt this week."
As a true freshman in 2015, Booker played in eight games, started six and caught 23 passes for 228 yards.
Beaty and his staff expect the 6-foot-2, 195-pound receiver from College Station, Texas, to play a greater role in KU's offense as a sophomore, and the head coach hopes that will begin this week — assuming Booker gets cleared to play versus Ohio (1:30 p.m. kickoff Saturday at Memorial Stadium).
"We think he will be. He was close," Beaty said of Booker trying to play in the opener. "He's a big part of what we want to do offensively and we didn't want to take any chances on that thing getting any worse — and we were in a position where we could do that."
Indeed, KU's two-quarterback system racked up 399 passing yards without Booker. Sophomore Tyler Patrick, who started in his place, caught five passes for 51 yards, including a 20-yard touchdown from redshirt junior Montell Cozart in the third quarter.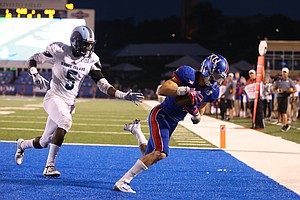 As a team, the Jayhawks totaled six touchdown receptions — Cozart threw three, sophomore Ryan Willis passed for two scores and redshirt freshman Carter Stanley added a fourth-quarter TD through the air.
Sophomore receiver Steven Sims Jr. (five receptions, 124 yards) was the only player with two touchdown catches. The others scores came courtesy of junior tight end Ben Johnson, junior receiver LaQuvionte Gonzalez, Patrick and redshirt freshman Chase Harrell.
Junior receiver Bobby Hartzog Jr. added three catches for 34 yards and senior receiver Shakiem Barbel caught two balls for 17 yards.
Said Patrick, after 10 different Jayhawks had at least one reception in the debut of Beaty's Air Raid offense: "You can just plug anyone in at any point and feel completely comfortable that they're going to get the job done. Everyone is just making everyone better and competing every day, and that's a really good thing."
More lineup updates
Like Booker, Beaty expects senior linebacker Marcquis Roberts and sophomore defensive tackle D.J. Williams back for Week 2 after missing the opener. The coach didn't state the reason Roberts and Williams — both projected starters — didn't play in KU's first game.
Senior offensive lineman Jordan Shelley-Smith, Beaty said, had to sit out the Rhode Island win because he is recovering from a concussion. The 6-5, 300-pound tackle remains questionable for this week.
"We'll see, and be very cautious with him," Beaty said of Shelley-Smith, "and make sure that his health is great before we put him back in for full activities. We'll see how things go with him."
Building on a win
While Beaty and his assistant coaches obviously were thrilled to get the season started off right, the head coach said one challenge for the rest of the week would be focusing on weaknesses exposed in KU's first victory.
"You know, sometimes when you win things kind of get glazed over, and as coaches we guard highly against that," Beaty said. "We talk to our team all the time about the thing that makes us better is telling you the truth. So Monday for us is about the truth… They'll welcome that and they'll get better as a result."