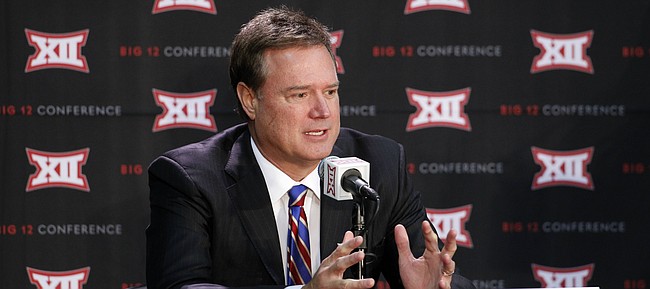 Whether you viewed Houston's football victory over Oklahoma as a feather in its cap during a de facto Big 12 audition or tracked the results of games involving BYU, Colorado State, Cincinnati and a half a dozen others, Big 12 expansion likely crossed your mind at some point this weekend.
Busy with visitors from the recruiting class of 2017 — KU commitment Marcus Garrett and target shooting guard Chaundee Brown — KU men's basketball coach Bill Self may not have spent much time contemplating expansion during the past couple of days, but earlier this summer he spoke on KLWN's Rock Chalk Sports Talk about the topic.
Self has long made it clear that he understands that football is the key component in the movement that began with conference realignment and continues today, as the Big 12 explores the idea of adding two, four or zero schools to its lineup.
Self also made it clear that he's just like everybody else when it comes to having information about what might happen with the Big 12.
"I'm not in the know on anything," he said. "But I would think that if you're gonna talk seriously about it, then there will be something that's done in the relatively near future."
For now, the relatively near future remains Oct. 17, the date of the next Big 12 board of directors meeting. Big 12 commissioner Bob Bowlsby has said for weeks that he'd like to have some type of resolution — be it the identity of schools they would like to add or even just a definite answer on if they want to add anybody — by the time that meeting rolls around.
Whether the conference will be at that point six weeks from now remains to be seen, but progress is ongoing. Last week, several Big 12 hopefuls officially announced they were out of the running and Bowlsby and company continue to conduct interviews and gauge the viability of the 10 or so schools still in the running — Air Force, BYU, Central Florida, Cincinnati, Colorado State, Connecticut, Houston, SMU, South Florida, Temple and Tulane.
"It is interesting to think about the potential schools that we would go after or if there's any schools that have been poached by other leagues that may not be as content as what they originally thought they would be," Self said. "I think if we're gonna do this we should obviously explore every avenue, which I'm sure we're doing. We've got really good leadership in the league office."
As for the impact expansion might have on his program, Self said adding teams might not be a popular move among Big 12 basketball coaches.
"I think all our coaches agree we've got a pretty good deal going," he said. "There's no question that if the move is made it would be primarily to benefit football and we know football drives the bus in so many ways. We understand that and respect that, but we kind of like what we've got going now."
Self said the geographic and travel issues that many opponents of expansion like to throw around are legit but added that they're not as much of a concern today as they would have been in the past because of the money circulating in Power 5 athletic departments.
"It's not as big of a deal as it used to be because of the private aircraft," Self said. "Now, for a sport that doesn't travel that way, I think it's a much bigger deal.... In a perfect world, I think you would want everybody in a relatively close proximity, and certainly that's the way it was 10 years ago with just about everybody. But this is a new world, the television markets and everything are so important. Basically, if you have a good television market and you can bring a following, there's a great chance that you could be in a league where the majority of your teams are a three-hour flight away."
Asked if he ever found himself day-dreaming — or even fearing — what the Big 12 might look like a decade from now, Self said he was just like everybody else.
"Sure, but I don't worry about it," he said. "We were worried about it from the league standpoint four or five years ago and that was big. But we like our league situation and we know that we're in good shape.
"There could always be something that could happen that could certainly temper that. If you lose a couple of the key schools out of our league, that could certainly temper that. We want to keep going with what we've got going and hopefully just add to it. Hopefully everything we do will be a positive and an addition to it."