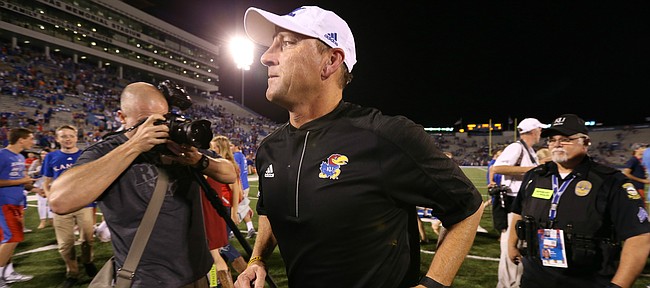 For all the excitement in the air at Anderson Family Football Complex on Saturday night following his first victory as Kansas head coach, David Beaty wasn't about to give his team a free pass.
Sure, the Jayhawks outmuscled Rhode Island in a 55-6 romp, but the second-year coach had no interest in overlooking a string of self-inflicted blunders.
In the final two minutes of the first half, with Kansas leading comfortably, 27-6, the Jayhawks had a chance to pad their advantage by closing the second quarter with a scoring drive. But after URI limited senior running back Ke'aun Kinner to two yards on third-and-three at the Rams' 11-yard line, Beaty called timeout for the offense to assess the situation and come up with the fourth-and-one play call of choice.
However, KU followed the first timeout with another, then got flagged for a substitution infraction, making it fourth-and-six.
"That's a coach's nightmare," Beaty said of the gaffe.
To make the situation worse in the moment, senior kicker Matt Wyman missed his 31-yard field goal try, wide right, on his only attempt of the night.
"There's a lot of things that we can go to school on. Substitution errors, that's not acceptable. We've gotta get that cleared up. And that's on us as coaches," Beaty said shortly after the victory. "… You hate seeing those things in a first ball game, because they're preventable. But they happen all the time and they're preventable. That's the only thing I come away with that I'm disappointed in."
Ultimately, Beaty said the thud of an end to the half had to be used as a teaching point.
"I'm sure our fans were extremely upset," the coach admitted, "and I was, too. That can't happen. That is inexcusable. And we have a plan in place, and the plan failed us, and we've got to go back and really work at those details and make sure it doesn't happen again."
On the night, KU incurred four penalties for 37 yards. The non-scoring drive to end the second quarter began in a 15-yard hole after sophomore safety Tyrone Miller Jr. earned a flag for unsportsmanlike conduct following a diving interception by senior safety Bazie Bates IV.
That marked Miller's second infraction of the quarter. The 6-foot sophomore from Ann Arbor, Mich., was called for pass interference on a play, negating a pick by senior safety Tevin Shaw. The Rams went on to score their only touchdown of the game on that drive.
Despite a mostly clean night on offense, Kansas actually took too much time on the first play from scrimmage, picking up a delay of game penalty, opening the season with a six-play series that culminated in a Cole Moos punt.
KU's other significant flubs came when junior Derrick Neal fumbled on a punt return in the fourth quarter and redshirt junior quarterback Montell Cozart threw a pass directly to URI sophomore linebacker Justin Hogan in the third quarter.
Beaty doesn't expect his Jayhawks (1-0) to have an easy time on offense or defense this coming Saturday, when Ohio visits Lawrence — even if the Bobcats (0-1) opened their season with a 56-54, triple-overtime loss to Texas State. He hopes KU's coaches and players show a greater attention to detail in the days leading up to the team's first game against an FBS opponent.
"I would rather it happen in a win than a loss," Beaty said, referring to the substitution penalty coming out of back-to-back timeouts, "but we already know that. We already know how it works, and that's what's disappointing to me. But you know what, we did do a lot of things tonight that the plan did work, that handled certain situations. So, you've got to take it a little bit with a grain of salt as you go. But you've got to learn from it."
---
---