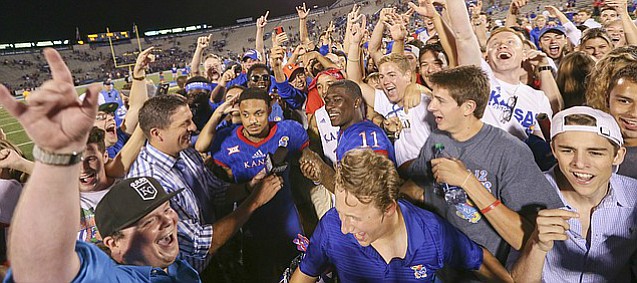 Second-year Kansas football coach David Beaty couldn't help himself Saturday night. After losing all 12 games in his debut season a year ago, the ever-enthusiastic coach with the Texas accent had to stop himself and gain his composure while discussing his Jayhawks' 55-6, season-opening victory over Rhode Island at Memorial Stadium.
"I've never been through what we went through last year. That's hard," Beaty said, pausing a number of times to battle tears. "That's very… personally it's difficult. I got emotional with those guys. … It's just hard … Obviously I'm overjoyed for them."
As the coach alluded to, he felt such a rush of happiness because his players had suffered far more than he imagined possible in 2015.
"They've been through a lot. We've asked them to do a lot and, man, that's good for them to experience that success," the coach said. "Really, really cool experience in the locker room."
Photo Gallery
Kansas football v. Rhode Island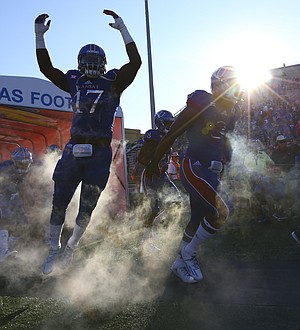 Images from the Jayhawks' season opener against Rhode Island on Saturday, Sept. 3 at Memorial Stadium.
Podcast episode
After a 55-6 victory over Rhode Island in the 2016 season opener, Kansas coach David Beaty discusses the win (his first as KU coach), offense and quarterback situation in his post-game press conference.
Senior KU safety Fish Smithson, who like each returning player, sat through a much different post-game experience week after week a season ago, gave himself some time to appreciate the good vibes that dominated the locker room Saturday night, tears and all.
"It was great. It just felt so real coming from (Beaty) and having it been his first year last year and having to go through that long, hard season and then now finally getting a win, he did get choked up," Smithson said. "He got emotional. He told us that he cared about us, he loves us and told us how great that we played. That just shows a lot about him and what he's doing for our team."
Redshirt junior quarterback Montell Cozart, who actually is playing for KU for a fourth season this fall, has experienced all the woes the program has to offer. Still, quickly Cozart mentioned how much the players wanted to get Beaty his first victory as a college head coach.
"Last year everybody knows the story, and coming off of that, coach Beaty getting his first one in his first game," Cozart said, "it's real special for all of us. And I know it's special for him. We owe it to him. We've done nothing but follow his lead since he got here. He's leading us to great things."
When the coach walked in for his post-game press conference, a bubbling Beaty said "you're dang right" he was happy.
"We're gonna celebrate," the coach said of KU's first victory since Nov. 8, 2014, against Iowa State (665 days earlier), which broke a 15-game losing streak for the program. "Wining a college football game is tough. It's difficult. It doesn't matter who you are, and we're not gonna let anybody steal our joy."
First-timers
Five different Jayhawks started their first games at KU against Rhode Island. True freshman Hakeem Adeniji and redshirt freshman Mesa Ribordy opened on the offensive line, while junior receiver LaQuvionte Gonzalez started at receiver.
On defense, junior tackle Isi Holani got the nod and sophomore Osaze Ogbebor started at linebacker in place of senior Marcquis Roberts.
It also marked the KU debuts of the following freshmen: defensive end Isaiah Bean, receiver Keegan Brewer, corner DeAnte Ford, receiver Chase Harrell, running back Khalil Herbert, linebacker Maciah Long, quarterback Carter Stanley, tight end Jace Sternberger and safety Bryce Torneden.
Non-freshmen who played their first game at Kansas were junior tackle DeeIsaac Davis, junior running back Denzell Evans, sophomore linebacker Keith Loneker Jr., and junior punter Cole Moos.
New voice
Saturday marked the on-air, play-by-play debut of the new voice of KU football and men's basketball, Brian Hanni.
A Kansas graduate and Lawrence native, Hanni replaced legendary Jayhawks announcer Bob Davis during the offseason.
Hanni worked previously as the play-by-play voice of Kansas baseball and women's basketball before leaving in 2012 to call Texas Tech men's basketball and baseball, on the Texas Tech Sports Radio Network.
This and that...
Kansas' all-time record improved to 580-610-58 … Kansas improved to 72-48-7 in season openers… As a team KU's 399 yards through the air were the most since airing it out for 498 yards against Missouri in 2009… Kansas' 570 yards of total offense are the most since racking up 576 yards on South Dakota State in 2015. Prior to that, KU hadn't posted more than 570 yards of total offense since 2009… Kansas pass throwers connected on six touchdowns in the contest, the most by a Kansas team since also tossing six against Nebraska in 2007… The Jayhawks' 49-point margin of victory was the largest since defeating Florida International, 55-3, in 2007… Five different receivers caught a touchdown pass — a first since a quintet of receivers also hauled in touchdowns against Central Michigan in 2007… KU won its 30th home, non-conference contest since 2003 and improved to 30-5 overall against opponents outside of the Big 12 Conference… Kansas improved to 3-1 in games played on Sept. 3…The Jayhawks are now 34-14 in home night games (6 p.m., or later kickoff) since permanent lights were installed at Memorial Stadium in 1997… KU has scored at least 20 points in 13 of the last 14 season openers… Kansas averaged 7.8 yards-per-play against the Rams… Junior wide receiver Gonzalez played in his first game since December 29, 2014 (614 days)….Kansas held the Rams to just 49 passing yards — the fewest by a Kansas opponent since Oklahoma threw for 39 in a downpour in Norman in 2014… Sophomore defensive tackle Daniel Wise blocked a URI extra-point attempt at 10:36 in the second quarter. That was the second blocked kick of his career… Smithson lost his streak of six-straight games with 10 or more tackles after a four-tackle performance against the Rams.
— See what people were saying about KU's first win of the season during KUsports.com's live coverage
---
More news and notes from the 2016 season opener
---