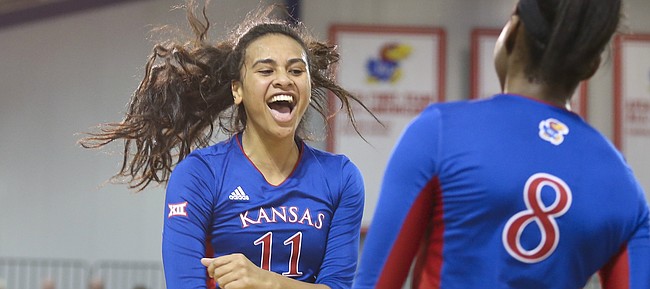 Because it was a slated for a noon first serve, the normally loud and proud KU volleyball band was nowhere to be found.
Didn't matter.
The KU crowd and the volleyball players on the floor created enough electricity to fire up Horejsi Family Athletics Center and Kansas rolled its way to a three-set sweep in the home opener on Friday, 25-12, 25-8, 25-9 over Chicago State.
The victory, which featured all of the things you've come to expect from Ray Bechard's Kansas volleyball team, — now ranked No. 4 in the country — pushed KU's record to 4-0 overall and kept intact a four-match sweep streak that featured Kansas winning 12 sets and dropping none.
Photo Gallery
Kansas volleyball v. Chicago State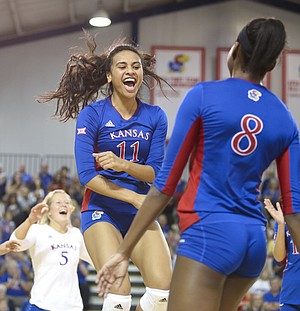 Images from the Jayhawks' Friday afternoon game against Chicago State
Later Friday, the Jayhawks kept their perfect season going by topping Maryland 3-0 (26-24, 25-19, 25-23) in a match that was much tighter, but the reigning national and Big 12 coach of the year said earlier Friday that he did not expect the sweep streak to last much longer.
"I'm sure everybody thinks we should win every match," Bechard joked. "It's doubtful that will happen. It probably won't happen with anybody in the country, but we're gonna play hard every match and try to get better."
The Jayhawks (5-0) did exactly that throughout the day Friday. Even in the opener against Chicago State, KU displayed the kind of unrelenting style that has made them both one of the most consistent and most feared programs in the country. Libero Cassie Wait led the charge with her signature hustle-and-dive defense, but the Jayhawks got strong play from all six positions on the floor no matter who was in the lineup.
"I think it was a great game to get everybody in and see what they could do," junior outside hitter Madison Rigdon said after the win over Chicago State. "The crowd, the fans, it's a great environment to play in. It's good to be back."
One of those players who got her first crack at playing a live match in Horejsi was outside hitter Patricia Montero. Montero, a 5-foot-10 outside hitter from Puerto Rico, missed all of her true freshman season at Kansas in 2015 and was thrilled just to be back on the floor playing. She played plenty in last week's three-match sweep at Mississippi State and said it was there that she got rid of the return-to-action butterflies.
"Here is home," she said with a smile. "We practice here every day, we put in the work and there really were no nerves.... I'm just happy to be out there, honestly. It's all I've ever dreamed of."
Although the Jayhawks have jumped out to what Bechard called "a good place to start," things figure to get tougher in a hurry. The Jayhawks face Arkansas at 1:30 today in the final match of the Kansas Invitational and next weekend will travel north to Omaha, Nebraska, where they'll face Creighton and Chattanooga in the Bluejay Invitational.
"With our next five, six, seven opponents, if we're having that same conversation (about being unbeaten), we'll be talking about something pretty serious," Bechard said. "There's expectations, there's preseason polls. We just need to give ourselves an opportunity to get better every day."
Added Rigdon of trying to keep the focus on what's ahead instead of looking back at last year's magical run to the program's first Final Four appearance: "That was last season. We just have to focus on upcoming games and not worry about what we did last season because this is a new team and new season.... Gotta keep it rolling."
More like this story on KUsports.com