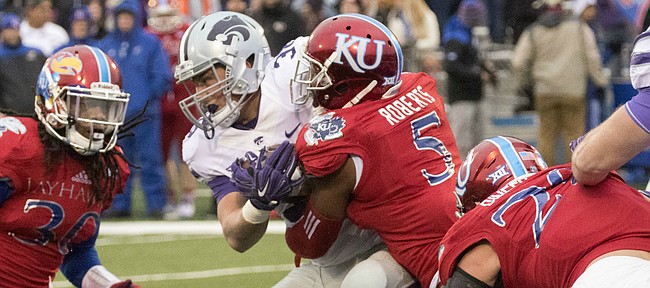 On a number of occasions over the past couple of months when head coach David Beaty got on the subject of his Kansas football team's defense, he mentioned in a somewhat joking fashion he wouldn't want Fish Smithson leading the team in tackles again.
In the race to surpass KU's senior safety in that category during the months ahead, the most likely candidates play linebacker. While Smithson's 111 total tackles topped the unit a year ago, Joe Dineen (86) and Marcquis Roberts (71) often contributed to stops, as well.
As Kansas defensive coordinator Clint Bowen prepared for the season, however, he didn't waste much time thinking about who will rack up the most tackles. In fact, asked if he wanted to see more production from his linebackers this fall, Bowen balked at the notion.
"In this day and age it's so open a lot of times the offense can dictate who's gonna make some tackles, you know," Bowen said. "They've got something to say about it. But our linebackers are capable guys. We've got some guys at the front (on the defensive line) and I think the tackles kind of come as they're supposed to."
Along with senior Roberts and junior Dineen, Bowen said senior Courtney Arnick, sophomore Osaze Ogbebor, freshman Maciah Long and sophomore Keith Loneker Jr. will get some reps at linebacker Saturday, in KU's season opener against Rhode Island (6 p.m. kickoff at Memorial Stadium).
Dineen said all of KU's linebackers should benefit as play-makers thanks to the enhancements made by the defensive linemen in front of them during the offseason. He called the D-line the most improved unit on the team. The junior linebacker cited sophomore tackles Daniel Wise and D.J. Williams, junior tackle Isi Holani and sophomore end Dorance Armstrong Jr. as players who have upgraded their skill sets since last season.
"All those guys, Olobia (Anthony, a senior end), are stepping up huge and they're making a lot of plays — a lot of plays," Dineen said. "I'm excited to see what they do on Saturday."
Receiving options aplenty
First-year KU receivers coach Jason Phillips, too, has players he's eager to watch versus URI.
After citing the talent and locker room presence provided by junior LaQuvionte Gonzalez, a junior transfer from Texas A & M, Phillips added he looks forward to the sophomore debut of Steven Sims Jr., who caught 30 passes for 349 yards as a true freshman.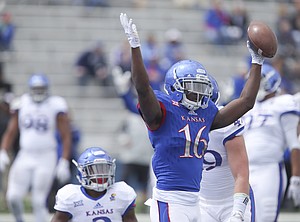 "I just want to see if his commitment pays off," Phillips said of Sims' offseason work, "because he's definitely committed himself to getting better."
With Gonzalez, Sims, sophomore Jeremiah Booker, and upperclassmen such as junior Bobby Hartzog Jr. and seniors Austin Moses and Shakiem Barbel involved at receiver, Phillips said it's a mature group, so he doesn't think many will have a problem playing under the Memorial Stadium lights.
"Obviously there's a couple of freshmen that may get an opportunity to play, and you kind of look to see how big their eyes get," Phillips added. "But obviously the rest of these guys have been there and done that. I'm sure they're anxious to get back into it."
With sophomores Emmanuel Moore and Tyler Patrick (not to mention KU's freshman receivers) in the mix, too, Phillips has sufficient options. So just how many from his position room will play against the Rams?
"All of them, hopefully," Phillips replied, laughing. "I tell those guys: All of them will play. Now whether they play offensively or special teams is yet to be determined. But I expect all of those guys to contribute this weekend."
Willis far from 'finished product'
KU, of course, enters its season debut without having named a starting quarterback. Beaty said that wouldn't be the case if sophomore Ryan Willis had progressed ahead of schedule and left the developmental stages of his college career.
"Oh, yeah, he's a baby," the coach said. "He played a few games last year. He got knocked around a little bit. He is by no means a finished product at all. If he was, he would be named the starting quarterback. And he's not. We don't have a starter yet. We didn't have that separation."
Beaty would only reveal this week that Willis, redshirt junior Montell Cozart and redshirt freshman Carter Stanley were in the mix to become KU's first-string QB. The coach said all of them performed at a high level during August practices.
"So the good news is, there is not a hair's separation from them statistically in fall camp," Beaty said. "I mean, that's what makes it extremely difficult is their production was very, very similar. And, you know, hey, both those guys, they know that it's gonna come down to this week to see who goes in first, and then they may not be in there long and the other guy comes in there. We'll see."