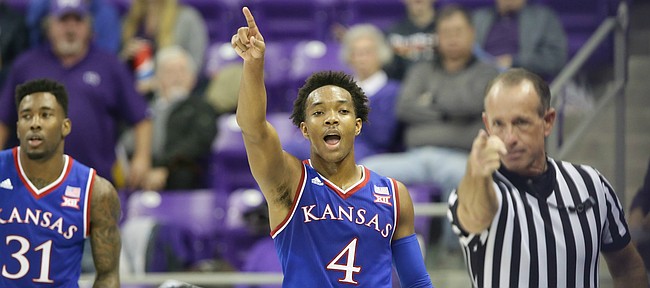 When the Kansas men's basketball team opens Big 12 play Dec. 30 at TCU, the Jayhawks will be experiencing two firsts.
For starters, the late-December conference opener will mark the first time in Big 12 history that the conference schedule will open in December.
KU coach Bill Self on Thursday told The Journal-World that the schedule had to be pushed back into December to make room for the SEC/Big 12 Challenge in late January.
Although Self said he and the rest of the conference coaches enjoy the challenge — KU will play at Kentucky on Jan. 28 — they don't necessarily love what it does to the conference schedule.
"It matters to me and it matters to the other coaches," Self told the Journal-World. "But by the way the schedule falls, we had absolutely no other option. I don't think anybody likes it, but at least this year and next we'll have to deal with it."
A season ago, KU opened Big 12 play on Jan. 2, the earliest in recent memory. None of the conference openers prior to that, dating back to the 2007-08 season, came before Jan. 4 and most came during the second week of January.
In addition to starting in December, KU's Big 12 opener will be the first conference game for new TCU coach Jamie Dixon, the longtime Pitt coach who took over for Trent Johnson in the offseason. Self said he was looking forward to the match-up with Dixon to kick off the conference slate.
"Jamie's a good coach and a good guy and he'll have everybody excited about it," Self said. "Playing right there in December will be a great promotional game in some way shape or form and will give TCU the best home-court advantage they can have. Usually the conference opener generates more enthusiasm and the players are jacked, but I think it'll be the same for our guys, too."
Other highlights of KU's Big 12 schedule, which was released by the conference office on Thursday, include the Jayhawks being featured in four Big Monday games on ESPN for the 11th consecutive season — at Iowa State on Jan. 15; at Kansas State on Feb. 6; vs. West Virginia on Feb. 13; and vs. Oklahoma on Feb. 27.
Self said the continued exposure of being on one of ESPN's main college basketball draws was great for the program, but added that KU was fortunate to get that same kind of exposure throughout the year.
"I look at our schedule and our last 22 regular season games are on ESPN, ESPN2 or CBS," Self said. "Big Monday is great and we love playing on Big Monday, but I don't know if you can get a lot more exposure than having your final 22 games on those three networks. And that doesn't even count any of our postseason.
"So we love Big Monday, but we'd be just as happy playing on Tuesday or Wednesday as long as it was on those networks, as well."
Here's a look at the complete KU schedule for the 2016-17 season: