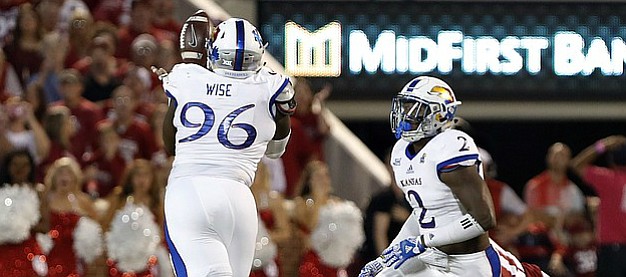 Norman, Okla. — Oklahoma wide receiver Dede Westbrook flew around the right end and had his eyes trained on another big play when freshman safety Mike Lee closed on him aggressively, hit him hard and popped the football loose with his helmet, a big play at the time in a game Kansas went on to lose, 56-3, Saturday night at Oklahoma Memorial Stadium.
KU defensive tackle Daniel Wise caught the ball, juked a defender and was brought to the turf after the four-yard fumble recovery. Adrenaline in overdrive, Wise then sprinted toward the sideline, leaped in the air and bumped shoulders with a teammate in celebration of a job well done.
Normally, this is a safe thing to do for a defensive player responsible for a turnover. With the offense on the field, there is plenty of time for the big playmaker to catch his breath in plenty of time to return to the field.
Wrong.
On the next play, Kansas quarterback Montell Cozart threw into a crowd and the pass was intercepted by Jordan Thomas at the OU 2.
The recurring story line — KU offense fails to reward the defense for another job well done — made its predictable appearance again.
The momentum lasted about as long as it takes to type the word momentum. The scoreboard, late in the first quarter, read Oklahoma 7, Kansas 3, but the interception had a feel of finality to it.
Wise's play was an exciting flash that set the sideline on fire, even if it extinguished quickly.
"Just doing what coach teaches us to do, pursue to the ball and when the ball got tipped, I was right there in position to catch it and the first thing on my mind was to score," Wise said.
His juke was quite impressive for a man his size.
Wise said he was a running back, "once upon a time, a couple of pounds ago. I just tried to get in the end zone and give the offense good field position."
That's about what it would take to give the KU offense good field position, all right.
Still breathing heavily, there was no way Wise was ready to return to the field. He took a few plays off.
"I had to get a breather," Wise said. "Little gassed."
It was the highlight of a night in which Kansas was outscored 49-0 in the middle two quarters.
"When you see a lineman running like that, it kind of brings you back to playing football when you were 10 years old, just out there having fun when you see stuff like that," cornerback Brandon Stewart said.
The feeling didn't last and Kansas head coach/offensive coordinator David Beaty was in a lousy mood afterward, at least until hearing that KU's volleyball team had defeated Texas earlier in the night for the first time in the past 25 matches between the schools.
"Did they? Man, that's awesome," Beaty said. "Congratulations to Ray (Bechard) and those guys. I mean, how cool is that, because at one point they were kind of where we are. We draw a lot from Ray Bechard and his staff because of what he did and how he took that program from where it was to where it is today. For them to beat them today, that's a monumental win for that program. I'm really, really happy for those guys."
Beaty's players echoed his sentiments and welcomed the distraction that allowed them to take a momentary detour from rehashing an inevitable beating at the hands of a bigger, faster, more experienced opponent..
At the beginning, the Kansas defense didn't look at all overmatched against an Oklahoma offense that the previous week had amassed 854 total yards in a game of pinball football game it won vs. Texas Tech, 66-59.
The Sooners didn't score on the Kansas defense until a few minutes into the second quarter.
As the blowout mounted, the Sooners, whose first touchdown came on Westbrook's 71-yard punt return, seemed to be scoring at will. That's nothing new. The Sooners do that to many opponents.
Oklahoma's defense, torched for 854 yards against Texas Tech, limited KU to 170 total yards, even though on one play the Sooners had just 10 defensive players on the field.
"Last week, we couldn't have stopped them if we had 12 players out there," defensive coordinator Mike Stoops said. "Tonight we stopped them with 10."
Ouch!
More like this story on KUsports.com