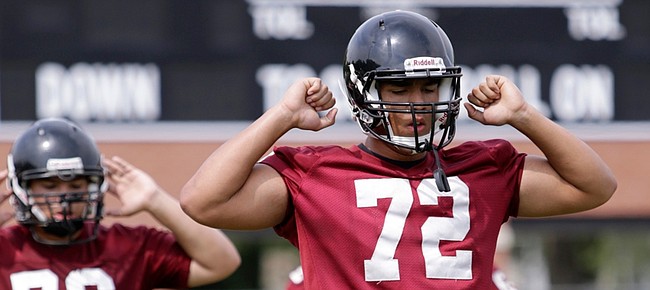 Norman, Okla. — Former Lawrence High standout defensive end Amani Bledsoe, a freshman defensive end for Oklahoma, didn't dress for Saturday night's game against his hometown school and he won't be in uniform again until the Sooners' eighth game of the 2017 season, the Journal-World has learned.
The NCAA has suspended Bledsoe for a year for failing an NCAA performance enhancing drug test, according to multiple sources. Bledsoe, who broke the hearts of the Kansas coaching staff when he chose to continue his education and football career at Oklahoma, plans to appeal the suspension, according to a source close to the situation.
Informed of the suspension shortly before kickoff by text, before the reason for it had been learned, Wedd was startled to hear the news: "Totally out of character. I'd trust him with my grandchildren. I love him like a son."
Bledsoe was listed second on Oklahoma's depth chart in the game notes. He had appeared in each of the past five games for the Sooners and assisted on two tackles in the Louisiana-Monroe game and assisted on another last week vs. Kansas State.
Bledsoe, blessed with good speed and agility for a man who is listed at 6-foot-5 and 270 pounds on the Oklahoma roster, helped Lawrence High to a 10-1 record as a senior in 2015.
Oklahoma officials called the length of the suspension "indefinite" and did not specify the cause of it.