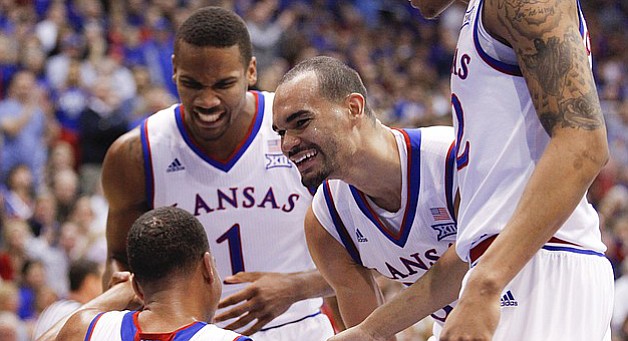 Another season of NBA basketball opened Tuesday night and did so with three Jayhawks from last year's team still gunning to make the league not on a roster.
KU coach Bill Self on Tuesday gave his take on the current pro status of former Jayhawks Cheick Diallo, Perry Ellis, Brannen Greene and Wayne Selden.
"I talked to Wayne (Monday); he was actually in town," Self began. "I haven't talked to Perry (recently). But I talk to 'em all quite a bit. I assume Wayne and Perry will probably go to the D League. Brannen will probably go to the D League. And Cheick's done pretty well (with the New Orleans Pelicans, who drafted him No. 33 overall in last June's draft). They're happy with Cheick."
Although three of the four are not currently employed by the NBA, Self said he thought it was only a matter of time before at least a couple of them are.
"I'll be shocked if Perry and Wayne don't get a call up here pretty soon," he said. "Wayne and Perry have had no breaks since their season's been over, health, being able to work out, they have had no breaks. So hopefully getting them with a developmental team and them being able to get some confidence and start understanding the NBA game a little bit better, hopefully they'll be in the league real soon.
"With Wayne, it was more of a numbers crunch. But with Perry it was more of a health situation. Perry never had a chance. He didn't do great at the combine and then he gets hurt and doesn't get a chance to really do anything. So he's got a lot to prove to whoever he's playing for, but he's more than capable of doing that when he's comfortable."
As for other Jayhawks still trying to catch on in the NBA, Self was thrilled when he learned this week that former KU All-American Thomas Robinson had made the roster with the Los Angeles Lakers.
"That's great news," Self said. "Because he rolled the dice by opting out of his contract, thinking that he was gonna for sure get something, and he struggled a little bit. So that's great for T-Rob."
"I don't know how good they'll be this year," Self continued. "But hopefully (first-year Lakers coach) Luke (Walton) can reach him and get him rebounding and defending like he's capable of because he's got a lot of good years left in that body. Hopefully he'll have a big year."
More like this story on KUsports.com