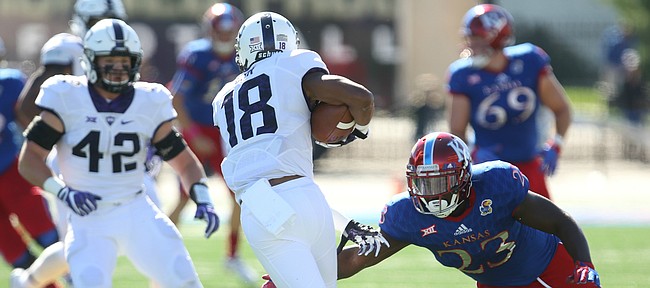 Norman, Okla. — One could point to any number of factors while explaining how the Kansas football team has lost six consecutive games this season. Still, it's difficult to ignore how the Jayhawks' offensive tribulations have undermined the team's defense.
Leading all FBS teams in turnovers lost (25), Kansas routinely has simultaneously derailed its chances on offense while putting its defense in all sorts of predicaments. Second-year Kansas head coach David Beaty, who doubles as the team's offensive coordinator, repeatedly harps on playing complementary football in all three phases of the game, and said the offense has to become more productive.
"We got a little bit better last week," Beaty said of a 44-20 loss to Oklahoma State, "but we didn't score enough points, and we've got to find a way to get in that end zone more. And 450-something yards or whatever it was (454), that looks really good until you look up there at that scoreboard and there's 20 points on the board. And we have to take responsibility for that poor performance when we're involved."
Thirteen times in KU's six defeats, an interception or fumble has allowed the opponent to begin a drive within 35 yards of the goal line (that's not including two interceptions returned for a touchdown). The opposition has scored six touchdowns and made five field goals on those occasions.
Asked if he ever feels like KU's offense is holding the defense back, junior quarterback Montell Cozart admitted giveaways have put the defense in tough situations.
"And it's been the case all season. The game, it'll be a four-point lead for the opponent and the next thing you know they're up by 14 or something like that, to where we've put ourselves in a hole as a team — but more importantly our defense," Cozart said. "We're putting them on a short field sometimes and they're doing a great job — they're holding those guys to three points, sometimes none. But, you know, it's tough being in this conference and going against the guys that we face all the time, having those guys go out there defending in the red zone basically puts a lot of pressure on those guys. But they know we have their back and they have our back, as well."
As Kansas (1-6 overall, 0-4 Big 12) takes on No. 16 Oklahoma (5-2, 4-0) on the road Saturday (6 p.m. kickoff, FOX Sports 1), Beaty knows his offense will have to show further improvement to keep up with the favored Sooners, who average 50.2 points a game in their conference victories.
"So we've got to figure out how we're going to get that fixed," Beaty said, "and get into the end zone. And we're continuing to work at that, because once we do that, we'll be in pretty good shape."
Lee coming on strong
True freshman defensive back Mike Lee didn't play in the team's second game of the season. But since then the safety from New Orleans has improved with more playing time. Lee has started each of the past three weeks, and now ranks second among Jayhawks this season in total tackles (37) — trailing only senior safety Fish Smithson (48).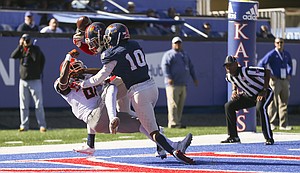 When Lee initially saw extended playing time a month ago at Texas Tech, he made eight solo tackles but also blew enough assignments for defensive coordinator Clint Bowen to give his performance a failing grade. Since then, Bowen says he's pleased with Lee's development.
"There's a lot of things that happen in a hurry out there, and safety in this league is not an easy position to play," Bowen said. "You end up defending the run-pass play options — they are kind of crazy in this league in terms of what teams are doing. You have to have a lot of discipline with your eyes and the kind of things that young kids struggle with a lot of times. He's continued to work on them and he has gotten a lot better since the Texas Tech game."
A 5-foot-11 safety who graduated from Landry Walker High early in order to join KU this season, Lee's speed has helped him make timely plays. Last week against Oklahoma State, Lee came flying over to break up a would-be touchdown on a deep throw to the end zone, with a big hit.
"Mike's continuing to get better each week," Bowen said, after Lee made nine solo tackles against OSU. "Whether that's instincts or anticipation, I think there's a lot of things that make safeties pretty good, and he has that. It's a willingness to want to run and hit someone, and he has a lot of that. He's kind of a fly-around guy. He can accelerate and go."