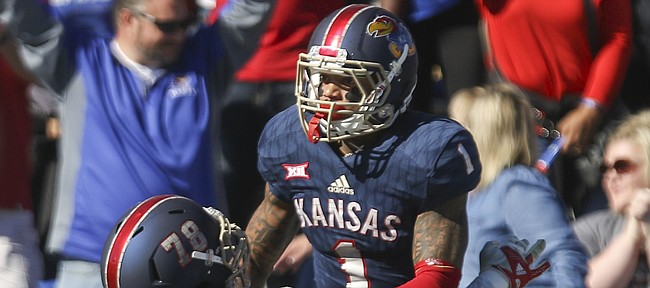 — Kansas (1-6 overall, 0-4 Big 12) at No. 16 Oklahoma (5-2 overall, 4-0 Big 12) • 6 p.m. Saturday, Gaylord Family Oklahoma Memorial Stadium, Norman, Okla. • Game-time forecast: 78 degrees, mostly sunny, 0% chance of rain • TV: FOX Sports 1
— Log on to KUsports.com for our live game blog and follow our coverage team on Twitter: @KUSports, @BentonASmith and @TomKeeganLJW
Keys for Kansas
1. Find the weaknesses in OU's defense
True, the Sooners have yet to suffer a conference loss this season, but the Oklahoma offense (50.2 points a game) deserves most of the credit for that. Though all of them lost, TCU (46), Texas (40), Kansas State (17) and Texas Tech (59) combined to average 40.5 points against OU (eighth in scoring defense in Big 12 games). League teams have found the end zone primarily due to their success in the passing game. Oklahoma enters the weekend ranked last in passing defense, with Big 12-worst marks of 413.2 yards allowed a game and 14 touchdowns surrendered.
That means Kansas receivers — Steven Sims Jr. (37 receptions, five touchdowns) and LaQuvionte Gonzalez (42 catches, two touchdowns) in particular — and quarterback Montell Cozart have to take advantage of the OU secondary at every possible opportunity. There are plenty available examples of how to attack the Oklahoma defense, and KU head coach/offensive coordinator David Beaty needs to have Cozart and company ready to follow those blueprints for Kansas to a chance at keeping this road game competitive.
2. Try to harass Baker Mayfield
This season, the only team that has held OU junior quarterback Baker Mayfield below a 70-percent completion rate is Ohio State (currently ranked No. 6 in the nation). Mayfield has otherwise shred opposing defenses. Through seven games, the QB is averaging 335.4 passing yards, has thrown for 23 touchdowns and leads the Big 12 in passing efficiency (194.9).
To avoid becoming the latest victim of an OU offensive explosion, the KU defense needs to get after Mayfield the way it has many other talented quarterbacks this season. KU's 20 sacks through seven games gives Clint Bowen's squad a 2.86 average in the category, good enough for third in the Big 12. Whether it's defensive end Dorance Armstrong Jr. (7.0 sacks), linebacker/end Cameron Rosser (4.0), defensive tackles DeeIsaac Davis (2.0) and Daniel Wise (1.0) or any number of schemed blitzers, the Jayhawks need to keep Mayfield from getting comfortable as often as possible. Otherwise, the Sooners' QB will just improve on his 71.4 completion percentage and OU will put the game out of reach long before halftime.
3. Don't let Dede Westbrook get loose
The Kansas defense showed last week it could take away a team's No. 1 receiver. Oklahoma State's James Washington (averaging 5.3 receptions and 105.7 yards a game) only caught one ball for nine yards against Kansas, in Lawrence. It seems OU receiver Dede Westbrook might be impossible to smother in that fashion, but the Jayhawks at least need to keep him from replicating his monster numbers from the past several weeks. In Oklahoma's victories over TCU, Texas, K-State and Tech Westbrook averaged 194.0 receiving yards and 22.2 yards a catch. In total, the 6-foot dynamo accounted for 35 receptions, 776 yards and 10 touchdowns.
Part of keeping Westbrook from going off depends on the aforementioned QB pressure, but the KU secondary is in for a challenge, too. From cornerbacks Brandon Stewart and Marnez Ogletree, to safeties Fish Smithson and Mike Lee and every other Kansas defensive back who checks into the game, they'll all have to know where Westbrook is at every moment and work together to keep him from busting a long play for a touchdown.
Mega Matchup
Oklahoma RB Joe Mixon vs. KU defense
If you follow Kansas football, you certainly remember the name Samaje Perine. Two years ago in Norman, Okla., the OU running back torched Kansas for an FBS-record 427 rushing yards and scored five touchdowns. KU won't have to worry about an encore performance from the senior, who pulled a muscle against K-State two weeks ago and hasn't returned to the lineup. But programs such as Oklahoma don't have to stress over injuries to skill players. Case in point: Mayfield can just hand the ball off to Joe Mixon.
In the Bob Stoops era, not even Perine has matched redshirt sophomore Mixon's ability to churn out chunks of yardage — OU-best 6.69 yards a rush. In four Big 12 losses, Kansas has surrendered 177.2 rushing yards a game (sixth in Big 12) on 4.6 yards a carry. But the KU defense doesn't only have to worry about Mixon as a rusher; he's a receiving threat out of the backfield, as well. With 226.0 all-purpose yards a game during Oklahoma's 4-0 start to conference play, Mixon leads the Big 12. He even threw a TD pass to Westbrook against K-State. If OU so chooses, Mixon truly can do it all. Not one Kansas defender can lose focus on his assignment or the versatile back when Mixon's on the field.
5 Questions with junior WR Bobby Hartzog Jr.
1. You've been in the starting lineup every week this season, but you seem to be one of KU's under-the-radar players. What's kept you from having that breakout game you're looking forward to producing?
"I'm just patiently waiting for it. You know, we have hot receivers like Quiv and Steven. You've gotta keep feedin' 'em if they're hot. I'm a team player and it's not really bothering me or anything like that."
2. Receivers coach Jason Phillips called you one of the most reliable guys on the team — he knows what you'll give the offense, he trusts what you're doing and that's why you play so many snaps every week. What are you doing on the field that the casual fan might not see?
"I give it all I got, every week, every play… Playing under Coach Phillips, you have to block. Any of our running backs can bust out for a long run. Even Quiv, he's known to do that quite a few times. Blocking is really a huge part of our game that people might not notice that we work on."
3. You had a personal season-high last week with four catches (30 yards) against Oklahoma State. What led to a little bit more production?
"Nothing really changed in our preparation. We still go out there and try to do the same thing, try to work hard and try to do our best to get open. It just happened to come our way, and I try to make every play."
4. How much does what the opposing defense is doing dictate your involvement as receivers?
"We pretty much game-plan around how their defense is gonna play us. Whoever's hot, you gotta feed 'em. If any one of us is hot, they're gonna get fed… You've gotta keep doing it and doing it until they change something to where we have to change something."
5. Cozart returned to the starting lineup last week and it seemed to help the offense (454 total yards, 6.2 yards per play). For you all as receivers, how good is the chemistry for your group with Cozart and how happy were you with how that game played out offensively?
"Montell is a real hungry guy. He wants to perform well every week, just like us. I really can't say nothing about it was a difference between quarterbacks or anything like that. As receivers, we don't really worry about who's back there at quarterback, we really have to focus on our job and what we've gotta do. Montell played a great game. It was exciting to watch and actually be a part of."
Jayhawk Pulse
A couple of unsightly streaks figure to continue for Kansas in this Big 12 road challenge against a top-20 team. KU, of course, hasn't won a game of any variety outside of Lawrence since 2009, at UTEP, giving the program a 41-game losing skid in that category. The Jayhawks haven't ventured into another Big 12 stadium and emerged victorious since 2008, at Iowa State, bringing that losing stretch to 33. With the Sooners favored by 38 points, it's hard to imagine a scenario in which Kansas wins this week. However, that shouldn't matter for the players. The Jayhawks need to go to OU and prove they're not easy roadkill. Given where the program is at right now, they can do that just by competing with the Sooners for as long as possible. It won't be the team's goal, but the Jayhawks could show improvement simply by avoiding the types of road losses they've suffered this year: 43-7 at Memphis, 55-19 at Texas Tech and 49-7 at Baylor.
Tale of the Tape
OU ….. KU
√ OU run D vs. KU run game
√ OU pass D vs. KU pass game
√ OU run game vs. KU run D
√ OU pass game vs. KU pass D
√ Special teams