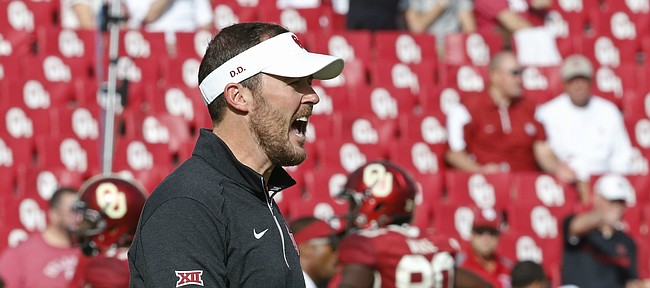 Every week when David Beaty previews his team's upcoming foe, the Kansas football coach with seemingly endless ties to his home state of Texas references various assistants he knows on opposing staffs and praises them for what they're accomplishing.
Beaty delivered more of the same leading up to the Jayhawks' trip to face No. 16 Oklahoma on Saturday, and shared his admiration for Sooners offensive coordinator Lincoln Riley dated back a few years. In fact, Beaty hoped to add Riley to his staff when he took over KU's program in December, 2014.
"I couldn't hire him, so I hired his brother," Beaty said, referring to offensive analyst Garrett Riley, who began working at KU early this year, "and he's over here with us and he's really good."
Both Lincoln and Garrett walked on as quarterbacks at Texas Tech, and Garrett eventually transferred to Stephen F. Austin. The Riley brothers worked together on the East Carolina staff before Lincoln moved on to join Oklahoma in January of 2015.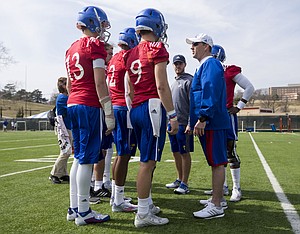 Earlier this week, Lincoln told The Oklahoman he thinks his younger brother, who coached receivers at ECU in his final year there, has done a nice job making his own way in the coaching profession.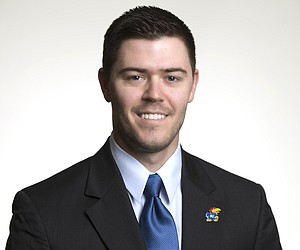 "I like the fact that we've been together a bunch, and I like the fact that he can get off and do his own thing," Lincoln said of Garrett. "Would I like to coach with him? Sure. To have your brother there and a guy who I also think is a really, really good coach, certainly I would. But he's in a really good spot and learning a lot and growing a lot as a coach and doing a really good job."
Beaty, who referred to OU's coordinator as a "really, really close, dear friend of mine," knows Kansas (1-6 overall, 0-4 Big 12) will have its hands full while trying to slow down his buddy's numerous skill players. The KU coach called Sooners running back Joe Mixon one of the Big 12's best players, after the sophomore became the first player in Oklahoma's acclaimed history to gain 200 rushing yards and 100 receiving yards in the same game (Mixon also scored five touchdowns).
Beaty said Mixon, like Baylor senior back Shock Linwood and TCU junior Kyle Hicks, is explosive.
"You've got to be really smart about not letting them turn a 20-yard gain into a 70-yard gain," Beaty said, "because they can do it in a heartbeat."
After lauding Mixon's ability as a receiving threat, the KU coach referenced another prolific target for OU quarterback Baker Mayfield in Riley's offense, senior receiver Dede Westbrook, whom Beaty recruited when he worked as an assistant at Texas A & M. Westbrook, a 6-foot playmaker, leads the Big 12 in receiving yards a game (132.9) and his 10 touchdown receptions tie him for third nationally, with Louisiana Tech's Carlos Henderson.
"He's very explosive, and you've got to know where Dede is and you've got to have a plan," Beaty said, "because they're very creative schematic wise. He can do it on his own, but they have some really cool little schemes that really help him, and he takes advantage of it because he's really fast."
KU defensive coordinator Clint Bowen, of course, didn't divulge the specifics of his game plan for Westbrook. But the Kansas secondary hopes to build off an outing against Oklahoma State during which No. 1 receiver James Washington only caught one pass for nine yards. Bowen said the Jayhawks undercut Washington's releases on his routes and, in general, tried to disrupt him and take away OSU's deep ball.
One problem in attempting to stop the Sooners (5-2, 4-0), Bowen said, is their offense features what he called a "four-headed monster" in Mixon, Westbrook, Mayfield (335.4 passing yards a game, 23 touchdowns on the season) and sophomore Mark Andrews, who has 11 career TD receptions in just 16 games.
No Okoronkwo for Oklahoma
When OU's offense rests Saturday at Gaylord Family Oklahoma Memorial Stadium (6 p.m. kickoff, FOX Sports 1) and Beaty's takes the field, junior KU quarterback Montell Cozart might have a slightly easier time extending his no-sack season than anticipated.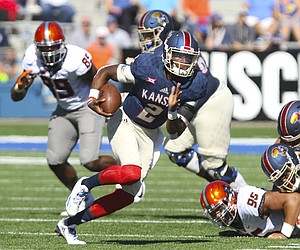 Sooners coach Bob Stoops said outside linebacker Ogbonnia Okoronkwo (7.0 sacks, 8.5 tackles for loss) will not play against the Jayhawks.
The Norman Transcript reported Okoronkwo suffered from dehydration following OU's 66-59 shootout victory at Texas Tech.
Stoops said redshirt freshman Ricky DeBerry and true freshman Mark Jackson would play more with starting linebacker Okoronkwo out.
Cozart enters the road test 81-for-131 on his passes this season, with seven touchdowns and six interceptions. Cozart threw for a season-best 250 yards this past week against OSU after taking over the starting position.
KU hasn't won a game outside of Lawrence in 41 tries. The Jayhawks have lost 38 consecutive true road games and haven't won a Big 12 game on the road since 2008 — a streak of 33 games.