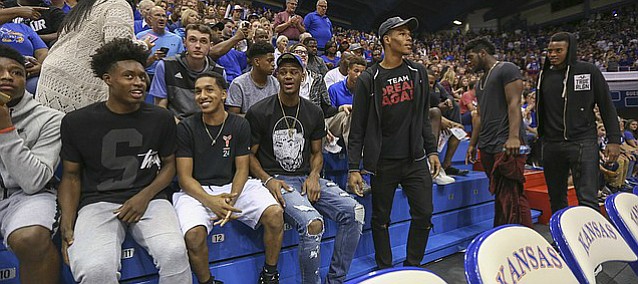 With November fast approaching and a decision from five-star Class of 2017 point guard Collin Sexton expected soon, the No. 7 ranked player in the country, according to Rivals.com, has pinpointed a date for his decision.
According to a report from Pat Lawless of GiveNGo on MadeHoops.com, Sexton (shown in "S" T-Shirt at far left in photo above) will announce his college of choice on Nov. 10, one day before Kansas plays Indiana in the season opener in Honolulu.
"I will be making my decision on November 10th because that is my sister's birthday, who is very special to me" Sexton recently told Lawless. "I also can go into the season with no worries and play my senior season out."
Although Georgia Tech and NC State technically remain alive in the Sexton sweepstakes, many national recruiting analysts have pegged this as a battle between Kansas and Alabama.
Sexton visited KU for Late Night in the Phog earlier this month and was blown away by what he experienced. However, at the same time, his bond with Alabama coach Avery Johsnon — a former NBA point guard and coach — also has made a significant impact on the 6-foot-1, 170-pound guard from Mableton, Georgia.
"They have been on me the longest and they have kept building onto that relationship," Sexton said of Alabama in the recent chat with Lawless. "They were the first to offer me, which means a lot. Coach Avery is someone who has played in the league and I want to get to that level in the future."
As for Bill Self's Jayhawks, KU's track record as one of college basketball's blue blood programs continues to factor into Sexton's decision.
"Kansas is a school filled with legacy and a winning tradition," Sexton told Lawless. "When I was on my visit, they treat their players like superstars no matter how much playing time they get. Coach Self has coached some really good players at Kansas and he knows what it takes for them to get to the next level."
Shortly after his visit to Kansas, Sexton talked about the potential of joining fellow five-star point guard Trae Young in Lawrence and watching those two become the next edition of Frank Mason and Devonte' Graham. Regardless if that's where his future lies or if he picks the SEC school closer to home, Sexton has outlined a clear set of factors that will help him make his final decision.
"I will base (it) off of the best fit for me to come in and get stronger, faster and develop as an all-around player and person," he told MADEHoops. "I want to be able to make mistakes without looking over my shoulder to see if I'm going to get taken out the game. I want to play my game on the court and I also would like for my family to be able to go to the games and support me."
That last line, along with the Nov. 10 decision date laid out by John Petty, a four-star guard from Alabama who many believe is leaning toward Alabama over Kentucky, has some wondering if Sexton will wind up with the Crimson Tide.
We'll know in two weeks.