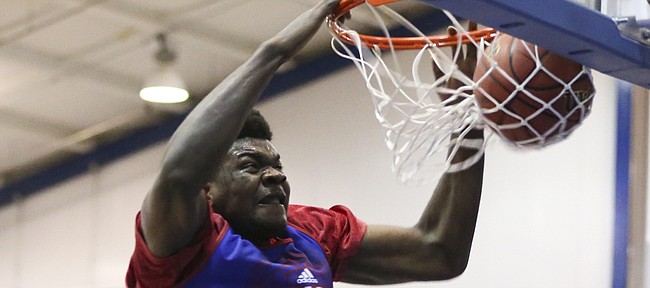 He guessed he was about 13 at the time, roughly 6-foot-8 inches tall, towering above the rest of his friends who had gone with him to an outdoor hoop in Lagos, Nigeria.
After so, so many tries, Udoka Azubuike finally dunked a basketball on a 10-foot hoop.
"I tried 15 times and kept missing," Azubuike said. "One day, I finally went up and I made it. That was pretty much the happiest day ever for me, that very day, because I was like, 'Wow, I can dunk!' I was excited. The first time for me was really exciting."
It was love at first flush. It hasn't grown old. He doesn't think it ever will.
Don't look for Azubuike to say what Markieff Morris once said when asked why he was dunking more often as a sophomore than as a freshman. He said that he had refrained from dunking to conserve energy.
Azubuike dunks to spread energy to teammates, coaches and eventually to spectators in Allen Fieldhouse, where he didn't get a chance to play in the Late Night scrimmage because of a groin injury.
"My game is like the saying goes: 'I don't see no dunk that I don't like.' Once I see the rim, I don't care who's over there, I'm going to try to dunk," Azubuike said. "I'm going to try to go up on you and shatter the rim. That's my game."
He said that he was 13 when he moved from Nigeria and into a home with a host family in Florida. He was 12 when he gave up soccer to concentrate on basketball.
"I was really good at soccer," said the center, whose name is pronounced you-DOE-kuh az-uh-BOO-kee. "Because of my height, people told me that I needed to start playing basketball, and I picked it up from there."
Hakeem Olajuwon and Joel Embiid, both blessed with quicker feet than Azubuike, no slow-poke, also played soccer before making basketball their sport.
"Some stuff we do in soccer is applicable in basketball," Azubuike said. "Pretty much the footwork in soccer you can apply to basketball, like the spin move. If you see some NBA players like Steve Nash, they started playing soccer before they played basketball and it helped them a lot. It helps footwork and balance."
Azubuike said he considers himself a 7-footer, has shed 25 pounds and weighs 275. The extent to which he can keep up with KU's fast pace in transition will play a big part in determining his playing time.
"He's coming along really well," classmate Josh Jackson said. "He's really hard to guard, huge guy, probably the biggest guy I've ever seen in my life."
Azubuike said he has come a long way in building stamina. It's what coaches and teammates identify as his greatest need for improvement.
"I think the biggest thing for him is just to get in shape so he can get up and down the court a little better," Jackson said. "He gets kind of lazy when he gets tired, a little bit, but he's going to be really good for us this year. He's doing a lot better with that (running in transition)."
Starting center Landen Lucas is impressed with how well Azubuike listens to suggestions.
"Some guys think they know it all. He's definitely not one of them," Lucas said. "His ceiling is unbelievably high. For his age and for his athletic ability and size, if he really figures out how to play the game ... He really doesn't know a ton right now and he's already good. If he figures that out, he'll be spectacular."
Azubuike identified his birth date as Sept. 17, 1999. That means he'll have two years at Kansas to develop his game because of age restrictions on draft eligibility. To those who have questioned whether he is older than he says, Azubuike no longer feels the need to defend himself.
"At first, during high school, yes, people keep saying that, I get (mad) and stuff," he said. "As time goes on, I know people are going to say what they're going to say, so I just kind of overlook it and don't say anything about it. I don't have nothing to prove to no one."
KU's biggest player has a lot going for him. He's massive, bright and serious about working on his game.
"My best is yet to come," Azubuike said. "I'm going to keep improving, keep getting better."
He has plenty to learn, but knowing that a dunk is always a smart shot isn't a lesson he needs to be taught. That's a nice place for any young center to start.