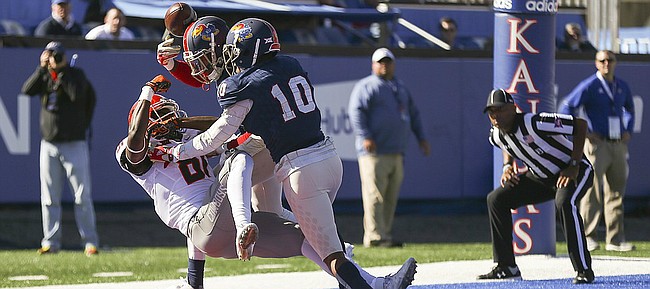 Third down, the clutch down in football, tells polar-opposite tales about a Kansas football team seeking its first Big 12 victory in two seasons.
In games against Big 12 competition only, the Kansas defense ranks first in the conference with a 37.7 percent success rate on third down. The offense ranks last with a 33.3 percent conversion rate.
Turnovers tell the same two tales. The defense ranks second to Baylor with eight turnovers gained and the offense has the most turnovers with 14 in four Big 12 games.
The performance of the KU defense proves the school can recruit and develop talent well enough to compete. At this point in the rebuilding project, the defense clearly is way ahead of the offense.
KU's defense ranks among the Big 12's best despite not getting into the homes of preferred recruits as easily as most Big 12 schools.
It all starts up front, specifically with two players recruited out of high school who are playing at an all-conference level.
Third-year sophomore defensive tackle Daniel Wise, recruited to Kansas by Scott Vestal, a Charlie Weis assistant, was listed at 6-foot-2, 242 pounds, and graded as a two-star recruit by Rivals.
After one summer in Scott Holsopple's weight room and two in Je'Ney Jackson's, Wise weighs 285 pounds. He occupies a great deal of the offensive line's attention and makes everybody's job easier.
Wise has refined his technique under the tutelage of Michael Slater, his third defensive line coach in three seasons.
Sophomore Dorance Armstrong, a speedy, 6-4 defensive end, weighed 217 pounds when he arrived in Lawrence, from Houston. Jackson, who has high praise for the work ethic of both Wise and Armstrong, has showed the D-End the path to 242 pounds without losing any speed.
Armstrong is tied for second in Big 12 play with five sacks and tied for second in the conference in all games with seven sacks. He is the program's loudest talent since Aqib Talib, a 2008 first-round NFL draft choice.
Calvin Thibodeaux, now Oklahoma's D-line coach, was the lead recruiter on Armstrong. Defensive coordinator Clint Bowen joined Thibodeux on a home recruiting visit that went so well that Armstrong, a three-star recruit, didn't bother visiting Michigan State, Texas Tech, Houston, California and other schools that had offered him a scholarship.
Coaches putting the right pieces in the right places around Armstrong and Wise has enabled the two young talents to thrive.
Bowen and linebackers coach Todd Bradford hit it off right off the bat and have enjoyed chalk talks ever since Bradford came on board after Kevin Kane returned to Northern Illinois. Bowen, with input from Bradford and drawing to some extent on the "bandit-package" defense employed by former KU coordinator Bill Young when Brandon Perkins set the school's single-game sack record with six, has made good use of hybrid linebacker/defensive end Cameron Rosser and others. Without changing personnel, Kansas switches at times from play to play from a three-man front to a four-man front, confusing quarterbacks.
KU ranks tied for second with Texas, four behind TCU, with 14 sacks in conference games.
In its seven games, Kansas has averaged 8.14 tackles for loss, tied for ninth in the nation.
When head coach David Beaty praises the defense week in and week out for doing a strong job when put in tough spots, it's not coach-speak. It's pure gratitude.
Seven seniors, including brainy sure tackler Fish Smithson, started on defense Saturday.
It won't be easy to maintain the level of this season's performance, but keeping the defensive coaching staff in place can make doing so a possibility, especially with Armstrong and Wise returning for two more seasons.