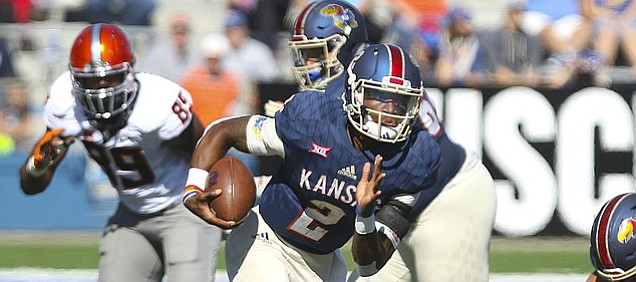 Kansas head football coach David Beaty didn't come right out and say that his team has one starting quarterback, and that barring injuries, that won't change for the rest of the season.
He didn't need to say it. Everything the coach said about eyes, those of Saturday's starter Montell Cozart in a 44-20 loss to Oklahoma State, and those of teammates looking at the quarterback they want to follow, said plenty.
Beaty had talked earlier in the week about how two-week starter Ryan Willis needed to learn to use his eyes better to avoid getting stuck on one target.
Podcast episode
Kansas football coach David Beaty meets with the media following KU's 44-20 loss to Oklahoma State on Saturday, Oct. 22, 2016 at Memorial Stadium.
Beaty repeatedly referred to how well Cozart fared Saturday in that area.
"We go back and look at the bodies of work and see who doesn't put us in jeopardy with regard to reads," Beaty said. "You've got to read. I mean, you don't get to pick guys out in college football. When you do, it hurts. It's not good. It comes to the tune of picks all over the place."
Willis threw six interceptions in two weeks.
Photo Gallery
KU football v. Oklahoma State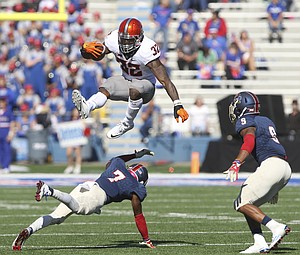 View a gallery of images from Saturday's game between the Jayhawks and Cowboys at Memorial Stadium.
"He did a really nice job with his eyes today," Beaty said of Cozart, who has not been sacked this season.
Willis has been sacked 16 times. It's just one of the factors that made it easy for Beaty to say that Cozart will start at quarterback Saturday vs. Oklahoma in Norman.
"I thought Montell did a nice job of not getting (offensive linemen) exposed by getting rid of the ball on time, using his eyes," Beaty said. "That's really how it can work when you do it correctly."
Beaty said of Cozart, "I was really proud of him. The thing I was most proud of is if you look at that locker room in there and how much they're behind Montell Cozart, that's cool to see, because he deserves it."
Veterans who have been in the program with Cozart for four seasons admire him for his consistent personality, humble demeanor, friendly way and remarkably thick skin in the face of constant criticism. Twitter paints a bigger target on the back of a losing quarterback than anything ever has and Cozart doesn't allow the vitriol to change him. Younger players appreciate him because he treats everyone the same, with kindness and respect, as an equal.
Cozart never will be a great quarterback, but he'll never stop trying to develop into a good one.
A junior who has started games in parts of four seasons and was granted a fifth year of eligibility with a medical redshirt in injury-shortened 2015, Cozart's not an average Big 12 quarterback yet, but has improved in the area of avoiding sacks and throwing more accurate long balls.
The next step for him will be turning speed into the ability to gain yards as a runner, something Beaty no longer will shy from because Cozart's separated shoulder from earlier this season has healed.
"Looking forward to it so I can get out there in space and run around a little bit," Cozart said. "I feel like that will add a dimension to our offense that will scare people a little bit, put pressure on the defense for when we run a zone read. If I pull it, I can get us five, six yards and keep us moving forward."
Cozart explained how he has managed to better use his feet in avoiding sacks.
"The game just slows down," he said. "It's just slowing down every time I'm out there. It goes back to just study, study, study, being a film junkie, knowing what they're trying to do to us. That way you can get the ball off, even when they're blitzing and we have just five guys protecting, knowing exactly where to go with the ball without getting hit."
Asked for specifics that demonstrate he is a "film junkie," Cozart obliged.
"I'm here crazy hours. I'm watching film at home, two or three hours," he said. "I'm watching film in class sometimes, if we're not doing anything. Any time I get a chance to watch some film, I'm definitely watching. I've got it on my iPhone, my iPad, computer. Wherever I'm at, I have one of those devices with some film on it. I'm always in the lab watching."
His talent and instincts for the position are such that a coach always will be on the lookout for a quarterback who poses a greater threat as a runner and throws with more accuracy. His personality is such that he will be the quarterback a coach will choose to lead the team if there isn't another on the roster with clearly better skill and/or instincts.
During Cozart's two weeks on the bench, more than just Willis' performance determined the team's starting quarterback.
In talking about his expectations of Cozart during the temporary benching, Beaty said, "No. 1, one of the finest-character kids I've ever been around in my life. So the way he handled the last two weeks, I mean, you would expect nothing different out of Montell Cozart."
Beaty tends toward excessive use of superlatives about his players, but my view from a distance differs not an iota from the coach's up-close-and-personal, "one of the finest-character kids I've ever been around" Cozart read.
— See what people were saying about KU's matchup against Oklahoma State during KUsports.com's live coverage.
---
More news and notes from the loss against Oklahoma State
---