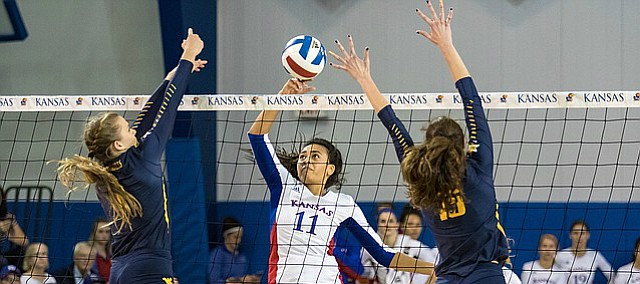 It's an image that can make even the most promising of seasons flash before one's eyes: All-American drops to floor and athletic trainer rushes in from sideline to come to the athlete's aid.
Junior setter Ainise Havili collided heads with teammate Zoe Hill and went to the floor, casting a momentary pall on normally electric Horejsi Center well into the third set of the Kansas volleyball squad's Thursday night sweep of West Virginia.
Havili eventually stood up and walked to the sideline, where athletic trainer Maggie Marion put her through the initial steps of concussion protocol.
Practicing safety first, Marion advised head coach Ray Bechard to play the rest of the match without Havili, who watched with a cut lip but in good spirits, standing with teammates.
Kansas completed the 25-18, 25-20, 25-22 sweep after a couple of hiccups without Havili.
"It's terrifying," fellow All-American Kelsie Payne said of what it was like watching Havili on the floor.
Payne went on to say that in the attack Kansas runs, the setter is "super, super, super" valuable.
Bechard, who called Havili, "the heart and soul of our team," said the setter, "popped her lip pretty good. People get pretty anxious any time you hit your head on anything, so we're going to take every precaution we need to take. We'll see how she feels in the morning. Hopefully, she'll be fine. Her lip's probably going to be a little bit swollen."
Junior Madison Rigdon, who produced five service aces, nine kills and 11 digs, called Havili, "a tough cookie."
"We're all going to pray for her, but she'll be fine," Rigdon said. "She just has a fat lip. I've seen worse. She'll be good."
Kansas led 22-16 at the time of Havili's departure. Rigdon explained the initial confusion that vanished once senior Maggie Anderson got to the middle of the floor to steady things.
"At first we had to realize what rotation we were in because Maggie had already subbed in for our libero, so we were kind of mixed up on that," Rigdon said. "Once Maggie came in and we knew what rotation we were in, Maggie sets us all the time, so she knows how we like it and how to hit the ball. She's good. We're comfortable with her."
The Jayhawks ran their home-court winning streak to 13 matches and improved to 18-2 overall and 7-1 midway through the Big 12 schedule. KU has swept its past four matches. West Virginia (11-11 overall, 2-6 in the Big 12) fell to eighth place in the nine-team Big 12 (Oklahoma State does not field a volleyball squad).
The Jayhawks have won 30 of their last 31 matches at Horejsi, are ranked No. 6 in the nation and have been in the top 10 for the past 19 weeks.
More like this story on KUsports.com