Whether it was Bill Self's comedy, Sviatoslav Mykhailiuk's singing or all of the photo shoots, autograph sessions and behind-the-scenes exposure more than 400 women got to their favorite college basketball team, Wednesday night's 7th annual Ladies Night Out with Kansas basketball was a rousing success.
"Yeah, this is fun," Self said during Wednesday's event. "And the ladies seem like they're into it and this is a good group. Plus, it's for a great cause."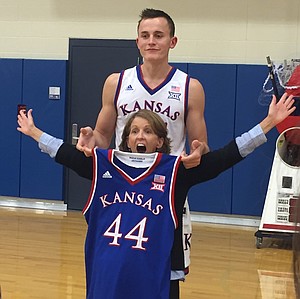 That cause is to support Lawrence Memorial Hospital and Jayhawks For a Cure as part of October's breast cancer awareness month.
After a short video celebrating Kansas basketball, Self introduced his coaching staff and mixed in material more suited to stand-up comedians, cracking jokes at the expense of his coaches and players that had the crowd rolling.
After quickly introducing themselves, the Jayhawks opened the floor for a Q&A; with KU freshmen Udoka Azubuike, Josh Jackson and Mitch Lightfoot delivering the microphone and a hug to the women asking the questions. The questions inquired about everything from superstitions and excitement about the season to where the seniors see themselves one year from now and a request for an update on hospitalized academic advisor Scott "Scooter" Ward, whom Self said continued to do remarkably well and eventually was expected to make a full recovery.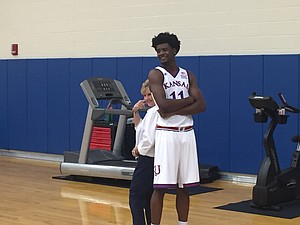 One woman who raised her hand and took the mic from Jackson, quickly revealed that she did not have a question but simply wanted a hug. Another asked Self why he blows into his hands while taking the court before home games.
Self joked, "It's cold in here," before revealing the superstition dates back to his days at Tulsa and Illinois and it helped win a bunch of games.
"Until it doesn't work, I guess we'll keep going with it," he added.
From there, the women broke into groups and went to various stations including a photo-and-autograph experience in the practice gym, Scouting 101 with Self and an introduction to strength and conditioning with Andrea Hudy.
While the women in attendance clearly enjoyed themselves, the night was fun for more than just those who coughed up money for a good cause to be there.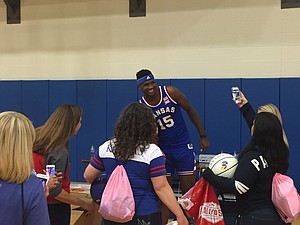 "It's always fun for us to see all the people and talk to them and make it fun for them and fun for us," said junior Sviatoslav Mykhailiuk, who was asked to lead the team in a rendition of "Happy Birthday" to around 20 women in attendance who have birthdays this week. "I'm not a really good singer, but I guess I had to do it. (Coach Self) was happy and funny like he always is."
Practice update
The Jayhawks on Sunday held their first scrimmage of the 2016-17 season, complete with officials, a clock and a scoreboard.
Even though Self said the team had improved from the start of practice, he was not all that impressed by his team's performance during the scrimmage.
"It's been better," Self said of practice. "We scrimmaged Sunday and we did not look good at all. But it was a great teaching tape because the guys saw how poorly we executed and really how we didn't play with near as much effort as I thought we would. We're certainly a lot better than we looked that day, but that tape was pretty eye-opening for a lot of our guys. We did not look like a very good team in our first scrimmage."
Asked for his read on why Sunday was a little sluggish, Mykhailiuk pointed to the ongoing process of bringing newcomers into the system.
"We've got a lot of young guys and we just need to practice and make them feel better with our offense and defense," Mykhailiuk said. "Just try hard, try to learn a lot, like always."
Bragg sits
Self said sophomore forward Carlton Bragg missed Wednesday's practice because of a minor back problem.
Bragg, who was a full participant at Wednesday night's Ladies Night Out event, appeared to be moving around well on Wednesday night and Self said the issue was not a concern.
"Yeah, he just had back spasms or whatever," Self said when asked if Bragg was OK. "It just locked up on him."
More like this story on KUsports.com