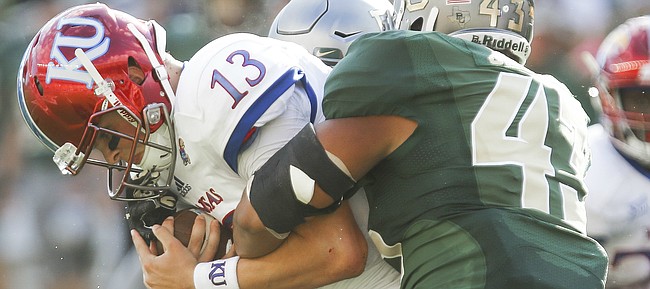 University of Kansas football coach David Beaty didn't name a new starting quarterback Monday morning on the Big 12 coaches conference call, but he didn't necessarily provide a thorough endorsement of incumbent Ryan Willis, either.
"Our competition is always open," Beaty said on the matter of the Jayhawks' starting QB before pausing a few seconds. "Just 'cause you start it doesn't mean you're gonna finish it."
Willis, named the first-stringer two weeks ago, before KU's game against TCU, has thrown six interceptions and lost one fumble in his two turns as the starter. In total against TCU and Baylor, Willis completed 41 of 64 passes (64.1 percent), for 437 yards, while suffering 10 sacks. The Jayhawks finished their latest blowout road loss, at BU, with a season-low 134 passing yards — and Willis only accounted for 89.
As Kansas (1-5 overall, 0-3 Big 12) begins this week's preparation for an 11 a.m. Saturday meeting with Oklahoma State (4-2, 2-1) at Memorial Stadium, Beaty indicated he once again will review the subject of starting quarterback.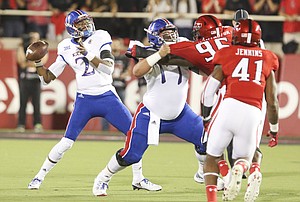 "Any team would be frustrated with the turnovers and particularly when you believe most of those, if not all of them, are preventable," Beaty said. "When they're preventable you've gotta do a good job of lookin' inside and making sure you're giving yourselves the best chance to be successful on both sides of the ball. And we've always been a competitive team here, when it comes to being competing to play, and we've got guys that are all capable of doing the job at every position, so we'll continue to evaluate that as we move forward each week."
On the season, Wilis, who played sparingly as a backup rotating in the first few weeks, has completed 72 of 117 throws (61.5 percent) for 811 yards, with three touchdowns and seven interceptions. Defenses have sacked him 16 times.
Fourth-year junior Montell Cozart, who started the first four games for KU and hasn't appeared in one since, has completed 57 of 91 passes (62.6 percent) for 581 yards, with six touchdowns and four interceptions. Neither Rhode Island, Ohio, Memphis nor Texas Tech sacked Cozart.
Playing exclusively in late-game mop-up duty, redshirt freshman Carter Stanley is 12-for-20 on passes (60 percent) for 138 yards, with one touchdown and one interception — both coming Saturday at Baylor. The Bears sacked Stanley, as well, marking another first for the backup.
More like this story on KUsports.com