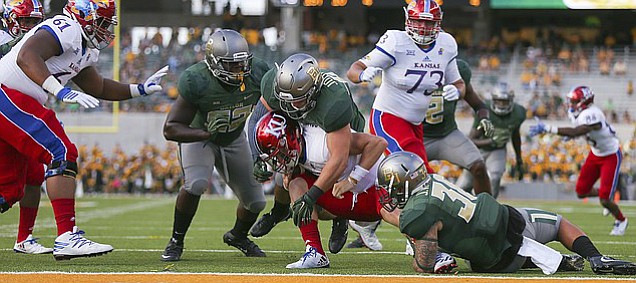 Waco, Tex. — Every laughable performance deserves a punch line and Kansas center Joe Gibson unwittingly supplied one Saturday in Baylor's merciful 49-7 execution of the Jayhawks at McLane Stadium.
Gibson, a fourth-year junior, mistook the voice of a Baylor player calling out the snap count for that of quarterback Ryan Willis, according to head coach David Beaty.
The snap came way before Willis expected it, Baylor recovered at the Kansas 4 and scored one play later, making it 35-0 on the way to a 42-0 halftime deficit.
"It was inexcusable, first of all," Beaty said. "Let me just say that. But what Joe said was that the nose tackle called out the snap count. Now, he didn't call it out the whole day, but he called the snap count out on that particular play. And, hey, sometimes they get it, sometimes they don't. It got Joe on that play. Joe's one of our smarter guys, so it doesn't happen to that guy very often."
Photo Gallery
Kansas football v. Baylor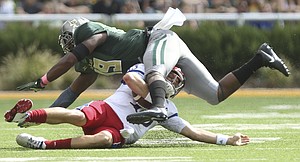 View a gallery of images from Saturday's game between the Jayhawks and Bears in Waco, Texas.
Had my interview request been passed on to Gibson, he would have shown up, given me a string of quotes accepting blame and exonerating teammates and coaches. He would have shown what a stand-up guy he is and his quotes would have filled the remainder of this column.
Since the request was not passed along to him by media relations, and I still have to fill the rest of this space, I guess the best way to do it is to review how Beaty's decision after last season to take control of coordinating his version of the Air Raid offense, coaching quarterbacks and calling offensive plays has worked out, precisely halfway through the season.
Kansas leads the nation with 22 turnovers, five coming Saturday. Quarterback Ryan Willis threw three interceptions Saturday.
As so often has been the case this season, KU found itself in dire straits, boom, like that. Willis stared down Steven Sims and Baylor cornerback Ryan Reid jumped the route and rode Telegraph Road 64 yards down the right sideline for a pick-six that made it 14-0 with 8:40 left in the first quarter. The way Willis had been able to complete passes to the sideline before that, he had to be thinking, "Were they setting me up?" as he watched Reid punch any cornerback's ticket to heaven.
Reid picked off another and didn't quite make it to the end zone, this time returning it 52 yards, as opposed to 64 yards for the TD.
By the end of the first quarter, Kansas trailed, 21-0 and by halftime it was 42-0, even though the Kansas defense held Baylor scoreless on three consecutive possessions.
"We game-planned for the outs and just certain routes that they run," Reid said afterward. "It changed our whole game plan."
Play-by-play man Tim Brando, who has called a few games in his day, at one point during the telecast said something similar, something about Kansas not fooling anybody.
Willis isn't the first quarterback to lock in on a receiver, thereby giving the defender an advantage. He has a problem with telegraphing throws, but it's not always all his fault. Too often, the pocket already has collapsed by the time he can look at more than one receiver.
It's not an easy offense for a quarterback to run or a coach to coordinate, in part because the offensive line lacks game experience and ample years in the weight room to compete against Big 12 behemoths.
Those factors were easy to see, but Beaty didn't read it that way, so he demoted offensive coordinator Rob Likens to walk-around guy and took over the offense, believing he could fix what ailed it during an 0-12 season in 2015.
That was as bad a misread on Beaty's part as any committed by Willis on Saturday.
So far, not so good for the Beaty-coordinated offense. Other than the 55 points Kansas scored on Rhode Island (1-6, outscored a combined 48-3 in the past two weeks by Villanova and Stony Brook), the Jayhawks have averaged 15.4 points.
Even if you want to cut Beaty slack for not having much to work with on offense, you can't acquit him for not realizing that he had so little with which to work.
Beaty inherited quite the rebuilding job from athletic director Sheahon Zenger's first hire, Charlie Weis, a challenge that would require any first-year head coach's full-time attention. Beaty compounded matters by adding OC to his duties.
When the offeseason arrives, Beaty and Zenger must put their heads together to figure out how to silence the echos of the Beaty-to-OC decision.
Give the job back to Likens, who has one year remaining on a three-year, $1.05 million guaranteed deal? Promote wide receivers coach Jason Phillips to offensive coordinator and put Likens in charge of the receivers? Hire a new OC from outside the program?
Leave it alone, sit back and enjoy the basketball team travel a road it hopes leads to Phoenix?
— See what people were saying about KU's matchup against Baylor during KUsports.com's live coverage.
---
More news and notes from the loss against Baylor
---