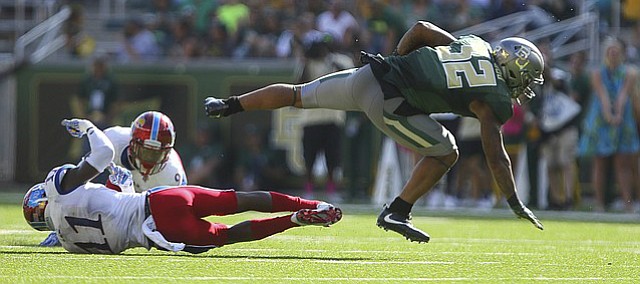 Waco, Tex. — If last week's one-point loss against TCU represented a step forward for the Kansas football team, then Saturday's 49-7 loss to Baylor was several steps back.
The Jayhawks committed five turnovers and trailed by 14 points in the first six minutes at McLane Stadium following a long scoring drive by Baylor's offense and an interception returned for a touchdown by cornerback Ryan Reid.
It never improved from there and Baylor (6-0, 3-0 Big 12) starting quarterback Seth Russell wasn't needed after helping the No. 11-ranked Bears to a 42-0 lead at halftime. Russell only completed 9 of his 22 passes for 144 yards and two scores, but he ran for 68 yards and two touchdowns.
KU, which extended its road losing streak to 38 games, only had 118 yards of offense in the first half, 2.8 yards per play. That resulted in five punts, two interceptions, a lost fumble on bad snap and a turnover on downs at midfield.
Photo Gallery
Kansas football v. Baylor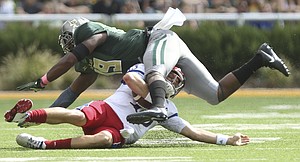 View a gallery of images from Saturday's game between the Jayhawks and Bears in Waco, Texas.
Kansas (1-5, 0-3) sophomore quarterback Ryan Willis never found a rhythm in his second start of the season. He completed 10 of 19 passes for 89 yards and three interceptions. Redshirt freshman Carter Stanley replaced Willis midway through the third quarter and finished 3 of 8 for 45 yards and an interception.
Stanley led a 12-play, 68-yard scoring drive in the third quarter against Baylor's backup defense, which ended with a two-yard touchdown run by freshman running back Khalil Herbert. Stanley connected on a 34-yard pass to receiver Steven Sims Jr. to put the Jayhawks inside of the 10-yard line.
Herbert had 34 rushing yards on nine attempts, Ke'aun Kinner ran for 49 yards on 15 carries and Taylor Martin had seven attempts for 23 yards.
KU freshman Mike Lee and senior Fish Smithson led the defense with eight tackles (seven solo) apiece while Smithson forced a fumble that was recovered by Damani Mosby in the fourth quarter. The Jayhawks only had three tackles for a loss, including a sack by sophomore Dorance Armstrong Jr.
In the first quarter, KU junior Cole Moos had an 82-yard punt with the help of a big bounce, the fifth-longest punt in school history.
Baylor outgained KU, 453-217. The Jayhawks only converted 3 of 15 third downs.
SCORING SUMMARY
FIRST QUARTER
11:55 — Seth Russell five-yard run. Chris Callahan kick. Eleven-play drive for 75 yards in 3:05. (BU 7, KU 0.)
8:40 — Ryan Reid 64-yard interception return. Callahan kick. (BU 14, KU 0.)
2:47 — Russell 26-yard run. Callahan kick. Six-play drive for 58 yards in 1:33. (BU 21, KU 0.)
SECOND QUARTER
6:26 — Russell 59-yard pass to KD Cannon. Callahan kick. One-play drive for 59 yards in 0:11. (BU 28, KU 0.)
5:49 — Shock Linwood four-yard run. Callahan kick. One-play drive for four yards in 0:04. (BU 35, KU 0.)
1:45 — Russell four-yard pass to Ishmael Zamora. Callahan kick. Ten-play drive for 73 yards in 2:03. (BU 42, KU 0.)
THIRD QUARTER
11:00 — Terrence Williams seven-yard run. Callahan kick. Ten-play drive for 71 yards in 3:04. (BU 49, KU 0.)
1:22 — Khalil Herbert two-yard run. Matt Wyman kick. Twelve-play drive for 68 yards in 4:49. (BU 49, KU 7.)
—Check back to KUsports.com for more coverage from KU's loss against Baylor.