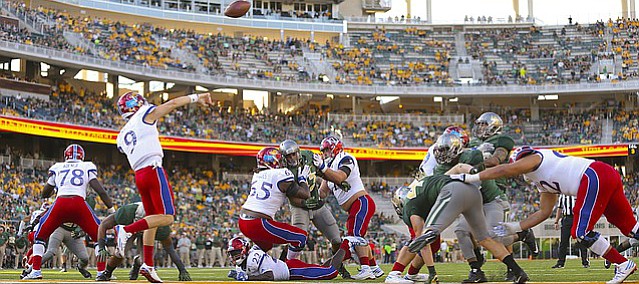 Waco, Tex. — More times than he'd like to recall, Kansas football coach David Beaty has discussed following a Jayhawks loss how costly his team's turnovers were against a particular opponent.
Saturday at No. 11 Baylor proved no different, and the trending KU post-game topic only became hotter following a 49-7 road loss featuring three Ryan Willis interceptions, one pick of backup quarterback Carter Stanley and a botched Joe Gibson snap snatched by the Bears.
The five miscues this week brought KU's season total in lost turnovers to 22 — the worst mark among all 128 FBS teams by the end of the Jayhawks' fifth consecutive loss.
"When you turn the ball over that much, you usually lose and you usually lose big. We got lucky last week," Beaty said, referring to KU only losing by one point at home to TCU while giving the ball away four times. "… This is the Big 12. And that's Baylor. I looked over at the side of their wall and it says Big 12 champions the last two years. Those guys are stinkin' good. You can't give 'em anything."
Photo Gallery
Kansas football v. Baylor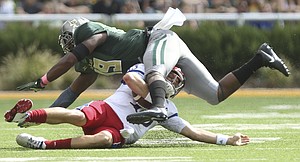 View a gallery of images from Saturday's game between the Jayhawks and Bears in Waco, Texas.
On KU's first drive of the game, already operating in a seven-point deficit, Willis threw an interception to senior Baylor corner Ryan Reid (the first of two picks for the defensive back) and Reid took off the other direction for another six points.
"That mistake that we made with that first interception hurt, but you can't let that bleed into another one. You just can't. There's no excuse for it. You don't get to let one play turn into another one," Beaty said. "We talk about that ll the time. It shouldn't have been a problem."
Regarding his further misfires, Willis said they weren't all the result of locking in on a receiver. Baylor also fooled him with coverages at times and rolled defenders in ways he hadn't anticipated.
"They brought the heat at times. We need to be better with the pressure," Willis added after only throwing for 89 yards and suffering three sacks. "We had them scouted out pretty well. We should've been a lot better as an offense. I take blame for that. We can be a lot better."
This and that …
• KU's lone takeaway of the blowout came in the fourth quarter. Senior safety Fish Smithson forced the second fumble of his career. Senior defensive end Damani Mosby came away with the ball, giving him three fumble recoveries on the season.
• Junior Cole Moos' first-quarter punt of 82 yards (a career best) tied for the fifth-longest punt in program history. No KU punt had traveled that far since Curtis Ansel kicked one 82 yards at UNLV in 2002.
On his eight punts at Baylor (6-0 overall, 3-0 Big 12), Moos, a junior from Broken Arrow, Okla., averaged 50.4 yards. The last Jayhawks punter to average at least 50 yards in a game was Trevor Pardula (51.8), in 2014 at Duke.
• True freshman receiver Evan Fairs made the first reception of his career early in the first quarter, picking up eight yards.
• Kansas (1-5, 0-3) lost its 15th consecutive conference game. The Jayhawks haven't defeated a Big 12 foe since Nov. 8, 2014, against Iowa State, when Clint Bowen served as interim head coach.
— See what people were saying about KU's matchup against Baylor during KUsports.com's live coverage.
---
More news and notes from the loss against Baylor
---
More like this story on KUsports.com