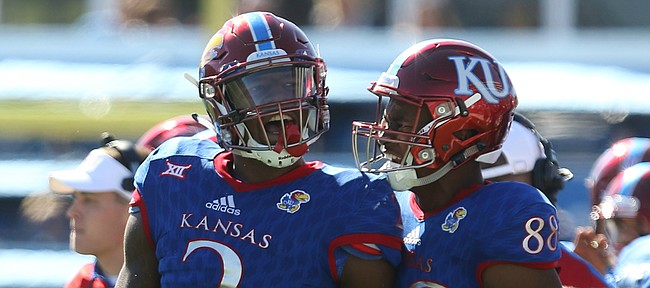 By the time a winless 2015 came to a close for the University of Kansas football team, the program had plenty to address in the offseason. Defensively, coordinator Clint Bowen seemed to have as immense a reclamation project to take on as anyone after KU surrendered 46.1 points and 560.8 yards per game.
Looking back at it now, Bowen's boss, head coach David Beaty, says his defensive leader — like every member of the staff — took the team's underwhelming performance personally.
"You can't run from them," Beaty said of the team's obvious shortcomings entering his second year in Lawrence. "That's who you are. Statistically your production lies in the stats, and I know from (Bowen's) standpoint, he was extremely motivated, because, man, he puts better teams out there than that routinely. But they were young. There was a lot of things. But that doesn't bother a coach. We don't care how old they are. We expect them to do it the way we want them to do it."
Entering Saturday's game at No. 11 Baylor (2:30 p.m. kickoff, FOX Sports 1), the KU defense has shown significant growth in numerous categories, including the most obvious ones — 33 points and 419.2 total yards allowed per game.
Beaty credits Bowen for driving the turnaround, noting the coordinator "talks to everyone in the country," in a search of improving the defense in any way imaginable. New linebackers coach Todd Bradford, cornerbacks coach Kenny Perry, new defensive line coach Michael Slater and even first-year special teams coordinator Joe DeForest have helped Kansas put a much improved defense on the field this season.
Podcast episode
The Kansas football team's defense has made serious strides since a season ago and is one reason longsuffering KU fans should feel a little bit better about the program's future. KUsports.com's Matt Tait and Benton Smith discuss.
By far, the most impressive result of the defensive overhaul has been the Jayhawks' newfound ability to create tackles for loss. KU (1-4 overall, 0-2 Big 12) ranks fourth in the nation with 9.6 a game (48 total). A nine TFL showing last week versus TCU ended a three-game stretch of double-digit totals in that category.
According to Bowen, Slater has the defensive line playing at a higher level, as they make better use of their hands, play lower to the ground and are generally more explosive than a season ago.
"We've created some things schematically that allow us to move some guys a little more efficiently with our defensive package," Bowen said. "As has been seen out there, we're able to go from a three-man front to a four-man front with the same people in the game on back-to-back plays. It creates a little bit of disruption or confusion. It allows us to move and just be a little bit more aggressive with our front seven."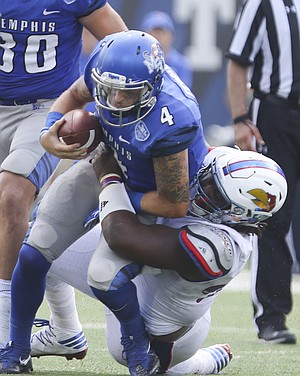 Only Miami (10.8), Michigan (10.0) and Texas A & M (9.7) average more tackles for loss a game than Kansas. Beaty said such production wouldn't be possible without defensive linemen creating problems up front. Sophomore end Dorance Armstrong Jr. and senior end/linebacker Cameron Rosser each lead KU with 7.0 tackles for loss this season as the Jayhawks prepare to face the Bears (5-0, 2-0).
"There's a common denominator there," Beaty said of the unit's success coinciding with the arrival of Slater. "They have been playing like that since he got here, pretty much the same dudes now (from last season). He does a really good job. There's a reason why his guys at Rice are playing in the NFL and nobody knew who they were. They're good players. He does a good job."
Bowen said he's more proud of the defense's improvement up front than anything else this season and said the linemen have even evolved during the season, pointing to their ability to maintain gap integrity the last few weeks after a rough start to the season in that portion of the game.
What's more, the defense overall still hasn't reached its full potential.
"I thought (last week against TCU) was the first time we truly played really well as a front seven and really well in terms of coverage in the back end and put it together," Bowen said. "We had a couple of games where we played good in the back and didn't stop the run, had a couple of games where we played well up front — at Texas Tech, didn't really play well in the back."
If KU can maintain or improve upon its current rate of 9.6 tackles for loss per game by season's end, the defense would go down as the program's all-time best in that category, edging the 2007 Jayhawks' 9.4 TFL's an outing.