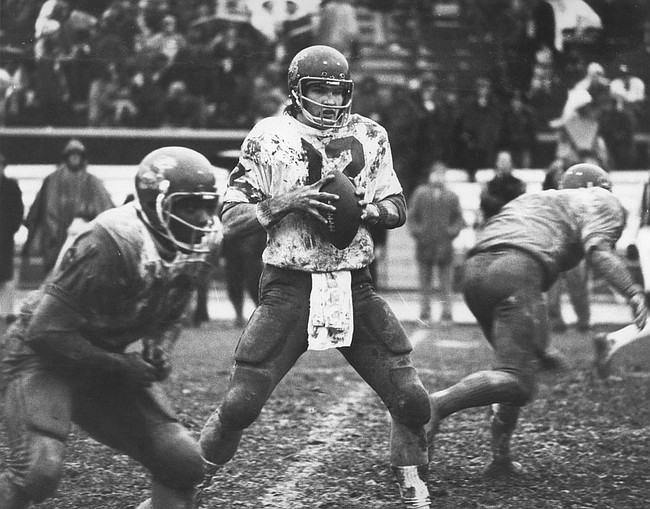 Joe Namath was all the rage in professional football when David Jaynes wore Namath's long hair and No. 12 for Bonner Springs High.
Like so many quarterbacks from across the country, Jaynes was sure he was going to be the next Namath. What separated Jaynes from the rest of them was that he had a cannon like Namath's and was being pursued by Super Joe's college coach, legendary Bear Bryant of the Alabama Crimson Tide.
Jaynes, who lives in Los Angeles with his wife Barbara, was in town for a KU football reunion he organized for former KU coach Pepper Rodgers' 85th birthday, which coincided with Saturday's 24-23 loss to TCU.
Terry Donahue, the best football coach in UCLA history, was the Rodgers assistant in charge of recruiting Jaynes and was in Lawrence for the reunion.
"I visited Alabama twice and Bear Bryant came here twice to see me, so Terry was up against a big challenge, had to climb over a big hill," Jaynes said.
The hill grew steeper when Jaynes signed an SEC letter of intent with Alabama.
"Back in those days, the conference letter of intent was 30 days before the national letter of intent," Jaynes said. "The letter I signed just bound you to an SEC school, not to other NCAA institutions. Bear Bryant comes up. We had a big signing party, the whole deal. I'm signed. I'm ready to go. I'm going to Alabama."
Then a few weeks later, Donahue told Jaynes he had an extra ticket to the Kansas-Kansas State basketball game in Allen Fieldhouse.
"I sat on the bleachers by what used to be the equipment room in the southwest corner and it was just as intense then as it is now," Jaynes said. "I went up to (Donahue) at halftime and said, 'Coach, I changed my mind. I'm going to go to KU.' He said, 'What, you're kidding?' I said, 'No.' He took me up to coach Rodgers' office."
Jaynes recounted the conversation with Rodgers: "Pepper said, 'Tomorrow morning we have to call coach Bryant.' I was thinking, 'Aw, man, I don't want to do that.' So the next morning we go up to Pepper's office and I didn't know it at the time, but I'm pretty sure Pepper faked calling coach Bryant's office on a Sunday morning: 'Oh, coach Bryant's not there? Well, will you please tell coach Bryant that David Jaynes has changed his mind and he's going to Kansas.' I thought OK, great, I'm off the hook. That's it.' "
Freshmen were ineligible at the time and when Jaynes was a sophomore Rodgers was in his first year at UCLA and took Donahue with him. The three men remain close and had a great time swapping stories over the weekend.
Jaynes started three seasons for Don Fambrough, broke a slew of school records and placed fourth in the 1973 Heisman Trophy voting. If he had not injured his shoulder, he might have become the next Joe Namath in the pros.
"By the way, KU's record when I was being recruited was 1-9," Jaynes said. "You can recruit here, but you have to work at it. If Terry hadn't followed up, I would have gone to Alabama and been the greatest third-string quarterback in the history of Alabama football. My point is, when people say you can't recruit at Kansas, I don't believe it."
Now, more than ever, it seems players are pressured by peers, parents and even high school coaches in some cases, to accept the most prestigious offer. But it's not as if there were a shortage of factors favoring Alabama vs. Kansas back in Jaynes' day.
"The program was not great," Jaynes said of Kansas. "Alabama's facilities were infinitely better than ours at the time. Kansas was 1-9, and it was coach Bryant. Coach Bryant!"
Much has changed in college football since then, but one recruiting advantage at KU's disposal has not.
"Something about Allen Fieldhouse," Jaynes said.
More like this story on KUsports.com