Kansas City, Mo. — Kansas basketball coach Bill Self will tell you that having players on the preseason all-Big 12 team is better than not having them there.
But Self also will tell you that neither he nor Frank Mason and Devonte' Graham will spend much time celebrating Thursday's news that the Kansas backcourt mates made up 40 percent of this year's preseason all-Big 12 team, joining Baylor's Johnathan Motley, Oklahoma State's Jawun Evans and preseason player of the year pick Monte' Morris, of Iowa State.
"It's a good first team there's no question," Self said Thursday night before the Ninth Annual Coaches vs. Cancer Tipoff Reception at Kansas City's Bartle Hall. "But if you say that to Frank and Devonte' they'll likely go, 'Well, what does that mean, coach? It doesn't mean anything.'"
Mason and Graham, who both have yet to earn first-team, postseason all-Big 12 honors during their careers, were joined Thursday by teammate Josh Jackson, who, to no one's surprise, was named the conference's preseason freshman of the year.
"I think Josh was gonna win freshman of the year in our league the second that he probably signed because so much of that is just based on reputation," Self said. "How could it be based on anything else? Nobody's seen anybody play. But I certainly hope he plays to a first-team, all-league type player, as well. He's certainly talented enough to do that."
As for the league's selection of Morris as the player of the year, Self had no issue whatsoever with the veteran Iowa State guard earning early praise.
"How could he not be," Self asked.
Practice progressing
After missing Wednesday with a fever, freshman forward Mitch Lightfoot was back on the practice floor for the Jayhawks on Thursday, when every player on the team made it through Day 2 of Self's practice.
Typically his own team's harshest critic, Self said the Jayhawks still had a long way to go before they resembled anything close to the kind of team he hopes and believes they will be.
"We were actually pretty good in Boot Camp," he began. "We were average at Late Night. And we've actually stunk the first two practices, so I think we're going backwards right now, but I do like our guys a lot. They're working hard, but two practices in we don't look very good.
"I think they're giving us effort and, for the most part, attention and focus, but when you have a bunch of young kids, it always takes a little time. Our attention to detail isn't very good and we're playing way too fast. You play fast and you think and you're not reacting, it just leads to turnover after turnover. We'll get that straightened out but it's not very pretty right now."
Coaches vs. Cancer
Along with area coaches Kim Anderson (Missouri), Gregg Marshall (Wichita State), Kareem Richardson (UMKC) and Bruce Weber (Kansas State), Self joined legendary Mizzou coach Norm Stewart and ESPN analyst Jay Bilas in hosting Thursday's Coaches vs. Cancer Tipoff event in Downtown KCMO, an area that played a big part in the creation of the charity that, to date, has raised more than $100 million for the fight against cancer.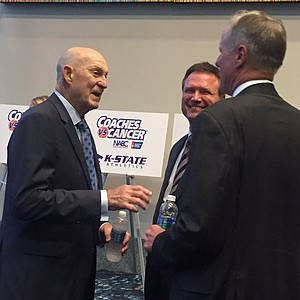 "Big credit goes to Norm for kind of getting it off the ground and then the American Cancer Society has taken the ball and run with it," Self said. "It's a great event. When we first started doing this, it was a pretty nice event, it was OK. Now you've got Bilas here and it's become a big time, national thing and, of course, it's for a great cause.... I think it means something to everybody."
Today, more than 500 Div. I, II and III college coaches along with high school and other youth coaches across the country are involved in the cause in some way, shape or form. Money raised by the recent men's and women's three-on-three tournament on KU's campus went to Coaches vs. Cancer and the event was the first of its kind of that magnitude.
"We're making ground," Self said. "But we're still not doing it fast enough."
Happy to be home
After a few busy weeks on the recruiting trail, Self has turned his full attention to the 2016-17 season, which will begin Nov. 1 with an exhibition game against Washburn at Allen Fieldhouse.
The Jayhawks will open the regular season Nov. 11 in Honolulu against Indiana.
"I think it's actually better for me because I know I'm at home every day now," Self said. "Recruiting, even though it's always a priority, it's not a priority (to be in) nine different gyms each week or whatever. The focus is our team, which is always good."
NBA action
Saturday night at Sprint Center, the NBA's Miami Heat will face the Minnesota Timberwolves in a preseason game at 7:30 p.m.
The Timberwolves roster is of particular interest to Self and Jayhawks everywhere given that it features three former Kansas stars, Cole Aldrich, Brandon Rush and Andrew Wiggins.
"We're taking our team (to the game)," Self said. "We're gonna practice at 8:30 (Saturday morning) and then go watch the football team (11 a.m. kickoff vs. TCU at Memorial Stadium) and after the football game's over get a break and then head over to the Sprint Center to watch Cole, Wiggs and Brandon and hopefully get a chance to at least say hello to 'em before the game starts."