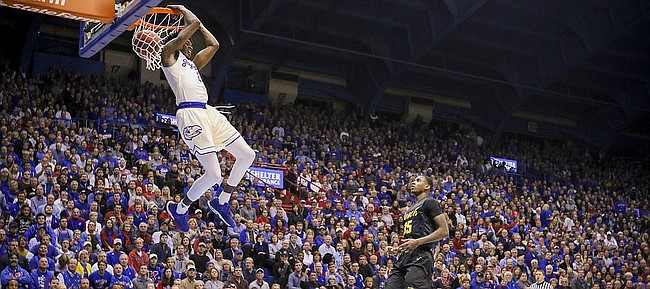 Larry Brown has worn stylish glasses for decades, but don't let that fool you. There never has been anything wrong with Brown's basketball eye.
It served him well as a point guard for North Carolina, a three-time ABA All-Star, and as a coach, where he remains the only man on the planet to win titles in both Div. I college basketball and the NBA.
Brown's basketball eye told him that Lagerald Vick, a long-limbed, springy, slender guard from the basketball hotbed of Memphis was a player who could help him at SMU.
Then a member of the Class of 2016, Vick committed to Brown two-plus years ago, then changed his mind, reclassified to 2015, and ultimately chose Kansas.
Brown looked on Tuesday night from his aisle seat in Allen Fieldhouse, two rows behind the Kansas bench, and Vick put on a show for him and the rest of the 16,300 spectators during KU's 91-61 blowout victory against Long Beach State.
Photo Gallery
Kansas basketball v. Long Beach State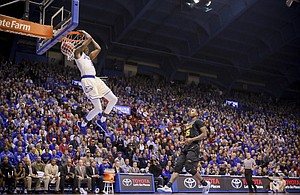 View a gallery of images from the Jayhawks' Tuesday night game against the 49ers.
Shooting 9-for-9 from the field, four of the shots from beyond the three-point arc, Vick scored a career-high 23 points, 16 in the first half.
"That's what makes Kansas an elite team," Long Beach coach Don Monson said. "He's not one that we focused on. The game plan was to pack it in and make them beat us from the perimeter, help in and make them pass out. He just opened up the game with his shooting."
The term "complementary player" generally has the feel of a left-handed compliment in basketball. It conjures images of either a shooter who can do little else, or someone who sets good picks, keeps the ball moving and scraps his way to playing time despite falling a little short athletically.
That stereotype doesn't fit for this year's Kansas basketball team.
A step-slow player wouldn't be able to keep up with the absurdly fast pace set by perimeter men Devonte Graham, Josh Jackson and Frank Mason.
Complementing that trio well demands flying up and down the court and staying alert at all times because the passes come fast and furious. It also requires a soft three-point shooting touch because the fourth wheel of Bill Self's four-guard lineup is going to get a lot of open threes. Some will come in transition, others when one of the three jets drives hard to the hoop, still others when they move the ball so swiftly in the air because they all know unproductive dribbles give the defense a prayer it otherwise doesn't have.
Vick complements Graham, Jackson and Mason superbly, especially when his shots are falling. And they're falling, which also serves to set up his quick shot-fake drives.
"The difference between Kansas and Long Beach State is we'll have players that can shoot like that, but they can't do the other things," Monson said. "When we looked at him in film today it was more of how aggressive he was and how he would go to the offensive boards and how aggressive he was at attacking. Now he's able to shoot like that."
Podcast episode
After a 91-61 victory over Long Beach State, Kansas basketball coach Bill Self met with the media and discussed Lagerald Vick's career-best 23-point performance, the reason Landen Lucas didn't play and much more.
The perfect complement's perfect shooting night from the field would have put him in the record book, if not for a Carlton Bragg foul nearly 90 feet away.
Vick's breakaway slam late in the game would have made him 10-for-10 and tied him with Norm Cook and Danny Manning for most made field goals in a game without a miss by Kansas player, but the dunk was nullified.
"I think Carlton must be mad at him or something because that was probably the worst foul we've committed since I've been here or Lagerald would have got the record," Self said lightheartedly, adding he had no clue of the record until after the fact.
Self was pleased with the improvement Vick showed during the offseason and once the season arrived it was easy to see why.
"He's improved a ton," Self said. "He's confident. He's reacting instead of thinking, for the most part. He's not always going to shoot like that, but after getting off to a really poor start shooting it, I think he's made seven of his last eight threes. He attacks the rim well and he's going to end up being one of our best defenders. He's really improved a ton."
Vick's 7 of 8 three-point hot streak came after he started the season 1-of-13 from long distance.
Vick said that after a poor shooting night at one of the two Sprint Center games, assistant coach Kurtis Townsend told him he was drifting back on his shot. Vick added that a friend sent him video, which validated what Townsend had told him, and Vick applied the fix practicing his shot. The result: perfection.
— See what people were saying about the game during KUsports.com's live coverage.
---
More news and notes from Kansas vs. Long Beach State
---