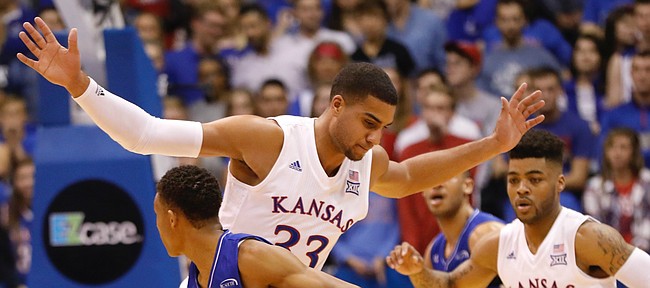 Kansas senior Landen Lucas was held out of Tuesday's 91-61 victory over Long Beach State for what KU coach Bill Self described as "a little strain in his oblique or whatever it is in his side."
Lucas, who has struggled to regain the form that made him a key member of last year's Elite Eight squad, suited up and went through warm-ups but never ditched the warm-up pants.
It became clear that something was up when Self sent junior Dwight Coleby into the game ahead of Lucas midway through the first half.
"He nicked himself up here recently and has kind of been playing through it and in shoot-around today you could just see he'd move one way and he kind of cringed and told (trainer) Bill (Cowgill) that he was gonna look at it," Self added. "He said if he felt the same way he felt in shoot-around that he didn't think he was gonna be able to go. And after we did our little warm-up, he came back and said he didn't think he could go."
Photo Gallery
Kansas basketball v. Long Beach State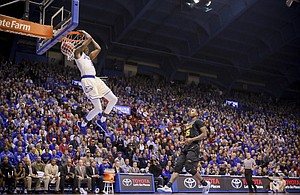 View a gallery of images from the Jayhawks' Tuesday night game against the 49ers.
Lucas was back out with the team for halftime warm-ups but remained limited. Sitting out did not seem to impact his enjoyment of his team's pretty performance. Lucas slapped fives and exchanged laughs with several teammates during the layup line before the start of the second half.
Freshman 7-footer Udoka Azubuike started again and tallied eight points and seven rebounds in 23 minutes. Junior Dwight Coleby added two points and five rebounds in 12 minutes. And former starter Carlton Bragg Jr., recorded six points and six rebounds in 11 minutes, 10 of them coming in the second half.
Because Self has been leaning toward more of a four-guard approach anyway so far this season, losing Lucas in the lineup did not have a major impact on the rotation. It did, however, impact how KU's other big men approached the game.
"It affected us," Bragg said of not having Lucas. "But that's when other guys need to step up. He seemed a little down, like he couldn't really get into it during warm-ups. I asked him if he was all right and he said, 'Yeah,' and then it started getting a little (worse)."
Asked how long the injury might keep Lucas sidelined, Self said, "I have no idea."
Larry Brown visits
Former Kansas coach Larry Brown, who guided the Jayhawks to the 1988 NCAA title, was in Allen Fieldhouse again for Tuesday's game, sitting a couple of rows behind KU's bench, which was news to Self.
"Well, I didn't know he was gonna be here," Self said. "So I didn't see him until right before the game started when we walked out there."
Podcast episode
After a 91-61 victory over Long Beach State, Kansas basketball coach Bill Self met with the media and discussed Lagerald Vick's career-best 23-point performance, the reason Landen Lucas didn't play and much more.
Self said Brown was in town for some sort of engagement on Friday and that he thought he would stay through the weekend.
"He's gonna be around, I think, through our game Saturday," Self said. "So hopefully we'll get a chance to have him over for practice Thursday and Friday."
Red hot from three
The Jayhawks knocked in a whopping 14 of the 26 three-point shots they attempted on Tuesday night, with four players draining two or more from downtown.
The Jayhawks, which Self has called streaky good and streaky not-so-good from three-point range, are now out-shooting their opponents .388-.368 from three-point range this season.
"The way that Long Beach State played us, defensively, I thought was really smart," Self said. "They totally disrupted us from a rhythm standpoint. The thing that they probably didn't bank on was us making nine of our first 14 threes. Their plan was to not allow us to get easy baskets inside and hope we missed. And, fortunately for us, we knocked 'em down."
Jackson OK
Self was asked for an update on freshman guard Josh Jackson, who, with a little less than three minutes to play in the game, lost control on the offensive end for one of his team-high four turnovers and knocked heads with a Long Beach State defender.
"I think so, yeah," said Self when asked if his talented freshman was all right.
Of Jackson's night, Self added: "He was really good tonight, and active. Late in the game, he made a couple careless plays, but he's got great vision, can pass, can alter and he's getting more active defensively. He's probably as all-around (talented) as any freshman we've had."
This and that...
KU now leads the all-time series with Long Beach State 4-1.... The win extended KU's nation-leading homecourt winning streak to 45 games and was the Jayhawks' fifth victory in 12 days.... KU's 19 turnovers were a season high.... Azubuike's team-high seven rebounds marked the third time this season that he has led Kansas in rebounding.
— See what people were saying about the game during KUsports.com's live coverage.
---
More news and notes from Kansas vs. Long Beach State
---