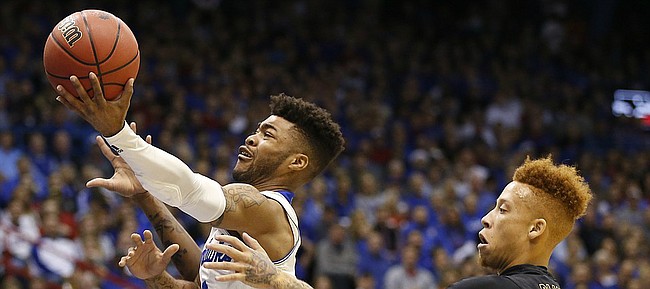 There are a variety of numbers one could point to while trying to demonstrate just how fast fourth-ranked Kansas played during Tuesday's 91-61, run-away victory over Long Beach State at Allen Fieldhouse.
But the one that might do the best job of describing it is one that is not often used in basketball circles — miles per hour.
Had the Lawrence Police Department been running radar checks on any one of KU's lightning-fast guards during Tuesday's victory, it's possible the knee-jerk reaction would have been to write them a speeding ticket.
Photo Gallery
Kansas basketball v. Long Beach State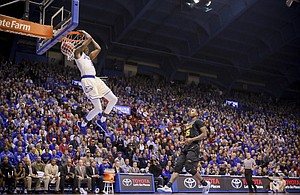 View a gallery of images from the Jayhawks' Tuesday night game against the 49ers.
For large portions of KU's beat-down of Long Beach State, Frank Mason III, Devonte' Graham, Lagerald Vick and Josh Jackson were seen not as players in crimson and blue, but as blurs wearing white, pushing the ball up the floor in a matter of seconds, with easy transition buckets lighting up the scoreboard and very few dribbles or passes needing to be made to get there.
While overwhelming the 49ers with their speed, skill and strength, the Jayhawks (6-1) shot .596 from the floor and .533 from three-point range while finishing with a 16-4 edge in transition points and 41-24 advantage on the glass.
Here's the kicker. Both Self and his players believe things could have gone better.
"Coach still thinks we can play a lot faster," said Mason, who finished with eight points, eight assists and six rebounds in 28 minutes. "We think we can play a lot faster, too. We've just gotta find ways to pitch the ball ahead and get up the floor a little bit faster."
Podcast episode
After a 91-61 victory over Long Beach State, Kansas basketball coach Bill Self met with the media and discussed Lagerald Vick's career-best 23-point performance, the reason Landen Lucas didn't play and much more.
The fact that Mason was the one to point that out, no doubt helped KU coach Bill Self sleep Tuesday night. Because, even while acknowledging that this might be the fastest team he's coached here at Kansas — Mason said it was the fastest KU team he's played on — Self said one key element could make this group go faster.
"A lot of it's on Frank," Self said. "If we're gonna play faster, it needs to be on Frank, because as Frank goes, guys will follow. And he was kind of in first gear the entire time tonight."
First gear for Mason is the equivalent to fourth or fifth gear for a lot of point guards around the country. And that fact was not lost on LBSU coach Dan Monson, who took an unusually long time to get to the post-game press conference because he was likely busy expressing his disappointment to his players.
"Kansas is a great team," Monson said. "And when you're a great team and you're better than the opponent and then you play harder than them, it gets ugly."
Through the game's first eight minutes, the 49ers had to feel much better about where they stood than in a few of their previous outings. After falling into recent holes of 16-2 and 30-8 during their treacherous non-conference schedule, LBSU (1-8) trailed Kansas just 14-13 at the 11:43 mark of the first half.
But then the Jayhawks unleashed the greyhounds and never looked back, ripping off a 13-0 run during the next 3:06 to build a 27-13 lead that ballooned to 48-25 by halftime.
Kansas played from the 20 or more ahead throughout the entire second half, building a lead of as large as 37 points before Self emptied the bench.
Starting for the second game in a row, sophomore Lagerald Vick led all scorers with 23 points and was a big part of that pace that helped Kansas cruise to victory. Both he and Jackson (13 points, 5 rebounds, 4 assists, 3 steals) appeared to play even faster than their straight-line speed because they were so active on the glass, so aggressive on defense and so fast in transition.
"It all starts on the defensive end," Mason said. "Playing high on the floor, denying passes, running through passes, rebounding the ball, pitching it ahead, finding the open guy; I think the key is getting defensive stops. That's what we have to do to be able to run. And also rebound the ball so we can get out and pitch it ahead and play fast from there."
Both Mason and Self said the four-guard lineup used by Kansas for much of the season so far has given the Jayhawks an advantage in the speed department.
"I do think we can play faster, especially when we play four guards," Self said. "When we won it in '08, Shady's (Darrell Arthur's) your 4-man and he probably was faster than anybody we have. In just a sprint, I don't know. But we've got four ball handlers and we haven't had four ball handlers out there ever before."
As for how this team could manage to play even faster than it has to open the season, Graham (12 points, 4 assists, 2 steals in 28 minutes) summed it up with two simple words: Just run.
"Early on, coach was yellin', 'Run, run, run,' when we were jogging down the court," Graham elaborated. "So it looked like we were playing fast, but we could play way faster. Just run."
KU's next race, uh, game, is slated for 2:30 p.m. Saturday when 6-1 Stanford visits Allen Fieldhouse.
— See what people were saying about the game during KUsports.com's live coverage.
---
More news and notes from Kansas vs. Long Beach State
---