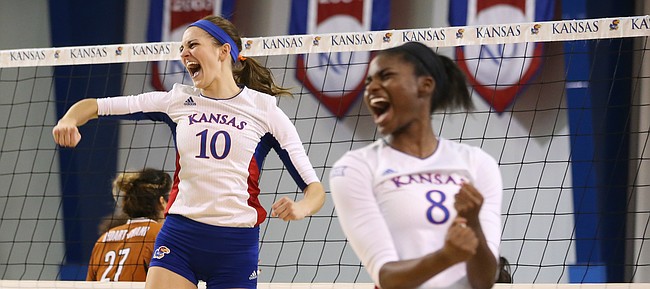 Match point, Kansas up 14-13 vs. No. 1 seed USC, the winner advancing to the Final Four.
KU coach Ray Bechard flashed the hand signals to let Cassie Wait know that he wanted her to serve it to Zone 5, the right corner, where national player of the year Samantha Bricio stood.
Wait followed orders and Bricio broke right, then watched a teammate intercept it.
"They didn't want (Bricio) to pass it, but her move to the right effectively took her out of the pattern she wanted to run," Bechard said, pointing to the play on a video.
At the 12-second mark of the 46-second long rally — 35 seconds longer than the average college rally — Bricio ran the pattern she wanted to run, and ran into a powerful, precisely placed shot that surely would even the match, except that it didn't.
Somehow, displaying remarkable quickness, Wait went horizontal and her hand beat the ball to the floor.
"The dig of the century," Bechard called it. Sixteen years into the 21st century, Bechard might not have been guilty of hyperbole. It was that remarkable a shot.
Madison Rigdon sent the Jayhawks to the Final Four with the winning kill, a bullet just inside the boundaries of the right corner, 46 seconds into a rally in which all six players touched it. Five of those players — All-Americans Ainise Havili and Kelsie Payne, Wait, Rigdon and Tayler Soucie — will try to get Kansas back to the Final Four for the second time in two years and in school history. Tiana Dockery is the only player on the floor for the dramatic rally who is not back. Dockery did not take the fifth-set magic with her.
The Jayhawks (26-2), who play host to Samford at 6:30 p.m. Thursday at Horejsi Center in a first-round NCAA Tournament match, carry the same record into the tourney as last season, plus the school's first Big 12 championship banner.
KU had to work harder to build that record this season by taking far many more matches to the limit. The Jayhawks went 8-0 in five-set matches and won them by an average margin of 15-9.
"No question, no question," Bechard said of the USC experience helping Kansas play so well in five-set matches this season.
Payne agreed.
"Since that point we haven't lost a fifth-set match, so I think that gives us a lot of confidence and we know that if it gets down to it, we know how to finish in a small set like that," Payne said.
Kansas prides itself on blanketing the floor with agile defenders and has played particularly well on that side of the floor during fifth sets. Nobody has played a bigger role in that this season than senior middle blocker Soucie.
And, of course, it doesn't hurt to have Payne, Big 12 Player of the Year, attacking (six kills in five-set victory at Baylor in season finale).
When matches go to the limit, Soucie becomes particularly stingy at the net. She had three fifth-set blocks at K-State, two at West Virginia and two in the Big 12-title-clinching match at Horejsi.
Last season, Kansas played just two five-set matches, losing at home to Texas in the regular season, and staging the dramatic comeback vs. USC to advance to the Final Four.
This season, five of KU's last seven matches of the regular season required a fifth set. Bechard offered an opinion as to why his team has had to go the distance so often of late to finish off opponents.
"I think that's a response to trying to hold onto winning the Big 12, the pressure with that, and playing a little bit not to lose," Bechard said. "And then when it gets to the fifth set it's, 'OK, here it is, let's go.' How do you bottle that mindset earlier?"
It's one of the many areas Bechard and his staff have addressed in preparing for the postseason.
UNI faces Creighton in a 4 p.m. match Thursday to open the action at Horejsi. The winners of Thursdays matches advance to a 6:30 p.m. match Friday in Horejsi.
If Creighton and Kansas win in the first round, they will play a rematch of an early season thriller that Kansas won in, you guessed it, five sets, 25-21, 23-25, 21-25, 28-26, 15-13.
The two rounds at Horejsi are sold out, as was the entire regular season.
More like this story on KUsports.com