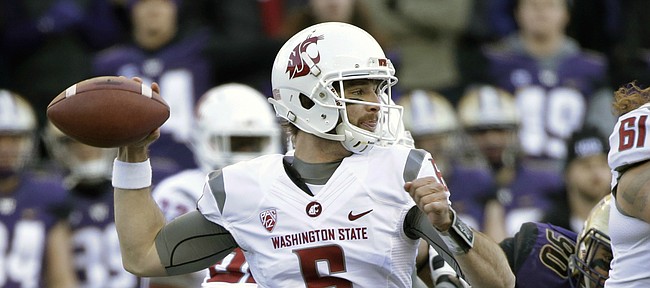 Finally, legitimate signs of progress showed up in the final fourth of the 2016 season for a Kansas football program running in place, last place to be precise, for so long.
Improving the record from 0-12 to 2-10 doesn't supply the best evidence that Kansas has reached the bottom and is on the way up, however slowly.
A better indication: Kansas went 1-2 against its final foes, Iowa State, Texas and Kansas State, with an average score of Opponents 29, Kansas 22. A year ago, against the same three schools, the numbers were Opponents 47, Kansas 16.
Even the decline of the Longhorns and playing one more of those games in Lawrence can't explain KU losing by an average of 31 points a year ago and seven points this season.
That's bona fide progress.
Now, what must Kansas do to take an even bigger step next season? Glad you asked.
Step 1: Make sure the defensive staff stays in place. If that means giving a significant raise to linebackers coach Todd Bradford, then give him one. Back in coaching after a four-year hiatus, Bradford instantly clicked with defensive coordinator Clint Bowen and did a remarkable job of coaching up platoons of linebackers after starters Joe Dineen and Marcquis Roberts were lost for the season to injuries.
Cornerbacks coach Kenny Perry's Texas recruiting contacts make him a coach other staffs might want to poach as well.
Michael Slater, KU's third defensive line coach in three seasons, developed a good rapport with the program's two best players, end Dorance Armstrong Jr. and tackle Daniel Wise, and must be retained.
Even with the offense turning it over more than a year ago, KU allowed 104.6 fewer yards and 8.8 fewer points per game than in 2015.
Reader poll
Remain offensive coordinator

5%

48 votes

Return the position to Rob Likens

18%

149 votes

Turn it over to WR coach Jason Phillips

4%

34 votes

Hire someone from outside the program

71%

576 votes
807 total votes.
Step 2: Hire an offensive coordinator, either from within Beaty's current staff or from the outside. Whispers suggest the most likely scenario involves Beaty gaining approval to hire an Air Raid OC from outside the program to run an offense that junior-college transfer Peyton Bender, who plans to enroll at the semester break, is expected to run, backed up by Carter Stanley. Injuries dictate that every program needs two capable quarterbacks and it looks as if KU will have that for the first time in several years.
The OC hire is a key one and will free up Beaty to juggle the rest of his duties more efficiently.
Step 3: Fill key vacancies created by departure of seniors.
Kansas loses three offensive starters (right tackle D'Andre Banks, receiver Shakiem Barbel, running back Ke'aun Kinner) and six from the defense (linebacker Roberts, cornerbacks Marnez Ogletree and Brandon Stewart, safety Fish Smithson, nickelback Tevin Shaw and one defensive end position shared by seniors Damani Mosby, Anthony Olobia and Cameron Rosser).
Running backs suffer injuries at such a high rate that the staff might want to use one of its remaining scholarships to shore up this position.
Freshman Khalil Herbert showed the most promise, rushing for 189 yards and three touchdowns with an average of 4.3 yards per carry. He missed time with a toe injury. Taylor Martin averaged 3.6 yards, gained 324 yards and rushed for four touchdowns.
Arkansas transfer Denzell Evans rushed just 16 times and averaged 1.8 yards per carry.
Deron Thompson totaled 30 carries in two seasons at Colorado State and averaged 4.5 yards per rush. He sat out this past season, as is required of transfers who have not yet graduated.
Dominic Williams, a three-star high school recruit from Dallas, could be ready to play right away.
An extra year in the weight room should lead to improvement from an offensive line that played better in the final weeks of the season.
Alabama transfer Daylon Charlot brightens the outlook at wide receiver.
Defensively, the secondary needs the most help. It's possible receiver Emmanuel Moore could switch to safety, where returning starter Mike Lee had a terrific freshman season and classmate Bryce Torneden showed promise. A bounce-back junior season from Tyrone Miller Jr. would help. Shaquille Richmond can play his way into the mix, as well.
Cornerback is an even bigger area of concern. Brandon Stewart had a strong senior season and will be difficult to replace.
Three players who spent their first seasons as redshirts (Shola Ayinde, Julian Chandler and Ian Peterson) will compete for spots. Ayinde underwent ACL surgery before the season and "looked amazing," in his recovery in October, according to Beaty. Even so, it's the toughest of all positions for athletes recovering from ACL surgeries. Peterson has the speed to play the position, but didn't appear to be as polished as Chandler in practice.
Perry landed Hasan Defense from Texas juco powerhouse Kilgore and he projects as a starter.
Converted receiver Derrick Neal has one year of eligibility remaining and high school recruit Robert Topps from Chicago will have a chance to compete for snaps in the defensive backfield. Still, cornerback remains the No. 1 priority for this recruiting class.
Kyle Mayberry's playing time as a freshman was limited, but he projects as the lead candidate to win the nickelback job.
KU opens the 2017 season with a pair of home games vs. Southeast Missouri State (Sept. 2) and Central Michigan (Sept. 9). The Jayhawks then will visit Ohio University.
Given projected improvements at quarterback and offensive coordinator, anything less than a doubling of the victory total to four would come as a disappointment.
More like this story on KUsports.com