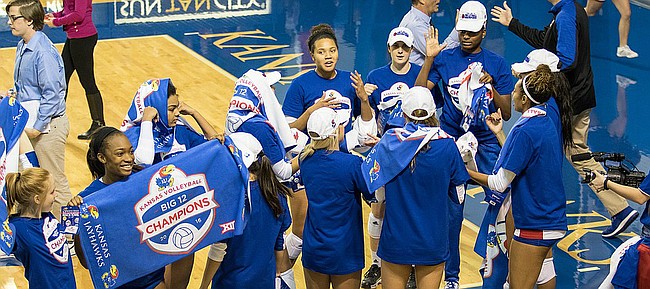 Kansas (26-2, 15-1) drew the fifth overall seed, highest in school history, in the NCAA volleyball tournament and had legitimate reason to feel slighted.
Texas (22-4, 14-2), which finished second to Kansas in the Big 12 standings, was seeded No. 4 overall, which means that if it wins its first two matches it will the be host school for the regional in which the Jayhawks are competing.
Kansas coach Ray Bechard said, "We're getting a little ahead of the game here," in talking about the regional round and directed the conversation back to a first-round match vs. Samford, 6:30 p.m. Thursday in Horejsi Center, where Kansas has a 16-match winning streak and has gone 37-1 in its last 38 matches. The winner of that match faces the winner of the Northern Iowa-Creighton (4 p.m. Thursday) match at 6:30 p.m. Friday in Horejsi.
"We have to play a good Samford team, (potential second-round opponent) Creighton's won 20 in a row," Bechard said. "If Texas wins two and we win two, that's where we'll go and we'll be ready to do that."
Bechard said that his players "might be a little motivated" by the seeding, but added that he understands what led the selection committee to that conclusion.
"Texas played a great pre-conference schedule and I'll be real frank with you: Our pre-conference schedule let us down a little bit," he said.
By that, Bechard meant that some Kansas opponents fell short of expectations. Arkansas (6-20) was the best example of that.
Assistant athletic director Jim Marchiony, a selection-committee member four times but not this year, agreed with Bechard's take and selection committee chair Lisa Petersen of Oregon confirmed their suspicions in an interview with volleyballmag.com.
"We realize that Kansas won the Big 12, but when you look at body of work, Texas was 8-3 against the top 25 and 12-4 against the top 50," Petersen said. "And in strength of schedule Texas was two overall and three in the non-conference. Kansas was 6-1 against the top 25 and 11-2 against the top 50, but their non-conference schedule was a sticking point. The RPI for their non-conference was in the high 40s."
This is the first season of the NCAA's new format that allows the highest remaining seed in each region to serve as host school in the third and fourth rounds. If Texas and KU each win their first three matches, they would play in a regional final in Austin with the winner advancing to the Final Four in Columbus, Ohio.
The seeding slight might be a moot point anyway because Kansas has so little flexibility in terms of having an available facility that meets the 3,000-seat-capacity minimum for regional matches.
Nebraska visits KU in a men's basketball game scheduled for 2:15 p.m. on Dec. 10. In the event KU advances and Texas is upset, KU officials applied for waivers that if granted by the NCAA, would allow Kansas to play in the 9 p.m. game that day, allow the match to be played on a floor that does not have the NCAA logo, and allow the juggling of practice times. Marchiony said the school has not received a response. Over the past several months, Marchiony said he has checked with four different venues, stretching from Topeka to Kansas City, and none were available.
Assistant AD Larry Keating handles basketball scheduling. The 2017 volleyball Final Four is in Sprint Center, so if Kansas can lock up one of the top four seeds next season, it could play every tournament match within 42 miles of the Horejsi Center. But will there be another conflict with basketball?
"I know what the story is with volleyball," Keating said. "It's just a question of whether we can fit the basketball schedule around that. It's something that would be nice to do."
The selection committee showed more respect to conference runner-up Texas than to outright Big 12 champion Kansas, but in general proved it thinks highly of the Big 12. Six of the conference's nine schools that participate in volleyball earned bids and three of them, including Kansas State, will play the first two rounds at home.
Bechard laughed off any suggestion that the selection committee might have given Texas the nod over Kansas because it has a facility available for all time slots for the regional round.
"No way, they are going to seed them one through 16 and then figure out who can host and who can't host," Bechard said.
Unlike in the men's basketball tournament with which the average sports fan is more familiar, the committee does not seed the tournament all the way through. It just selects the top 16 overall seeds and then after that fills out brackets based on geography.