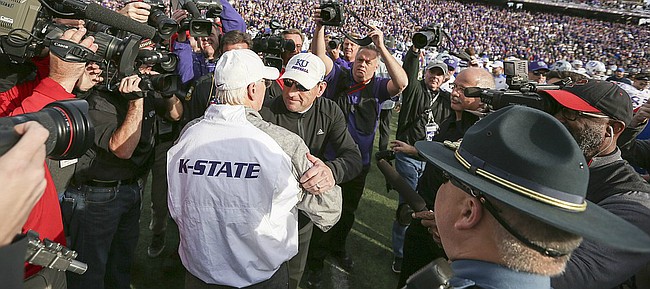 The man who built something truly amazing out of nothing reached a milestone Saturday afternoon with his 200th football victory at Kansas State. His players celebrated the moment by pouring water on him and then carrying him off the field.
Surely, even the stoic Bill Snyder couldn't contain his emotions, right?
"I got my pants wet," was Snyder's opening remark after his Wildcats defeated Kansas, 34-19, in Bill Snyder Family Stadium. "Cold."
By that, Snyder didn't mean he was so excited he wet his pants. He merely commented on the result of having water dumped on him.
The pain of watching his team's lead, which had reached 27-3, fade had not completely healed.
Yet, Kansas State senior receiver Deante Burton said he did witness emotion from Snyder, 77, a native of Saint Joseph, Mo., a quarterback for William Jewell College, and the shiniest of many grade-A apples to fall from the coaching tree of Iowa's Hayden Fry.
"I think he started to crack a smile," Burton said. "I don't know if he held it, but I saw the right side of his face edge up a little bit, so I was like, 'Maybe we got one. I don't know.' I'm sure maybe he'll smile a little bit and then he'll watch the film and go back to stoic."
Photo Gallery
Kansas football at Kansas State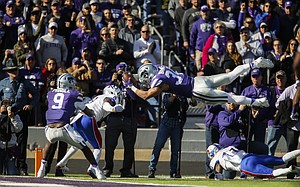 View a gallery of images from Saturday's game between the Jayhawks and Wildcats in Manhattan.
The coach didn't have to wait that long to send that right side of his face back to its proper place. He knows what awaits him when he watches it again. After he called attention to general groups invested in the 200 victories, from players to assistant coaches to administrators to his family, he looked at the particulars of No. 200.
"I probably do not sound in a very good mood, but I am responsive to how we played, and today we played rather ugly," Snyder said. "I do not feel good about that, I assure you."
Does the milestone squash those feelings of disappointment?
"Not really," Snyder answered and moved onto the next question.
It's not the result itself that seems to please Snyder, rather the process of players executing the things that lead to victory and Snyder knows that against a more experienced, more talented, deeper opponent, his team must perform in tidier fashion to win than it did Saturday.
The hope among KU fans pining for a fresh start in the rivalry that Snyder has dominated with a 21-4 record is that reaching the 200 milestone might lead the coach to retire for the second time and this time for good.
Not so sure about that. He'll retire when he reaches a point where he thinks life in retirement will be more enjoyable than life as a coach who obsesses on every little detail that leads to winning plays. Maybe that's after K-State's bowl game. Maybe it's a few years from now. But this job means more to him than a number and so does his life outside the job. He'll walk when he wants to change his work/life balance and not when a nice round number is reached.
"He treated his 200th win like his second win," Burton said. "He's a stoic guy. He told us numbers mean nothing and he couldn't have done it without us."
Burton did a nice job of capturing his coach's style.
"Coach Snyder is a creature of habit," Burton said. "Practice is exactly two hours and 47 minutes. You can time it if you want. We've tried and it's exactly the same time every day. Things start at 3:52, (it lasts) 2:47, everything's on the exact same schedule. He's a creature of habit and I think that's how he created such a great team and such a great atmosphere here by doing it the right way and doing it every time."
The closer the Wildcats come to consistent behavior, practice habits, etc., the closer they come to reflecting their coach.
"He believes in the same thing, no matter the situation," Burton said. "We could be up by 50. We could be down by 50, and he's going to tell you to keep rowing the boat. We could be playing a middle-school team. We could be playing the Patriots. He's going to tell you the exact same things you need to do to win the game. I think that's what builds a program."
Tears don't. And Snyder didn't shed any over his milestone.
"I'm glad they hung on," Snyder said. "I know that."
As for the celebration the milestone triggered, Snyder called it, "Part of the deal."
— See what people were saying about the game during KUsports.com's live coverage.
---
More news and notes from Kansas vs. Kansas State
---
More like this story on KUsports.com