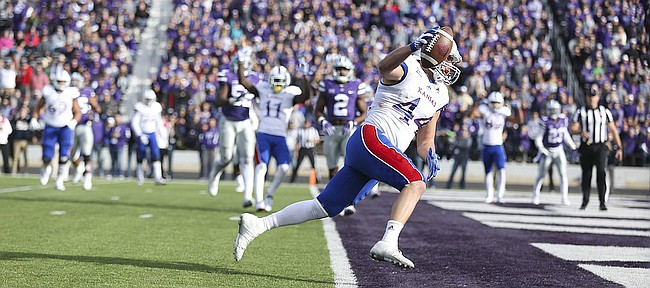 Manhattan — With only fair catches and no returns in the punt game in its season-ending loss Saturday at Bill Snyder Family Stadium, the Kansas football team finished the year with negative-10 punt return yards in 2016. However, the Jayhawks kept themselves in what became a 34-19 defeat at Kansas State with some special teams success.
Senior kicker Matthew Wyman finished his college career by going two-for-two on his field-goal tries. Wyman hit from 34 yards to give KU a 3-0 advantage in the opening minutes and drilled a fourth-quarter attempt from 44 yards, cutting the K-State lead to 15 with 6:30 left in the fourth quarter.
A 6-foot-1 kicker from Bloomfield Hills, Mich., though, experienced a different kind of rush late in the game shortly after his extra point on a Michael Zunica touchdown reception. Kansas head coach David Beaty elected for an onside kick with the Jayhawks (2-10 overall, 1-8 Big 12) trailing, 34-16, in the fourth. Wyman's short kick bounced off of a Wildcat and ricocheted back in his direction.
"That was awesome to go out with that. I just saw the ball spit out and I hopped on it. Not a whole lot that I did. It was a lucky bounce, I guess, and I got on it," Wyman said of the strategy. "There's not really a plan on the onside. It's just 'hopefully someone messes up' and I can get on the ball."
Photo Gallery
Kansas football at Kansas State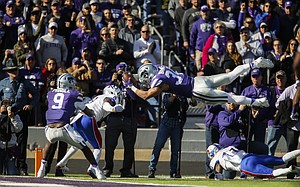 View a gallery of images from Saturday's game between the Jayhawks and Wildcats in Manhattan.
Wyman, who finished the year 13-for-19 on field goals and made at least one for the sixth consecutive week, drew Beaty's praise for that unexpected recovery.
"There was a lot of hustle, a lot of work put into that by (special teams coordinator) Joe DeForest," the head coach added.
KU also earned a special teams victory early in the first quarter, when sophomore defensive tackle Daniel Wise blocked Ian Patterson's extra point attempt, giving Wise his second block of the year.
Still streaking on the road
KU's season came and went without a road victory for the seventh year in a row.
As has been the case every time Kansas has ventured outside of Memorial Stadium since September of 2009 (at UTEP), the Jayhawks failed to pick up a victory at K-State. KU's losing slump outside the city of Lawrence grew to 44 straight games, while the program's losing skid in true road contests reached 41.
Though the number involved is smaller, Kansas hasn't won a Big 12 road game is even longer. KU has dropped every conference game on a foe's field since October, 2008, when the Jayhawks won at Iowa State. The Wildcats extended that losing skid to 36 games.
Snyder's dominance
The man with his name on the outside of the stadium, K-State head coach Bill Snyder, continued his dominance against rival KU.
While picking up the 200th victory of his storied career, Snyder improved to 21-4 versus the Jayhawks — tying his own mark for most victories against an FBS opponent by a current head coach (Snyder also owns 21 victories over Iowa State).
This and that…
It took 12 games, but for the first time this season, Kansas scored on its opening drive — Wyman's first field goal. … Redshirt freshman Carter Stanley finished the game with 302 passing yards, his best total as a KU quarterback. … For the second time this season, and the first since the opener versus Rhode Island, Kansas had pass receptions by 10 different players: LaQuvionte Gonzalez, Steven Sims Jr., Tyler Patrick, Michael Zunica, Ke'aun Kinner, Shakiem Barbel, Taylor Martin, Keegan Brewer, Austin Moses and Khalil Herbert. … KU's 3-0 lead over K-State marked its first in the series since it owned a 14-7 second-quarter advantage on Oct. 6, 2012, in Manhattan. … The final 15-point margin of defeat was the closest in the series since Kansas lost to K-State, 17-10, in Manhattan on Nov. 7, 2009.
— See what people were saying about the game during KUsports.com's live coverage.
---
More news and notes from Kansas vs. Kansas State
---