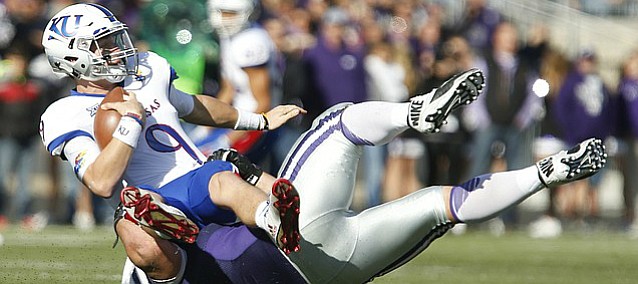 Similar to the arc of the 2016 season, the Kansas football team couldn't fight back from a big first-half deficit in its regular season finale against Kansas State.
The Jayhawks, who had some highlights in the second half, extended their road losing streak to 41 games with a 34-19 loss at Bill Snyder Family Stadium on Saturday. The win marked Snyder's 200th career victory at Kansas State.
The Jayhawks (2-10, 1-8 Big 12) looked strong at the start using an 11-play, 58-yard opening drive to set up a 34-yard field goal by kicker Matthew Wyman.
But then the wheels fell off.
The Wildcats (7-4, 5-3) scored on three of their first drives, running the ball with plenty of success between quarterback Jesse Ertz (12 carries for 99 yards), running back Alex Barnes (103 yards and TD on 10 attempts) and fullback Winston Dimel (15 yards and two scores on six carries).
Photo Gallery
Kansas football at Kansas State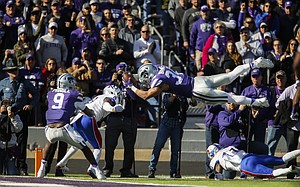 View a gallery of images from Saturday's game between the Jayhawks and Wildcats in Manhattan.
After putting three points on the scoreboard during their first drive, the Jayhawks went eight possessions without adding to the scoreboard — five punts, two interceptions and the end of the first half.
In the second half, KU came to life. Redshirt freshman quarterback Carter Stanley, in his first road start, connected on a 95-yard touchdown pass to receiver LaQuvionte Gonzalez.
Then on the next drive, Stanley led a 10-play, 75-yard drive that ended with a four-yard TD pass to Michael Zunica. The Jayhawks made it interesting, recovering an onside kick and forcing a fumble in the final minutes, but couldn't do more than a 44-yard field goal from Wyman.
Stanley completed 24-of-44 passes for a career-high 302 yards, two touchdowns and two interceptions with a career-best 52 rushing yards on 10 attempts. Gonzalez had five catches for 127 yards and a score, while Tyler Patrick added 64 yards on three receptions.
The Jayhawks have a 36-game losing skid in Big 12 road games.
Here's a quick look back at some of the action:
• The game turned when: Stanley threw interceptions on back-to-back drives at the start of the second quarter. The first takeaway turned into a pick-six, returned 39 yards by Donnie Starks for a 17-point lead. The Wildcats couldn't turn Stanley's next interception, which was tipped up in the air at the line of scrimmage, into points, but it took the sails out of KU's offense after it scored three points on the opening drive.
• Offensive highlight: After going eight drives without any points, Stanley connected with Gonzalez on a deep fade pass for an eventual 95-yard touchdown pass. Gonzalez shook the only defender that was within a few yards of him near the end zone, cutting KU's deficit to 27-9. It was the longest pass play of the season.
• Defensive highlight: During the second quarter, the Wildcats were at the 43-yard line and needed one yard to pick up the first down. On 3rd-and-1, the Jayhawks brought strong pass coverage and Fish Smithson defended an incomplete pass. On 4th-and-1, DeeIsaac Davis stuffed Ertz on a run, forcing a turnover on downs.
• Key stat: Yards per carry. It was no surprise that the Wildcats featured dual-threat quarterbacks and wanted to run the ball as much as possible. But the Jayhawks couldn't do much to stop K-State's rushing attack. The Wildcats ran for 342 yards on 58 carries, averaging 5.9 yards per attempt. Meanwhile, the Jayhawks couldn't do much with their rushing attack, held to 101 yards on 27 attempts (3.7 yards per carry), which included a 36-yard scramble by Stanley in the fourth quarter.
Quarterback Jesse Ertz ran for 99 yards on 12 carries, sitting for all but a few plays in the second half. Third-string quarterback Alex Delton added 53 yards on 12 carries while backup QB Joe Hubener finished with seven yards and a touchdown on five attempts.
• Up next: That wraps up the 2016 season for the Jayhawks. Now it's looking ahead to the offseason, recruiting and spring football in a few months.
SCORING SUMMARY
FIRST QUARTER
10:30 — Matthew Wyman 34-yard field goal. Eleven-play drive for 58 yards, in 4:30. (KU 3, KSU 0.)
7:24 — Winston Dimel one-yard rush. Ian Patterson kick blocked by Daniel Wise. Six-play drive for 70 yards, in 2:59. (KSU 6, KU 3.)
SECOND QUARTER
13:52 — Alex Barnes 31-yard rush. Patterson kick. Five-play drive for 79 yards, in 2:22. (KSU 13, KU 3.)
13:12 — Donnie Starks 39-yard interception return. Patterson kick. (KSU 20, KU 3.)
THIRD QUARTER
9:47 — Dimel seven-yard rush. Patterson kick. Eleven-play drive for 75 yards, in 5:13. (KSU 27, KU 3.)
4:18 — Carter Stanley 95-yard pass to LaQuvionte Gonzalez. Steven Sims rush failed. One-play drive for 95 yards, in 0:14. (KSU 27, KU 9.)
FOURTH QUARTER
14:56 — Joe Hubener one-yard rush. Patterson kick. Eight-play drive for 75 yards, in 4:22. (KSU 34, KU 9.)
11:29 — Stanley four-yard pass to Michael Zunica. Wyman kick. Ten-play drive for 75 yards, in 3:27. (KSU 34, KU 16.)
6:30 — Wyman 44-yard field goal. Eleven-play drive for 69 yards, in 2:31. (KSU 34, KU 19.)
— See what people were saying about the game during KUsports.com's live coverage.
---
More news and notes from Kansas vs. Kansas State
---