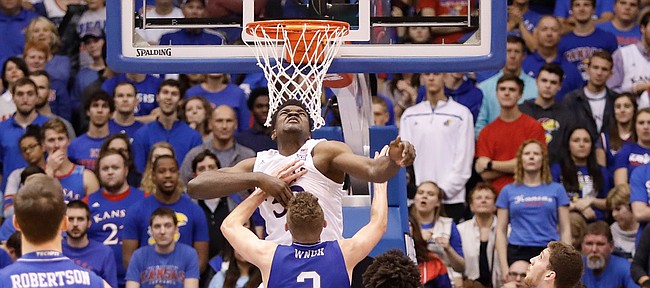 Bill Self's decision to start freshman center Udoka Azubuike and sophomore wing Lagerald Vick in place of struggling starters Landen Lucas and Carlton Bragg Jr., brought some buzz to Friday's 95-57 Kansas victory over UNC Asheville at Allen Fieldhouse.
But after the win Self cautioned against reading too much into the move.
"I think we'll be a team that's unlike most of the teams we've had," Self revealed. "I think we'll start based on scouting report a lot of times. And we haven't ever done that. If a team plays small, we may go small. If a team plays two bigs, we may go two bigs."
If it's big Self's looking for, they don't make 'em much bigger than Azubuike, a 7-foot, 280-pound mountain of a man from Delta, Nigeria, who tallied 17 points and three blocks during his first career start on Friday night.
The basketball definition of a work in progress, Azubuike uses his size both on offense and defense, dunking anything and everything he can get his hands on and making opponents think twice about entering the paint. Self's teams always have been at their best defensively when they've had a player like that lurking in the lane, and the 14-year KU coach said Azubuike could be that player for this team, whether he continues to start or not.
"Yeah, yeah, he can," Self said. "He's got a better chance than anybody else on our team, for sure. He and Josh (Jackson), I think, are our two best shot blockers.... 'Dok can actually block or alter (shots) and he does that better than anybody else. So it is nice to have somebody back there that can do that."
While so much of what Azubuike is doing today is based off of raw size and skills, Self again emphasized that what Azubuike can offer in the future differs vastly from what he's capable of doing today. And Self made no secret of the fact that he's willing to let the young man's game develop slowly while taking whatever he can get this season.
Azubuike is averaging just 12.2 minutes per outing and has played single-digit minutes just as often as he has been given double-digit minutes during the Jayhawks' 5-1 start to the season.
"He's gonna continue to get better and better," Self said. "But I think if he can become a better low-post defender, a better rim protector and a better defensive rebounder, that would be what I'd be happy with. Those are the things that the team needs more than anything else."
One of the ways Azubuike plans to progress is by watching the man he replaced in the lineup on Friday night. Regardless of how the minutes are divvied up from this point on — and Self actually was encouraged by the way Lucas and Bragg handled and responded to Friday's decision — both Azubuike and Lucas figure to play key roles for the Jayhawks whether on or off the floor.
"We didn't really talk about it that much," Azubuike said. "But Landen, he's been a great teammate to me. He doesn't talk a lot but, he's like a role model. Just looking at him, the way he does things, the way he carries himself in practice, I'm just following in his footsteps because he's been here for so long and he knows everything so I'm just looking up to him."
Self said Friday that Azubuike and Vick again would join Jackson, Devonte' Graham and Frank Mason III in the starting lineup on Tuesday against Long Beach State, but he made sure to stress that it's not a move that he feels forced to stick with for the remainder of the season.
"Like I told them, this doesn't have to be permanent," Self began. "But if 'Dok and Lagerald play like that, I mean, that's the best production we've got all year long from those two spots. So it could be permanent, but I don't suspect it will be."