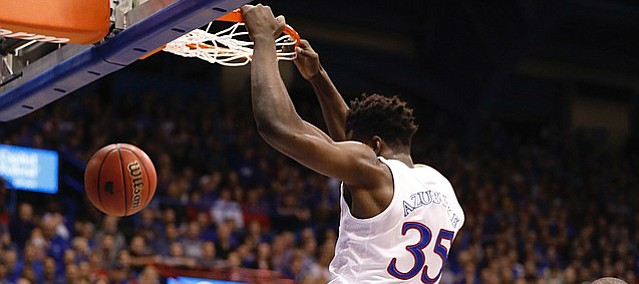 Thursday might have been Thanksgiving, but it could have felt more like Valentine's Day for the Kansas men's basketball team.
That was the day the Jayhawks found out that 7-foot freshman center Udoka Azubuike was going to be in the starting lineup for Friday's game against UNC Asheville. And after KU's 95-57 victory over the visiting Bulldogs, it's safe to say the Jayhawks are in love.
"It's definitely easier when you can just throw it up there and have somebody go get it," said junior Devonte' Graham of the strategy used by Azubuike seven different times on an 8-of-9 shooting night Friday. "You gotta reward the big fella when he's running hard and blocking shots, so I tried to reward him as much as I can."
In the starting lineup for the first time this season, Azubuike proved to be a focal point for the Kansas offense on Friday night. That's what happens when you're that big and broad and have a knack for dunking anything and everything that comes anywhere close to the rim.
So confident were Azubuike's teammates in his affinity to flush, they routinely passed up open shots to give him the ball.
Entry passes were thrown when jumpers were open. Lobs were floated when layups were available. But no moment was more impressive — or more telling of the team's desire to let 'Dok dunk — than one possession late in the first half when freshman Josh Jackson (14 points, 7 assists, 4 rebounds) elevated for a three-pointer at the top of the key and, at the last minute, transformed his stroke into a sweet assist, fired at the rim, where Azubuike elevated over an Asheville defender to finish the dunk despite the foul. Azubuike later said that flush was his favorite of the night. That sentiment was not the same on the other bench.
"Some of the lobs, I thought we played good 'D' and they just threw it over the top," Asheville coach Nick McDevitt said after the game. "They kind of overpowered us around the basket."
That may have been a fortunate result of the change to the starting lineup, but Kansas coach Bill Self said it had nothing to do with his reason for inserting Azubuike and Lagerald Vick in the spots previously held by Landen Lucas and Carlton Bragg Jr.
"There wasn't really a lot that went into it," said Self of the tweak to the starting lineup which coaches first considered following Tuesday's victory over Georgia. "Try something different and they both earned the right to get the opportunity to do that so we decided to look at playing small and I thought they both played pretty well."
The duo joined Jackson and Frank Mason (21 points, 5 assists) in double figures and combined to shoot 14-of-16 from the floor. A good chunk of those were easy dunks or alley-oops to Azubuike, and Self cautioned against his team relying too heavily on those types of plays for future success.
"Getting lobs and stuff, you're not gonna get that against some teams," Self said. "But he's about as good as I've seen catching the ball above the rim and finishing."
Podcast episode
After a 95-57 victory over UNC Asheville, Kansas basketball coach Bill Self met with the media to discuss his decision to start Lagerald Vick and Udoka Azubuike for the first time, Devonte Graham's passing and much more.
During his postgame meeting with the media, Azubuike admitted to having some nerves about making his first start but added that he wasn't scared and that his teammates did a terrific job of preparing him for the moment.
"Right before the game," Azubuike began, "Frank came up to me and said, 'Just go out there, play your game and have fun,' and I just did that."
The freshman 7-footer also made sure to give Self plenty of credit for motivating him to deliver. While speaking with reporters after his big night, Azubuike mentioned some version of the phrase, 'Coach has been getting on me...' six different times. Some referenced his execution, others his aggressive nature, but most had to do with his conditioning. In fact, three minutes into the game, Self could be heard screaming from the bench, "'Dok, you're not tired." Azubuike said those — we'll call 'em reminders — really did help.
"Coach gets on me a lot about that," Azubuike said. "He wants me to be in my best shape and he wants the best for me. When he's over there screaming, asking me I'm not tired, I'm not tired, I just feel that gave me an extra edge to go out there and just play hard."
It wasn't all roses for Azubuike on Friday night. Although his touches led to more efficient offense — both for him and others — he still labored to get into his post moves at times and finished with a couple of turnovers because of it. And at the podium after the game, Graham teased him for grabbing just three rebounds.
But for every negative moment, Azubuike delivered at least three or four positive plays, finishing with 17 points and three blocks in 23 minutes. For that, he earned the admiration of the Allen Fieldhouse fans and continued opportunities from his coach and teammates.
"They like playing with him because they can throw the ball places where there's really nobody else on our team that can go catch it, so it makes it a lot easier," Self said.
Asked what kind of development he hoped for from Azubuike the rest of the way, Self stayed consistent with his message that the best basketball for the big man from Nigeria remained "three, four or five years down the road."
More nights like the one he delivered Friday, though, could expedite his progress and certainly did enough for him to remain the same in the starting lineup when the Jayhawks (5-1) face Long Beach State on Tuesday at Allen Fieldhouse.
"Oh yeah. We'll go the same way. Absolutely," Self said. "There's no reason to switch that up right now."
— See what people were saying about the game during KUsports.com's live coverage.
---
More news and notes from Kansas vs. UNC Asheville
---