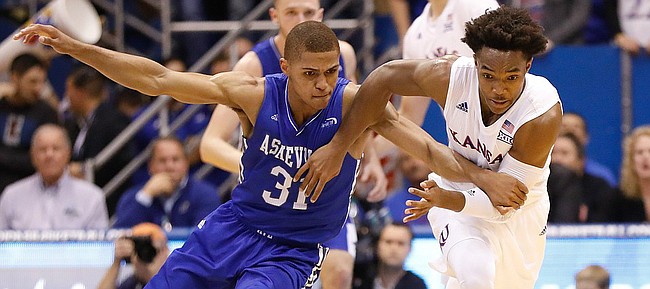 Junior Devonte' Graham easily could have scored a ton of points Friday night in Allen Fieldhouse if that had been what he set out to do against an overmatched UNC-Asheville.
But why would he do that when Kansas didn't need that from him? Why would he do that when he could control the game to the benefit of the Jayhawks by pushing the pace and setting up teammates with crowd-pleasing dunks? Why would he put up a lot of shots when deceiving the defense to facilitate open shots for less experienced teammates would have the added benefit of inflating their confidence levels?
A popular preseason choice to lead the team in scoring, Graham took four shots in 28 minutes, all from three-point range. He made half of them for six points to go with six rebounds and 11 assists.
Kansas totaled 11 dunks. Udoka Azubuike (seven), Josh Jackson (three) and Landen Lucas (one) were doing the dunking the day after Thanksgiving. More often than not, it was Graham who was serving the stuffing.
Graham makes terrific decisions at such a fast pace he leaves the impression that if he put his mind to it he could become a great quarterback or emergency-room surgeon.
Better that he stick with basketball because a face mask would hide expressions he uses to fake defenders one minute, ignite teammates the next. Graham doesn't need to score to fire up crowds. He raises the decibel level by seeing buckets for teammates the way a great pool player sees shots the rest of us don't, and then celebrating the points with smiles and air punches.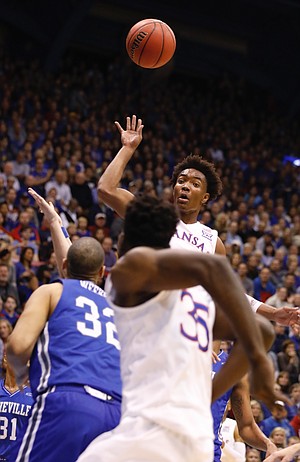 As for the points, when Kansas needs him to put up shots, he knows how to do that. On this night, Frank Mason was on fire, making all five three-point shots on his way to a team-high 21 points, and the dunks were available for others, so Graham stuck to facilitating.
"I like throwing lobs," he said. "Coach said I had six assists at halftime so I was trying to get 10 and ended up getting 11. I wasn't really looking to score as much. He told me to look to score more in the second half, but I was still just trying to get dimes."
He jammed his toe on a drive in which he was fouled with seven minutes remaining, left the game and didn't return. He said afterward it was fine. He again played without suffering cramps, which last surfaced during the Duke game.
"I'm trying to eat more," he said. "I think I wasn't eating enough, especially during (game) days. I might have been too excited for game day so I wouldn't eat as much as normal. I've just been drinking a lot of Gatorade, bananas, water, stuff like that."
The three offensive possessions that preceded Graham's final one on the floor supplied a nice snapshot of how much influence he had on KU's aggressive night.
First, he used a facial fake to make the Asheville defense think he was passing the ball to the top of the key and fired a beauty to Azubuike on the right block for a dunk. Next time, down, he faked a pass to Sviatoslav Mykhailiuk on the left wing and again fed a bullet to Azubuike near the right block for another slam. Then, leading the break, he took it aggressively into the lane and took the defense with him, leaving Lagerald Vick alone in the right corner for an open three than he drained to put Kansas up 82-43.
"We talked about it before the game," Graham said of Azubuike and Vick getting starting assignments Friday. "They had to come out and be aggressive and don't think about starting, just play as if they were coming off the bench with all that energy they bring and just try to have fun."
Graham, who in his past four games has 29 assists and five turnovers, had a big hand in making it easier for them to do that. The junior guard from Raleigh, N.C., also has the ability to boil down what can be a complicated game into a simple formula for players finding their way.
"It was a great game for Udoka," Graham said. "He played good. He remembered the plays and he played hard."
Graham played well, created the plays and always plays hard. He is joined every night in that regard by Mason (21 points, five rebounds, five assists) and Jackson (14 points, seven assists, four rebounds, three blocks and two steals). They had big nights, as did Azubuike and Vick, on a night nobody came up bigger than Graham.
— See what people were saying about the game during KUsports.com's live coverage.
---
More news and notes from Kansas vs. UNC Asheville
---