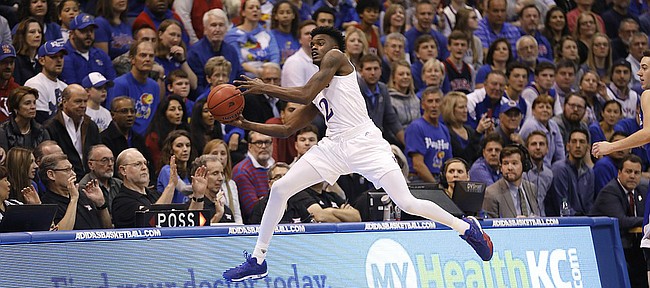 Kansas sophomore Lagerald Vick just continues to impress. And it's getting to the point where Kansas coach Bill Self seems to be expecting nights like Vick's 15-point, 9-rebound effort in Friday's 95-57 win against UNC Asheville at Allen Fieldhouse.
Joining freshman big man Udoka Azubuike in the Jayhawks' new-look starting lineup, Vick made the move by KU coach Bill Self look like pure genius, even if he was not as violent nor loud as Azubuike while doing it.
"Starting was great," Vick admitted after the game. "I found out (Thursday) at practice and just went with the momentum."
The 6-foot-5 guard from Memphis grabbed his eye-opening line in a game-high 31 minutes, connecting on 6-of-7 field goal attempts, including 3-of-4 from three-point range.
That hot-shooting night ended a rough 1-of-13 stretch from behind the arc for Vick and left both him and his head coach more than a little pleased after the victory.
"I just got in the gym, watched the film, studied my shot a little and came out with more confidence," said Vick when asked what accounted for the big night.
Added Self: "We're gonna probably always be a relatively streaky three-point shooting team. And not everybody's gonna go five-for-five (Frank Mason III). But I was probably happier for Lagerald more than anybody else."
Getting better
Although the Jayhawks are out to a 5-1 start for the 12th time in the Bill Self era, Self said earlier this week that his team might be fortunate to have the record it did.
If things continue to go the way they went on Friday, however, Self might attribute it more to skill and less to luck. The KU coach said he was pleased both by the way his team rebounded — 49-23 advantage, including 13-8 on the offensive glass — and executed from start to finish against the Bulldogs.
"I thought the whole team rebounded the ball," Self said. "(Former starters) Carlton (Bragg) and Landen (Lucas) rebounded better. They got nine rebounds in 24 minutes and that's a far better clip than what we've been getting."
As for the execution, Self said Friday's win marked the first game of the season without any ugly moments.
"We played consistently well tonight, more so than we have all year long," he said. "We've gone through some stretches where there's been droughts or we get stagnant and I didn't really feel that tonight."
Pull up a chair
After playing an average of more than 35 minutes per game so far this season, KU's backcourt duo of Frank Mason III and Devonte' Graham got some much-needed rest during Friday's run-away victory over Asheville.
Both guards played just 28 minutes, with Graham exiting following a hard fall with roughly six minutes remaining and Mason following him off the floor a couple of minutes later when Self emptied his bench.
Injury update
Senior forward Landen Lucas, who had been bothered by a sore foot all season, appeared to tweak his ankle during Friday's victory, but neither that nor the sore foot sounds like an area of concern for Self.
"You'd have to ask (trainer) Bill (Cowgill) or Landen," Self said when asked about the foot. "But we think he's good. We think we dodged a bullet on that."
Podcast episode
After a 95-57 victory over UNC Asheville, Kansas basketball coach Bill Self met with the media to discuss his decision to start Lagerald Vick and Udoka Azubuike for the first time, Devonte Graham's passing and much more.
Lucas' reps, both during the games and in practices, have been limited throughout the season, but Self never has used the foot injury as a reason for Lucas' slow start.
As for junior guard Devonte' Graham, the cramping issues that plagued him during exhibition play and the first couple of games also appear to be a thing of the past.
"He's been treated for his cramping and they think they got it under control," Self said.
This and that...
Kansas won for the fourth time in eight days.... KU's victory Friday improved the Jayhawks to 4-0 all-time against UNC Asheville, 208-9 at Allen Fieldhouse under Self and 2,191-837 all-time.... KU's starting five of Devonte' Graham (11 assists), Lagerald Vick (9 rebounds), Frank Mason III (5 three-pointers), Josh Jackson (7 assists and 3 blocks) and Udoka Azubuike (17 points) all recorded career-highs in at least one category.... KU's nation-leading home-court winning streak now stands at 44 games.... KU also has sold out Allen Fieldhouse for 245 consecutive contests.
— See what people were saying about the game during KUsports.com's live coverage.
---
More news and notes from Kansas vs. UNC Asheville
---