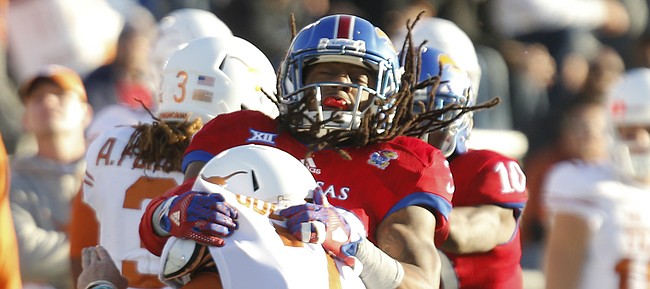 — Kansas (2-9 overall, 1-7 Big 12) at Kansas State (6-4 overall, 4-3 Big 12) • 11 a.m. kickoff, Saturday, Bill Snyder Family Stadium, Manhattan • Game-time forecast: 52 degrees, sunny, 0% chance of rain • TV: FOX Sports 1
— Log on to KUsports.com for our live game blog and follow our coverage team on Twitter: @KUSports, @BentonASmith, @TomKeeganLJW and @NightengaleJr
Keys for Kansas
1. Harness that momentum
College football coaches and players will tell you it's a game-by-game sport and one week's result has nothing to do with the next's. True, that's a smart way to approach it, but when you're a program like Kansas that has struggled for so long and just put an end to a nine-game losing skid, there's something to be said for the impact of one overtime victory against Texas. Imagine how much more difficult it would be to prepare for a bowl-bound Kansas State team as losers of 10 straight? Instead, the Kansas offense, defense and special teams, as well as all of their coaches, have been able to take pride this week in the program's most significant victory in two years. They have concrete proof all the work they've put in over the last several months meant something. Kansas needs to utilize that sort of immeasurable momentum in order to compete in a hostile environment against the rival Wildcats.
2. Win the turnover margin again
Only twice this season has KU finished a game with more takeaways than giveaways — the season opener against Rhode Island and last weekend versus Texas. Those, of course, are the Jayhawks' only wins in 2016. Kansas hasn't been miserable on the road in terms of turnover margin since a -6 debacle at Memphis in September, but the final score in every opponent's stadium would make any player or coach's stomach churn. Is it possible for the Kansas defense to force six turnovers — like it did in beating Texas — against K-State? No. The Wildcats have only lost 10 turnovers all season. With ball security serving as such a key component of K-State's success, the Jayhawks will have to play even more assertively on defense to get a fumble recovery or interception in Manhattan.
That means the KU offense can't destroy the team's chances with costly mistakes. In quarterback Carter Stanley's first career road start, the redshirt freshman will need to make quick, smart decisions on his throws and protect that football at all costs — particularly with the Big 12's leading pass defender, D.J. Reed (12 breakups, three interceptions) on the other side of the field. The same goes for all of the Kansas skill players, all of whom have more experience than Stanley and none of whom will have as large a bull's eye on his back. A turnover-free performance from the offense qualifies as a necessity in an upset bid.
3. Control the 'money' down
For all the success the Kansas defense had against the Longhorns with four sacks, three interceptions and three fumble recoveries, the Jayhawks' ability to get off the field on third down proved as important as anything. No team in the Big 12 has matched KU's third-down defense. Opponents only convert on third downs 35 percent of the time (No. 1 in the conference) against Clint Bowen's defense. Texas punted six times in the first half alone, because Kansas linebacker Keith Loneker Jr., safeties Fish Smithson, Mike Lee and Tevin Shaw, defensive end Dorance Armstrong Jr. and their teammates kept getting stops en route to limiting UT to 3-for-17 on third downs.
More of the same would increase KU's chances of keeping this rivalry game at K-State close. The more Nick Walsh punts, the better for Kansas. Keep in mind the Wildcats' offense has converted third downs at a much higher rate (45 percent, fourth in Big 12) than the Jayhawks (33.3 percent, last). Plus, K-State ranks third in third-down defense, surrendering first downs just 39.2 percent of the time. KU head coach and offensive coordinator David Beaty has to get the Jayhawks into as many third-and-manageable scenarios as possible.
Mega Matchup
Ke'aun Kinner vs. K-State's front seven
As senior running back Ke'aun Kinner enters his college finale, it's a good week for him to be thankful for KU's starting offensive line: Hakeem Adeniji, Jayson Rhodes, Mesa Ribordy, Larry Hughes and D'Andre Banks. Over the past couple of weeks, Kinner's productivity has improved with their help. The 5-foot-9, 191-pound back rushed for 152 yards and a touchdown against Iowa State and then accumulated 137 total yards against Texas. The Jayhawks need one more big game out of Kinner as they try to do the unthinkable, and finish the season on a high note.
It won't be easy in Bill Snyder Family Stadium against K-State's defense. Sophomore linebacker Elijah Lee averages 8.2 total tackles a game (third in the Big 12). Senior defensive end Jordan Willis ranks second to Armstrong in tackles for loss (13.5). Freshman defensive end Reggie Walker has forced three fumbles and junior end Tanner Wood has two. Plus, K-State leads the Big 12 in rushing defense, allowing just 110.8 yards a game this season.
Can Kinner grind out tough runs and break a few long ones against a talented defense? He'll need to for Kansas to avoid another blowout road loss.
5 Questions with sophomore DT Daniel Wise
1. You all are coming off a pretty big win, beating Texas in overtime. With all the drama of it, what was it like to experience?
"I'd say it was a hell of a game. Both sides of the ball everybody stayed with it and stayed focused and consistent. It was a big one. Everybody stayed bought in and positive on the sideline. All that contributed to the victory."
2. Coming from a football family — father Deatrich Wise drafted into the NFL, brother Deatrich Jr. at Arkansas, brother Solomon at UT-San Antonio — what was the reaction from them after KU beat Texas?
"During the game one of my brother's teammates was here and he got a text. He yelled from the stands, 'Your brother said keep up the good work,' or something like that. 'Keep goin'. Good game so far.' That helped keep me motivated throughout the game and it was the same message after the game. My dad called me up, my brother and mom, as well."
3. You were able to make some big stops in that game, and now facing Kansas State, another strong rushing team, do you have to come through with the same production?
"Not so much psyching myself up that I need another big game. Just tellin' myself I need to be consistent, keep doin' what coach asks me to do and just keep doin' my job. That's all I really did Saturday. I just did my job and a little bit more. But doin' what coach asked me to do allowed me to make the plays I made."
4. Obviously you all have had your struggles on the road this year. What needs to change this week for you all to put that behind you and accomplish something new?
"This (Texas) win is over. We enjoyed the celebration. Now we've just got to zone in and focus on K-State and try to get our first road victory in a while."
5. Obviously there are a lot of Texas guys, like yourself from Lewisville, on this Kansas roster. What do you all know about the KU-K-State rivalry?
"I've been here for a while, so I know a lot about it. They tend to remind you. Some of the Texas guys that may not know a lot, they'll learn a lot this week about it. It'll be embedded in their brains. They'll get the rivalry sense. And if not, they'll get it during the game, 'cause it gets heated."
Jayhawk Pulse
It's been a long time since the Jayhawks could feel positive about their on-field exploits but the woeful road history of the program can't be ignored. Every time KU has played outside of Lawrence since September of 2009 — 43 times — it has lost. In true road games, Kansas enters the Sunflower Showdown on a 40-game losing streak. What's more, KU hasn't won a Big 12 road game since October, 2008, making for a 35-game skid in that category.
Throw all of those numbers alongside Bill Snyder's success against Kansas and you better realize just what the Jayhawks are up against. Snyder is 20-4 against KU all-time, and 11-1 in Manhattan. The Wildcats play a smart and efficient brand of football under Snyder and the Jayhawks will have to replicate that to pull off the road upset (K-State is favored in the neighborhood of 27 points) and finally put an end to some ugly streaks.
Tale of the Tape
KU ….. K-State
KU run D vs. K-State run game √
√ KU pass D vs. K-State pass game
KU run game vs. K-State run D √
KU pass game vs. K-State pass D √
Special teams √
More like this story on KUsports.com